Soulfly ignited the tribal fever of metal-thirsty Chicagoans at the House of Blues on Thursday, May 1, 2003. It was the third stop on Soulfly's April through May tour promoting their third album, aptly named "Soulfly 3". Frontman Max Cavalera, Guitarist Mike Dolling, and Bassist Marcello D Rapp were rejoined by Soulfly's original drummer Roy Mayorga for the tour and for the making "Soulfly 3" (RoadRunner Records). An wound up crowd of headbangers filled both floors of the sold-out theatre house. Tension mounted as fans chanted "Soulfly! Soulfly!" in anticipation of what they knew would be a kick ass show. Lights dimmed, and the crowd went crazy. Mike let loose with an intense metal riff. Then Max stepped out and the crowd went wild to his double time, screaming vocals. The tribal sounds of Roy's drums incited the fans to jump around as if enchanted by a spell. And Marcello's bass work pounded rhythmically in our chests like our own hearts. The crowd yelled out every word of Soulfly's numbers, starting with "Downstroy," and including "Soulfly," "Bring It," "Tribe," "Last of the Mohicans," "Embryonic Self," "Back to Primitive," and songs by Nirvana and by frontman Max Cavalera's last band Sepultura. A little Led Zeppelin was thrown in there, too. A huge Brazilian flag hung in back of the stage paying homage to the home country of Soulfly's members. Max's many costume changes kept the crowd wondering what to expect next. Each member put up a strenuous and dynamic performance, which climaxed in a 10 minute drum solo where each band member pulled out a tribal drum and hammered their heart out. A representative of Chicago's own Rebel Radio joined the drum solo, along with some roadies and others. Reportedly the drum solo is a regular feature on their tours, with different guest "drummers" invited for each show.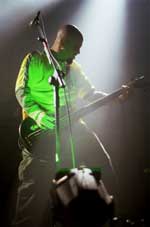 After 45 minutes of exhausting showmanship, Soulfly left the stage, but were lured back by fans chanting for an encore in only 2 minutes. Their encore consisted of "Eye for an Eye" which sent the fans into the biggest frenzy of the night. Finally the band took bows and left the auditorium full exhausted but smiling fans.
Back with Roy
I went to Soulfly's web site and dug up what Max Cavelera had to say about Roy's return. "I think he was never meant to leave, but you know, you can't control that. He was going through a weird phase in his life, which ended up leading to that. But we welcomed him back with open arms. His drumming is really amazing and I think he really adds a lot to the album. We just think this is the best line-up Soulfly has ever had." www.soulfly.com.
Max Produces
As Soulfly's tribal guitarist, lyricist, spiritual leader and charismatic frontman, Max has added producer to his many hats, finding himself behind the mixing board at the encouragement of his band members. "I felt a lot of encouragement from the guys in the band and from people who have been involved with me." he explains.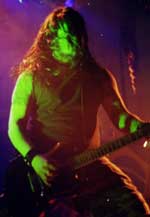 Fans Hoping for Brazilian Tour
Soulfly is from Brazil, but has never toured Brazil. Expectedly, their Brazilian Soulfly fans are feverish to make a tour happen. Christiano Gomez, webmaster of www.SoulflyBrasil.com.br, describes his website's plan to make such a tour a reality. "We´re trying to show to Soulfly crew, Roadrunner and all Soulfly fans all over the world that Brazilian fans really want to see Soulfly live. We want a Brazilian tour in the biggest cities like São Paulo, Rio de Janeiro, Belo Horizonte, Curitiba, Porto Alegre, Florianópolis, Brasília, Goiânia, Salvador, Recife and many others. We want a real tour. The first Brazilian tour ever!" Soulfly has enlisted the help of promotion and internet marketing top guns, and urge fans to help their campaign by going online and signing their guestbook.
The Last Word
When Soulfly's website asked Max "What is your perception of the current state of music?" He stated, "Music is a matter of taste, so for me there's stuff that is cool and stuff that I personally don't care much for. I just know that no matter what trend is in - HEAVY MUSIC SURVIVES!!!!!!!
---
RELATED LINKS