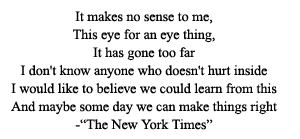 There are those artists that entertain us and then there are those who move us so deeply that our hearts skip a beat. Everclear is a band that does both. People may not believe this, but Everclear is one of the foremost rock bands out there today. Art Alexakis is an intellect of great magnitude and one of the most underrated musicians out there today. Not only does he write infectious melodies, but he also stretches and reaches new highs in his lyrics. Angst, anger, joy, happiness, testimonial, emotional and healing are all words that come to mind when I think about his lyrics.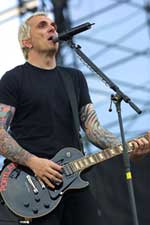 "Since Everclear broke through with their break through album, Sparkle and Fade, in 1995, they have been one of the most unwavering and thought provoking rockers out there without fading and continuing to sparkle radio airwaves and concert stages. Art Alexakis wears his heart on his sleeve as much as any other artist out there, yet he gets none of the credit that many of his other peers receive. While his music may not be as edgy as Pearl Jam's, I find it more identifiable and easier to get into in some ways. Since '95, Art has poured his heart, mind and soul into such songs as "Father of Mine", about the abandonment of his father at a young life. The angst and anger in this perfect pop tune is unlike anything else that was played on FM radio until Eminem came along. Alexakis found a channel for his anger and has managed to elevate his band higher than most of the other one hit wonders from the 90's.
In March, Everclear released their 6th studio album, Slow Motion Daydream. I don't think it holds up to their previous efforts, but it is still an overly unyielding album with some of the best music Everclear has ever made. In order to support it, the band it out touring and made their way through Chicago to the Riviera in early April. Surprisingly, the one bad thing of the evening was the lousy sound, a first for a club gig for me. I am not quite sure what the deal was, but it was surprising considering how good their opening band, The Exies, sounded. That aside, Everclear took the stage with intensity and determination that you would not expect of most platinum rockers. Opening with "You Make Me Feel Like A Whore" the evening got off to a rousing start. That intensity only increased over the 95-minute performance. They followed "Whore" with "Heroin Girl" giving the audience a nice one-two punch from their Sparkle & Fade album. The first new song of the night was "Blackjack" which is an all out rocker that appeared to go over unbelievably well with the audience. I watch Art, drummer Greg Eklund and bass player Greg Montoya and their exchanges with the audience are priceless. Montoya is like a spider crawling all over the stage and attempting to connect with each and every audience member. After years of watching big arena shows I am shocked at how intimate these guys are getting with their fans.
The show rolled on it continued with some rarities ("Strawberry") some new songs (the infectious and groove laden "Volvo Driving Soccer Mom") and some sing-a-longs ("Wonderful"). However, the main highlights came towards the end of the main set. The band performed their signature songs, "I Will Buy You A New Life" and "Father of Mine". Both songs had people waving their arms, jumping and simply smiling at the joy of hearing these faultless pop tunes live. However, right before the performances of these truly bravura numbers is quite possibly the greatest song Everclear has ever recorded, "The New York Times". It's a 9/11 inspired number and dare I say it...it is probably the best song to deal with the tragic day to date. Yes, it stands out above any one song on Springsteen's The Rising or any other artist who has tried to express their feelings about that fateful day.
I want to believe in this world
I want to believe in this life
I want to believe in a world that does not seem real
When you read between the lines

The New York Times" is one of the most elevating and earnest songs I've heard in a long time. It takes the confusion, hurt and
pain we all felt and Art Alexakis turned that negative energy into something constructive and uplifting. I can only hope that they
release this as a future single and radio will embrace it, because it deserves to be heard by the masses.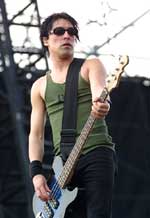 Every person in attendance saw first hand that Everclear is a much different band live than they are on record. Whatever sacrifices they made when recording for optimal sound effects are gone live, it's 100% authentic unrefined rock 'n roll. What's most surprising to me was how many of the songs in the bands set the audience knew all of the words to, yet somehow the band is still playing clubs. It's ironic that Everclear has written some of the catchiest tunes of the last decade, yet they have yet to graduate to arenas unless it's a co-headlining tour. Why is this? I think one of the main reasons may lie in the shows length. The band played for just over ninety minutes. I loved each and every minute of it, but the way to get a following is by playing extended sets and giving everybody their money's worth. Instead of bringing two opening acts, the band should play another 30 or 40 minutes, especially considering they have six studio albums. I recently saw Matchbox Twenty live and while I found them a bit stale live, I will give them credit that they put on a two-hour show, and this is with only 30 songs in their repertoire. Everclear has at least double that amount. Those artists who feel less is more are wrong. You have never heard a Springsteen fan walk away saying "I wish it was shorter", ditto for concerts by Dave Matthews, the Grateful Dead and other acts that push the time boundaries of a concert. This is where the bands can truly make their bread and butter, even if they one day no longer make records. They key is to get people hooked now, rather than later. Everclear should strive towards this.
That aside, the encores only brought out more insanity. "Everything To Everyone" and "Santa Monica" found the band pulling audience members on stage. Montoya even got on one's back and performed the entire song from the back of this college kid whom roamed the stage at Montoya's request. I watched this in admiration since it is so rarely seen at concerts nowadays, the union those fortunate kids had on this cold and wet night in Chicago will live in their hearts and memories forever. Whether one loves or hates this band, they have to be in sheer admiration of the connection that Everclear has with its audience. If they ever did move to arenas, this may be lost, however, I think they would find a way to make it work. Until the day comes that they do play longer, they will still give their fans their moneys worth by making up for it with gusto they flaunt while on stage.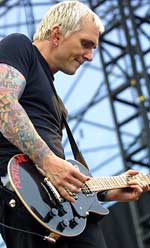 The finale consisted of bass player Greg Montoya taking over lead vocal duties as the band rocked out to Cheap Trick's "Surrender" which included about 30 members of the audience on stage with the band. The liveliness that Everclear brings to each and every one of their live performances is staggering and reminds me of the energy that metal gigs bring with the physical nature of the show. It's surprising to me that Everclear has not graduated to playing larger arenas, however, these shows still give the audience an added advantage, as we are able to get closer to them than we could ever imagine getting to many other platinum acts.
Some people think that writing an alluring song is easy, it's not. The marketing is what's easy. Art Alexakis has bridged an miraculous gap between his grunge-punk soul and his pop heart. He is someone everyone should tune themselves to watch on the normally bland musical landscape of 2003. He's an artist in every sense of the word; creating, evolving, pushing the envelope to extreme points and having his message heard. Yes, some of the music on Everclear records are pure pop, and some are pure grunge, however, I have yet to hear an Everclear track that I did not feel came 100% from their heart and soul.
---
Join UnRated Discussion where you can post your review or thoughts.
---
RELATED LINKS:
Everclear Online
House of Blues, Chicago, IL-November 16, 2004 Review