MUSIC NEWS
October 30, 2014
Kiesza
Wearing high top skinny jeans, suspenders, a halter bra and red sneakers, red headed Kiesza gets out of a taxi and enacts some ballet moves as she sings. This is a continuous shot of street dancing up a city block picking up dancers as she goes.
"You're just a hideaway, you're just a feeling/You let my heart escape beyond the meaning", she says in part of a verse. An upbeat club tune th... [Read More about Kiesza]
October 30, 2014
Sister Cristina
Uhm…okay, I'll just say it. This video is just so wrong. A nun singing Madonna's "Like a Virgin"?! Yeah, okay, she does a nice mellow rendition and has a pleasant voice but, it seems to me she's trying to change the meaning of the lyrics to mean a personal message to God. "Like a virgin, touched for the very first time……you're so fine and your mine….". No, no, no, no, no, no. This is not a hol... [Read More about Sister Cristina]
October 30, 2014
Gwen Stefani
Starting out in black and white this video quickly turns to color when Gwen gets swept away by a word tornado that leaves her lying on a yellow brick road. Singing as she walks down the road the geometric mountainous landscape on either side continuously morphs with black and white striped, checkered and houndstooth patterns.
Dancers start emerging around her as she walks... [Read More about Gwen Stefani]
October 30, 2014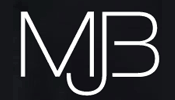 Mary J. Blige
From the upcoming album "The London Sessions" (out December 3rd) this tune has a hypnotic, atmospheric, club sound to it. Simple footage of Mary singing in the street and of her riding back seat on her way to a club performance, she sings about taking her love back after being done wrong.
Kick him to the curb Ms. Blige.
Review by C. Duke.
Read More about Mary J. Blige]
October 30, 2014
2Cellos
This one starts off when two geeky looking cello case carrying fellows come across a street wall with posters with the question, "Want to Be a Rock Star?" and the date and time to show their stuff. The background picture on the poster has a guitar player on his back crowd surfing as he plays guitar.
We then zoom into the poster and into a club where our two... [Read More about 2Cellos]
October 16, 2014
Nicki Minaj
Further objectifying women and their backsides, Nicki, rapping over Sir Mix-a-Lot's, "Baby Got Back" sample, inserts plenty of scantly clad girls twerking and flapping asses in this Amazonian jungle setting. Nicki brags about her "fat ass" and wanting to see all the "fat assed bitches in the club" and "f@%$ those skinny bitches in ... [Read More about Nicki Minaj]
October 15, 2014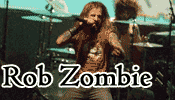 Rob Zombie
'Tis the season for ghosts and ghouls and that is exactly what I encountered while attending opening night of Rob Zombie's Great American Nightmare, on September 26th at the Odeum Expo Center in Villa Park, Illinois. The spectacle runs until November 2nd, and is everything you would expect from a nightmarish Rob Zombie produced event. However, don't expect a live performance from the man himself, as he only performed on opening night to kick off t... [Read More about Rob Zombie]
October 11, 2014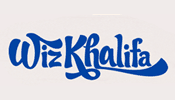 Wiz Khalifa
WIZ KHALIFA IS TRIUMPHANT AT THE 2011 BET AWARDS; ACCLAIMED RAPPER CROWNED "BEST NEW ARTIST" AFTER DEBUT ALBUM "ROLLING PAPERS" GOES GOLD; SPIN.COM NAMES PITTSBURGH MC'S "ROLLING PAPERS TOUR" ONE OF THE BEST SUMMER TOURS; "ROLLING PAPERS" AVAILABLE EVERYWHERE NOW;
Rostrum/Atlantic Records recording artist Wiz Khalifa was among the big winners at last night's 2011 BET Awards, taking home the prestigious title of "Best New Artist." Last night's victory comes a... [Read More about Wiz Khalifa]
October 09, 2014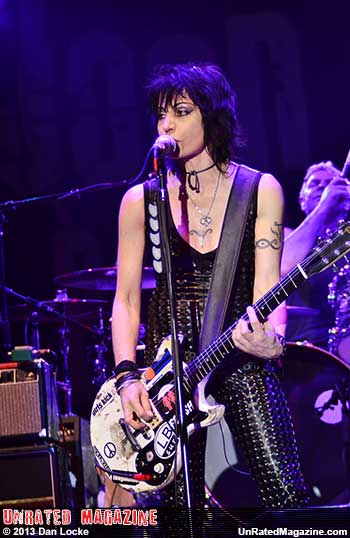 Joan Jett and the Blackhearts
Entering the Great Lakes Naval Base you want to tip your head to all the men and women who are in training and as you drive into the 1,932 acre facility one has to remember that this site was added to the National Register of Historic Places. The grounds of the Naval Base were open to the public for their two day Fourth of July festivities.
Thousands packed the grounds to see the iconic Joan Jett and her band The Blackhearts. The Blackhearts are Dougie Needles- guitar, Acey Slade ... [Read More about Joan Jett and the Blackhearts]
October 09, 2014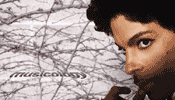 Prince
Prince Announces "Welcome 2 Chicago" And Collaboration With Rebuild The Dream
Prince, one of the most prolific and groundbreaking artists of our time, announces his return to Chicago, at the United Center beginning September 24th and his support of Rebuild the Dream. Rebuild the Dream, founded by Van Jones, is a mobilization of hundreds of thousands of everyday people—from seniors to students, moms, dads, brothers and sisters—who come together to build ... [Read More about Prince]