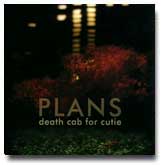 CD sales of major labels may have declined, but it increased in the independent market. In America alone, indie releases accounted for eighteen percent in the total record sales of 2005, and acts like Sufjan Stevens, Bright Eyes and the Arcade Fire rose to fame.
Death Cab for Cutie started out as an indie act; with a number of critically acclaimed releases under the indie label Barsuk records. Transatlanticism , its last indie effort, found its way to the mainstream and catapulted the band to stardom. The title track of the said album gained worldwide audience with its inclusion in the soundtrack of the avant-garde HBO original Six Feet Under . Oh, and also, there is this Seth Cohen character in the widely popular teen flick The O.C. , who is obsessed with the band itself.
When Death Cab for Cutie signed with Atlantic Records, the band was said to have lost the "indie credibility." But Ben Gibbard, the genius behind the group, stated on Death Cab for Cutie's official website that nothing would change except for the letter A (Atlantic Records' marker) on both spine and back of their upcoming albums.
So what is "indie credibility" by the way? This could be a statement of an artist, that he or she is not a foot soldier of the capitalists. This bold statement actually has created a stigma against the major labels and their roster of artists, no matter how talented they are, because they are branded as mere sell-outs. The capitalist market's ploy is out of the bag, and in this time of modern technology, peer-to-peer networking, music activism, social change, and this so-called "indie credibility," one would really ponder if Death Cab for Cutie made the right decision in jumping ships from Barsuk to Atlantic.
Plans was released in August 2005 and received a Grammy nomination in the Best Alternative Album category in this year's ceremony. With Ben Gibbard's picturesque lyrics on love and death, his favorite subjects, accompanied by thicker sounds and more meticulous production, the major label debut is not a complete departure from the old Death Cab for Cutie we've known, but a partial fulfillment of the band's sonic ambitions.
The opening track "Marching Bands in Manhattan " parades loneliness in a different perspective, with fluent guitar riffs, and Gibbard contemplating in forlorn falsettos:
"Sorrow drips into your heart through a pinhole
Just like a faucet that leaks and there is comfort in the sound
But while you debate half-empty or half-full
It slowly rises: your love is gonna drown."
Gibbard, as a lyricist, is at his best when dealing with his fixation on death. In "I Will Follow You into the Dark," accompanied by just an acoustic guitar reminiscent of Simon and Garfunkel, he vows:
"Love of mine, someday you will die
But I'll be close behind and I'll follow you into the dark
No blinding light or tunnels to gates of white
Just our hands clasped so tight, waiting for the hint of a spark."
Meanwhile, in "What Sarah Said," the album's best track, Gibbard paints a scene at the hospital, juxtaposes love and death, declares " Love is watching someone die ," and leaves us mulling over his hanging question—"So who's gonna watch you die?"
Other great tracks are "Your Heart is an empty Room," "Brothers on a Hotel Bed," "Stable Song" and the radio singles "Soul Meets Body" and "Crooked Teeth."
Death Cab for Cutie could be the most talented band in the music industry at present. The band exhibits exceptional craftsmanship in lyrics, melodies and arrangement, which makes the songs consistently affective and sincere.
Plans is just the preliminary phase of Death Cab for Cutie's very intriguing sonic evolution. Moving to a major label is part of the masterplan, since the band's potential and ambitions are too big and grand for indie. Death Cab for Cutie has drafted its way to the top and we are all excited to see them there in the near future.