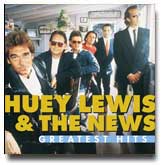 "You listen to Huey Lewis and the News and it might be the only thing that stands out from the `80s that's still really enjoyable and not a relic." -John Mayer
Whether one loves music or not, everyone seems to remember the first album they ever bought. Mine was "Fore" by Huey Lewis and the News in March of 1987. Almost twenty-years up the road, I still listen to "Fore" and all of Huey's albums on a regular basis. It appeared to be lightweight music at the time, but in reality, as their new "Greatest Hits" package proves, Huey Lewis and the News is a band whose music will remain timeless for decades to come. Sure, it's not edgy, forward thinking, but like Bill Haley, Buddy Holly and many of the early Beatles and Elvis albums, these songs are for the most part ageless.
One wonders how Huey Lewis and the News became as big as they did in an era where image meant everything. Looking back over a quarter century of videos and pictures, there's no embarrassing outfits and no bad hair (OK, I admit, guitarist Chris Hayes has a mullet in some early pictures, but if one were to ever have a mullet, this would be the one to have). What's even more surprising is that their no nonsense music appeared to be a flashback of nostalgic hooks and melodies from the 50's and 60's, but in reality, twenty years down the road, these songs still resonate as strongly today as when they were first recorded. Even standard pop numbers, like "Heart and Soul" and "Power of Love", use the keyboards and synthesizers as a rhythm track instead of relying on them for the melody. The bands roots lied in the American R&B rock n' roll of the pre-Beatles era and magically one senses that whenever Huey Lewis and the News appeared on the music scene, they would have made an indelible impression at any time in the last fifty years because the songs themselves feel like they could have come from any part of the rock n' roll era.
The only downside to Huey Lewis and the News career path is their lack of new material over the last fifteen years. The band has shuffled around from label to label without finding a permanent home, which is a shame because during the 1980's no other band had as many hits or appearances in the Top 40. As I received the new "Greatest Hits" package, I was pleased to finally hear these songs remastered and up to par with the sound on all releases today. The band had planned to release a "Best of" record in 1992; however it mysteriously disappeared from all release schedules and only found a release overseas. The 1996 package ("Time Flies…") inexplicably was missing over half of their hits, including a few number one hits as well. Their newest release, "Greatest Hits", gathers the most comprehensive look to date of the band. The only Top-Forty hits that charted which do not make an appearance here are the Vietnam Veteran anthem "Walking On A Thin Line" from 1984 and "It Hit Me Like A Hammer" from 1991. Their cover of "Some Kind of Wonderful" would have been a nice inclusion but when you have a disc just shy of 80-minutes, one can not complain about a few missing songs. Two of the band's albums are not represented here; their sentimental self-titled debut ("Some of My Lies Are True" should have made the cut and I don't count "Trouble In Paradise" since it's a live rendition) and the band's 2001 album, "Plan B" (which would not have been out of place in record bin of R&B artists from 1962). In my personal opinion, "Hope You Love Me Like You Say You Do" and "Trouble In Paradise" (from the "We Are The World" album) could have been cast off from "Greatest Hits" in favor of a track from each of those albums.
Most of the songs are represented as single edits (most available on cd for the first time). "Back In Time", "Cruisin'" (a duet with Gwyneth Paltrow) and the a capella "It's Alright" also appear for the first time on a proper Huey Lewis and the News album. Besides the Number One singles ("Power of Love", "Stuck With You", "Jacobs Ladder", "Hip To Be Square") there are numerous other Top-Ten songs that may have been forgotten but are instantly recognizable including "I Know What I Like" highlighted by a thundering backbeat by drummer Bill Gibson, the tongue in cheek "Perfect World", the underrated working anthem "Couple Days Off", a determined cover of "But It's Alright" and classic rock radio staples "If This Is It", "Heart & Soul", "Workin' For A Livin'", "Do You Believe In Love?", "I Want A New Drug" and "The Heart of Rock N' Roll". The album also includes liner notes by Huey Lewis and a special edition of the set has ten extra music videos from their MTV heyday (Sadly, the packaging and videos were not ready for preview upon deadline).
It's hard to find a "Greatest Hits" album by any artist who has had all twenty-one songs chart in the Top-Forty of one of the Billboard charts (Pop, Rock and Adult Contemporary). That in itself is extraordinary feat especially considering that seventeen of these cuts made the Top Ten. Huey Lewis and the News may not have been the most experimental or subversive artists of all time, but they were a group who christened raw energy, instinctive trust in one another and were able to create some of the most perfectly textured harmonies of the last quarter century. The beauty of these songs lies in their simplicity as they still sound novel in a nostalgic good old rock n' roll sense. Two decades past their commercial peak, the band still plays to large crowds yearly and can be found this summer on a co-headlining jaunt with Chicago. The band may never have a platinum album again, yet their place in rock n' roll history is secure. I'm proud to say the first band I ever loved and bought albums from consistently was Huey Lewis and the News. "Greatest Hits" is meant to sum up the bands place in time and it will most likely define them in the decades to come. Let's hope another generation rediscovers the wit, charm and harmonies created by the News; Chris, Mario, Bill, Johnny, Sean and Huey.
Album Grade: A-
1. The Heart Of Rock & Roll
2. I Want A New Drug
3. The Power Of Love
4. Jacob's Ladder (Step By Step)
5. Stuck With You
6. Doing It All For My Baby
7. If This Is It
8. Do You Believe In Love
9. Heart And Soul
10. Back In Time (from "Back To The Future")
11. Perfect World
12. I Know What I Like
13. Trouble In Paradise (from the "We Are The World" album-live in San Francisco 2/21/85)
14. It's Alright
15. Cruisin' (w/Gwyneth Paltrow)
16. Hope You Love Me Like You Say You Do
17. Small World
18. But It's Alright
19. Hip To Be Square
20. Couple Days Off
21. Workin' For A Livin'