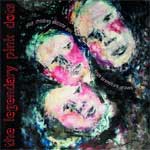 It's time boys and girls to tune into The Legendary Pink Dot's while they share their latest release, "Your Children Placate You From Premature Graves," (YCPYFPG) for show and tell today. Nap time will commence immediately following to bring the nightmare into view.
With an apocalyptic entrance the Legendary Pink Dots forge deep into your psyche with the track "No Matter What You Do" beginning the crusade across a desolate playground of the mind. LPD builds a wall of sound mortared with lyrics that proclaim that Jesus will still love you for the miserable things you do, A song that has the distinct feel of Pink Floyd's "Another Brick In The Wall."
YCPYFPG is a collection of 11 songs that has the feel of cartoon network characters dropping acid and telling you about their animated adventures. At other times LPD comes across like a Sunday morning sing-a-long, complete with wood block percussion and tambourines. The release is full of happy go lucky melodies that have a macabre and somber mood one moment and then back to play time. "Feathers At Dawn" is a symphonic barrage toppled from time to time by simple melodies that seem innocent enough until the lyrics release a myriad psychosis; flashbacks may occur.
With "The Island of Our Dreams" the listener is taken on a reclusive exploration of a soul searching castaway looking for the answers in the ethos. The Island is not a physical place, but within our minds. The games continue with "The Mad Man's Manifesto" that comes across as adult hide and seek.
Masterfully crafted, YCPYFPG takes you back like old photos of a mental ward waiting for a lithium injection. The dosage is set, so sit back and enjoy the madness. The catharsis comes with "A Silver Thread" with the little voice that encourages you to move out of your reclusive state. LPD hangs in the caverns of your mind with its expanded and unabridged musical mayhem. Nap time is over, the nightmare begins, and your children are to blame.