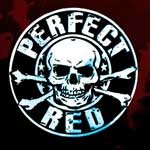 Alternative metal band Perfect Red released their "Rebuild the Afterworld 2006 Tour Edition CD" this September to cap off their 2006 West Coast Summer Tour. Described as "melody core," Perfect Red's compelling rock melodies coupled with explosive metal choruses characterize the songs on "Rebuild." The 2006 Tour Edition CD includes all ten cuts from "Rebuild" plus seven new tracks from their previous unreleased demo.
P-Red's unique, fresh sound, well-written and relatable lyrics, and talented musicianship has produced an album that is catchy, uplifting and addictive. "Rebuild" reflects the band's passion toward their music and their energy is contagious. This is definitely a feel good album.
Some of the more notable tracks follow:
Take Me Home
A fun song with a danceable beat and choruses to make you rock. It's about being in love with someone and hoping they feel the same way about you. Sweet refrains erupt into explosive metal choruses with plenty of guitar distortion and heavy drums. P-Red recently posted their video of Take Me Home which can be viewed on myspace.com/perfectred. The video is starting to be picked up by independent cable programs as well.
Stop The Pain
Hypnotic drum intro joined by rhythmic guitar and bass riffs lay the groundwork for this energetic track.
The lyrics are a cry to be saved from pain and anguish of this world, but pain and anguish are soon forgotten after grooving to this song's optimistic melody and driving beat.
Waste of Time
Very energetic song with a hard driving beat, screaming vocals, and a kick ass lead guitar solo. Definite moshing, banging and body surfing material. It's about being dumped by the person you love and dying for a second chance with them.
Gonna Getcha
This song's fun beat, easy melody and catchy chorus rebels against conformity to traditional social standards.
It was chosen to be the theme song for an upcoming TV pilot, and is blasted during Chicago Wolves hockey games at the Allstate Arena.
Rebuild the Afterworld
The title song opens with a beautiful drum and guitar progression then slams into a very heavy metal sound and pounding beat. It's about overcoming depression and deciding to make the best of your life in this world. Breathtaking drum/bass blasts make it perfect for rocking out.
Roses
Opens hard and fast into a majorly moshible beat. Heavy, barotone vocals groan phrases from the serenity prayer then become soft and sexy during the chorus. The lyrics indicate that despite valiant efforts, suffering only completely ends when you die. This song really rocks.
Perfect Red consists of Vocalist/Lyricist Timmm, Lead Guitarist Jeff, Bass Guitarist DJ and Drummer Tony. Visit myspace.com\perfectred and perfectred.com to purchase CD's, download samples and learn about upcoming performances.
---
RELATED LINKS