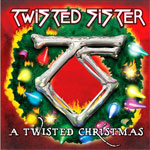 When I first saw the cover of Twisted Sister's Christmas album, A Twisted Christmas , I cringed. Would it be a serious attempt at caroling away the holiday season by a band that's known for being larger than life and outrageous, or would it be nothing but rock and roll, tongue-in-cheek slapstick with guitars?

The album opens up with vocalist, Dee Snider, majestically crooning "Have Yourself A Merry Little Christmas" until the band stops him – reminding him that they're Twisted Sister – and they pick up the song in a more rock and roll fashion. And it's good!

"O Come All Ye Faithful" is a foot-tapping, grooving good time. Probably my favorite cut on this album. Never, had I ever thought I'd want to play air-guitar while singing along with: "Oh come let us adore him…" The guitars are crisp and tastefully appropriate for this timeless classic, and during the solo even momentarily break into the melody for "We're Not Gonna Take It."

Guest staring on "I'll Be Home For Christmas" is the lovely metal maiden Lita Ford, sounding concurrently tough and tender the way only Ford can.

"Silver Bells" and "Let It Snow, Let It Snow, Let It Snow" are two others that just make you want to headbang around the Christmas tree. Fun, upbeat and full of ballsy metal rhythms whilst taking nothing away from the holiday message or sentiment.

Other tunes with a twist include "White Christmas," "I Saw Mommy Kissing Santa Claus," "Deck The Halls," and "The Christmas Song (Chestnuts Roasting On An Open Fire)."

Wrapping up A Twisted Christmas is Twisted Sister's rendition of "The Twelve Days of Christmas," aptly titled "Heavy Metal Christmas." No turtle doves or ladies dancing in this version – some of the gifts are more along the lines of tattoos, leather jackets and cans of hairspray. Only Twisted Sister could make a song that's re-written so completely in jest and simply for the glory of heavy metal – and make it so good.

Not only is this one of the best Christmas albums I've ever heard, it somehow manages to be an album for both those who love traditional Christmas songs, and those who don't. If anyone refuses to take these rockers seriously simply because of the gaudy makeup, they're missing out on some quality, good-time rocking music.
---
RELATED LINKS