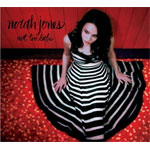 Norah's Rose Parade
Norah Jones. Unless you are a hermit, you may have probably heard of this girl. She was the unknown supper-club singer who became a wildly adored music idol whose songs are in frequent rotation in college dormitories, hotel lounges and coffeehouses.
Norah is heralded, along with John Mayer and Dido, as the new music superstars of the new millennium. Her unforgettable debut Come Away with Me has won her eight Grammy Awards in 2003 including the four major plums Album of the Year, Record of the Year, Song of the Year and Best New Artist—a rare feat since the only time it happened before her was in 1980 with Christopher Cross.
But these achievements could derail her career. Christopher Cross, for example, had so much promise and talent to offer but his career sailed away after Sailing won him Grammy golds. Alanis Morissette, after winning the highly coveted Album of the Year plum and selling 30 million copies of her debut, Jagged Little Pill, never managed to match her initial success and seemed to become a bitter pill to swallow in the music scene (you can always watch her annoying rendition of the already annoying song "My Humps" at YouTube.com).
So how did Norah beat the new artist's curse? In 2004's Feels Like Home, she got away with the so-called sophomore album's evident meticulousness, and went the straightforward way of simple singing and piano playing.
But in her latest offering entitled Not Too Late, Norah's piano prowess takes the backseat, consequently bringing the guitar to the front as the lead instrument. The employment of sonorous cello, pizzicato, violin and other string instruments also emerges in the music collection. Musically, she has preserved the racemes of jazz and the blades of bluegrass, yet her music flowers with eclectic experimentations. In the album opener, "Wish I Could," the Texan chanteuse sings in the 3/4 measure and fancies a loved one like a girl waiting in a flower garden:
"We met in a place I used to go,
Now I just walk by it for show,
Can't bear to go in without you know,
Wish I could,
Wish I could."
"Thinking about You," the album's carrier single, is where she tries her knack with the blues. Here, she flaunts her vocal genius by conveying a heart's yearning through her affected sighs:
"Yesterday I saw the sun shinin'
And the leaves were fallin' down softly
My cold hands needed a warm, warm touch
And I was thinkin' about you."
Norah's low-key singing cries out profound thoughts and heartfelt daydreams in her songs affectively and effectively. Heck, she could sing a restaurant's menu, a crime scene report, and even a presidential candidate's platform and make it sound like the amorous novel Love in the Time of Cholera. Other radiant songs in the album are "The Sun Doesn't Like You," "Broken," "Wake Me Up," "Sinkin' Soon," and "Rosie's Lullaby."
The lounge princess ends the album with "Not Too Late," the title track and perhaps the best song she has recorded to date. Here is where she grows as a brilliant songwriter, as she affirms that love is something we should always believe in:
"'Cause my heart is full of no blood,
My cup is full of no love,
Couldn't take another sip even if I wanted.
But it's not too late,
Not too late for love."
In Not Too Late, Norah welcomes and takes every listener to a very delightful rose parade. For her, life is a rose parade—colorful, scenic and marvelous. She wants us to appreciate and celebrate every petal of joy and pistil of triumph, as she sincerely sings every song in the album and blossoms into a wonderful artist accordingly.
---
RELATED LINKS