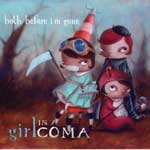 Don't mess with Texas ...well don't mess with Girl In A Coma either. This San Antonio based all-female rock trio has just released a rather expressive and punchy CD called "Both Before I'm Gone." The band members are Jenn Alva on bass, Phanie Diaz on drums, and her sister Nina who handles the guitar and lead vocals. Their music style is rock-alternative, which grinds into punk flavor. These girls have stepped in where Sleater-Kinney had walked off. Nina's voice has been compared to a female version of Morrissey; but it also has traces of Patsy Cline mixed with Linda Perry.
Track One on the CD called "Clumsy Sky" is one of the best. Nina starts the song off slowly but explodes with a memorizing and powerful voice that draws you inside. She starts the song out singing Picture Me Away/Are We Alright Now? Then as the song rolls along, the guitar and drums kick in, as Nina plows in singing Are You Waiting for My Sign? ; The song "Say" is pure punk. She pours out singing " Everyone Will Quote Me On This Line ", and it is so insanely sung that it is pure fun. Other favorites include "Road To Home", "Mr. Chivalry", and the chilling "Simple Man."
Rock icon Joan Jett and her long-time manager/producer Kenny Laguna fell hard for this band and signed the girls on their own Blackheart label. Girl In A Coma's new CD is mixed with edgy yet elegantly produced songs, unique lyrics, and the must-hear amazing voice of Nina.
Wake up and take a listen to Girl In A Coma!
For more information, check them at here: www.girllinacoma.com
---
RELATED LINKS