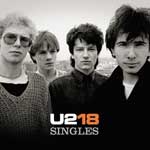 I used to admire U2 for never succumbing to the temptation to release a hits record. Hit compilations are almost always quick fixes -- a way for a band to inject some cash flow when finances sag and public interest wanes. Now since 1998, U2 has issued three of them, the latest being the career spanning single disc compilation U218. So why a third? Possibly the logic was that a best of CD could be lay over release until their next studio album. Or the group and their record company saw that a lot of money could be made with little effort at barely any cost (I tend to support the latter).
Whatever the reason is, U2 seems intent on erasing their history. No tracks from 1993's Zooropa and 1997's Pop are on the record, and barely enough are represented from their 1991 masterpiece Achtung Baby. This gives newer fans that've recently jumped aboard the U2 juggernaut no indication that U2 was once an experimental band balancing a tight rope between success and failure.
All the arena anthems are here: "Where the Streets Have No Name," "Sunday Bloody Sunday," Beautiful Day," "Pride (In the Name of Love)," "Vertigo." And there are the softies: "With or Without You," "One," "I Still Haven't found What I'm Looking For." But this collection is just missing too much. Adding to that, there seems to be an inclusion of to many songs off 2000's All that you Can't Leave Behind. Do we really need four songs off that decent but not overtly great album while tracks like "I Will Follow," "Gloria," "Bad (live from Wembley)," and "A Sort of Homecoming," are all left behind?
True U2 fans may only purchase U218 Singles for the inclusion of two new tracks: the Green Day collaboration " The Saints Are Coming," an old Skids cover and "Window In The Skies," a nice little mid-temp song. But for casual fans this is unnecessary and reeks more of a holiday cash grab than anything. Besides, I'm sure most of U2's millions of adoring fans have already made their own personal versions of a U2 hits record through music downloading. That way they get what they want.
---
RELATED LINKS