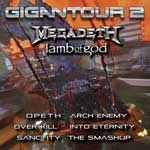 When Megadeth's frontman Dave Mustaine put together the first Gigantour we all rocked along in awe. Nothing against our Prince of Heavy Metal Darkness - Mr. Osbourne and his Ozz Fest – but Dave Mustaine hand picking the bands to bring on board his own brand spanking new touring metal show – how cool is that?
Now, as we're bracing for "Round 3" to come to our towns, it's also time to relive last year's festivities on CD. Gearing up for an April 22 nd release, Gigantour 2 is a 14 song sampling of another group of bands whose chops are just as much bark as they are bite.
New Yorkers, The Smash Up, kick of the disc with their tune "Rachel's Day" – combining thrash, emo, and melodic metal's influences to create a multifaceted sound that becomes all their own.
Sanctity then rips out of your speakers with "Zeppo." This flawless live rendition will probably get you a speeding ticket if you listen to it in your car. A ferocious rocker with real teeth – the way heavy metal should be. In one song Sanctity steals the show.
And as if that wasn't enough yet to get you on your feet, death metalers, Into Eternity, then shred the stage and everything in their path with "Timeless Winter."
Gigantour includes two songs by Overkill; the lethal "Thanks For Nothing," and the vigorous, guitar-lovers wet dream - "Long Time Dying."
Another two-fer is the band Arch Enemy who tears through "Nemesis" like Godzilla with an amp on his back and drums sticks in hand. And then their "We Will Rise" – simply put: the marriage of mayhem and music.
Opeth's "Window Pane" is a nice, harmonious break to the rough-throated rockers. A song and a band that prove that it doesn't all have to be hard in order to rock.
But then back to the brutality, next up is Lamb of God's monstrous "Vigil" followed by their heavy and groovy "Red Neck," and the band's larger-than-life "Something To Die For." Hard core just isn't what it's supposed to be unless it's got a dash of Lamb of God in it.
Alas, the host of this party – Dave Mustaine and Megadeth bulldozing everything out of their way with "Take No Prisoners." With 25 years under his belt and more than 20 million albums sold – Mustaine just knows how to do it right.
That signature guitar sound then comes ever alive starting out "The Scorpion" – a classic and sexy Megadeth rocker.
Off of Megadeth's most recent album, United Abominations is "Washington Is Next!" The politically-minded tune displays how Mustaine is not only getting better and better over the years as a performer and musician, but as a songwriter as well.
Then wrapping up Gigantour 2 is the "hidden" track – Megadeth's now-classic "Peace Sells."
The 14 songs on this disc are perfectly representative of the Gigantour festival. A bunch of cousins all from the same family – each unique and distinctive, but all members of that clan whose name is 'rock and roll.'
Not only was Gigantour able to recreate the magic in its sophomore year, in some ways it's outdone itself. And I can't wait for 2008's installment!
Already touring Europe, Megadeth and Mustaine's Gigantour including In Flames, Children of Bodom, Job For a Cowboy, and High on Fire will be hitting the states this April and will be playing the Aragon in Chicago on May 6, 2008.
---
RELATED LINKS