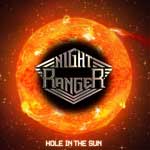 2008 is going to be a big party for Night Ranger. Not only is the band kicking off a new tour beginning in Japan before heading over to shake up the United States; but this year also marks the band's 25 th anniversary. And being the quintessential life of the party, rather than bringing a bottle of wine or a case of beer, they're bringing something much more titillating instead; a brand new album -- their first studio release in a decade.

Having begun the writing of Hole In The Sun during the summer of 2005, the creative process wove itself between tours and solo projects. A heady amount of time in the making but well worth the wait. And an ambitious project as well as band mates took on the thorny task of creating a progressive Night Ranger sound while concurrently remaining true to the signature characteristics their fans love and expect.

And Hole In The Sun accomplishes that very goal with 12 big-guitar sounding songs, catchy hooks, and solid melodies accompanying a musical growth and evolution which is natural and mature without losing any of rock and roll edge. Two bonus tracks are included as well -- Night Ranger classics "Don't Tell Me You Love Me" and "Sister Christian" both done acoustically.

Opening up the disc with the massive "Tell Your Vision," a song whose vocals blaze as hot and bright as the guitar work. "Tell Your Vision" makes you sit up and take notice in seconds.

Next up is the thriving and slightly gritty "Drama Queen," followed by "You're Gonna Hear From Me," a tough and sexy rocker with an infectious chorus.

"Whatever Happened" -- a fun and grooving tune and with the well-honed harmonies Night Ranger's music has the propensity for.

"There Is Life" is a timeless ballad overflowing with delicate tenderness. Then changing it up a bit, the sassy "Rockstar" comes next -- a heavy and feral rocker.

Next up is the title track -- "Hole In The Sun," another bold tune; hinting at a southern-rock sound, the catchiness will have you singing along during the first listen.

"White Knuckle Ride" is a force to be reckoned with just as the name implies. If anyone falsely believes that Night Ranger had softened up over the years, they obviously haven't heard this song yet.

Other songs on Hole In The Sun include "Fool In Me," the powerful "Revelation 4AM," and "Wrap It Up."

And then the flowing "Being" brings the new Night Ranger to a close with its soaring and gentle melody.

Acoustic version of "Don't Tell Me You Love Me" and "Sister Christian" wrap up Hole In The Sun with a blast from the past, but with a twist.

All in all, Hole In The Sun offers a continuation of the legacy - a further walk down the road with their beloved band. But solid and contemporary enough to stand on its own merits as well, Hole In The Sun will surely bring new fans into Night Ranger's circle too.

Night Ranger will be playing in Illinois on Saturday, May 24 at The Outskirts ( Canton), July 2 at the Frontier Days Festival (Arlington Heights), and on July 7 at the Great lakes Naval Base (Glenview).
---
RELATED LINKS