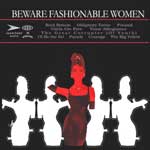 Have you heard of Beware Fashionable Women? If you don't know the name now, you will in a few weeks. The band, based out of Los Angeles, has just put the finishing touches on their self-titled debut album, set to be released later this summer. Their music is a melting pot of genres and artists, making it difficult to define their sound. If you like early Weezer, the complex vocal harmonies of The Beach Boys, the pop bliss of They Might Be Giants, and the lyrical depth of The Eels, chances are you'll like Beware Fashionable Women-- BFW, to their fans.
The album opens with Rock Bottom, a delightful mixture of airy pop and driving rock. Rock solid drumming and insistent bass lines anchor this song, providing extra punch to the vocals and guitar. The guitars are bewitching. At one moment, they can shimmer and have an ethereal air. In the next moment, they crash and thunder. This is one of the hardest songs on the album, guaranteed to set your teeth on edge.
But, as I said earlier, BFW is more than a nice pop band. They're a band that loves to make a mess, mixing musical styles into their pop paradigm. Obligatory Tattoo, for instance, is what I like to call salsa pop. The track leads in with a traditional salsa rhythm and slowly crescendos into a sea of overlapping vocals in the pre-chorus and chorus, reminiscent of one of They Might Be Giants' harmonious pop songs.
BFW even mix up their lyrics, something that's easy to miss if you're like me and tend to get carried away with the music. Your Allegiance seems to be an anthem aimed at fans, present and future. This song is sure to become a fan favorite at BFW's concerts; it's bright, bouncy, and catchy, thanks to The Beach Boys'-esque harmonies, Technicolor keyboard riff, heavy, clipped guitar lines, and foot-stomping drumming.
On the other side of the lyrical coin, you have I'll Be the DJ. The song is about a lover who wants to get his partner back, with some twisted turns of phrase that remind me of David Croenenberg's Crash. The music is dreamy and almost tranquil, giving the brooding lyrics even more of a sharp edge. The organ and piano riffs are outstanding, hovering above the other instruments and echoing in your head after the song is over. The boys' voices are in fine shape, too, cascading over you until you're in a veritable trance.
All in all, BFW has put together an engaging debut album that manages to be fresh while still paying homage to its musical predecessors. Fans of BFW will be pleased the band's first outing-- I certainly was.
---
RELATED LINKS