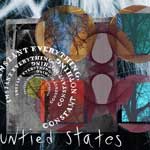 "Instant Everything, Constant Nothing" is the third studio album by the Art-Rock group Untied States. The album consists of eleven songs, with starting point the song "Gorilla The Bull", a psychedelic-rock introduction which creates a dark but at the same time hopeful atmosphere.
Untied States, throughout their record, maintain a strict balance between the songs, combining elements of Post, Psychedelic and Art-Rock into a well composed album. Their exploitation of various genres creates an ideal atmosphere and in the meantime keeps the listener focused due to the mood swings and the atmosphere variations that are being created.
On "Unsilvered Mirrors", the band creates an ideal Art-Rock trip, while the early slow tempo rapidly evolves into a meaningful and darker psychedelic-rock song. The vocals are marching along with the guitars and the No-Wave sound of the early 80's is being brought to the surface.
Untied States, while maintaining their Art-Rock basis, attempt to experiment with darker elements and the noise sound of the 90's.Throughout the whole album, one can identify their influences, like on "Take Time For Always",a noisier approach of their sound which maintains the artistic and experimental atmosphere the group wants to create, with deeper vocals and post-rock guitar sessions.
"Wrestling With Entropy In The Rehabbed Factory" is the most intense and exploratory track of the album. The dark wave elements combined with the Art-Rock basis, prepare the listener for a darker trip that he is about to experience. The trip ends several minutes later as the track progresses and the atmosphere is being altered into a more hopeful sense.
Overall, Untied States with "Instant Everything, Constant Nothing", while maintaining their Art-Rock basis, try to explore and combine different elements like the 80's No-Wave sound, or the psychedelic-rock approaches of Sonic Youth, and the end result is a very well composed and structured Art-Rock album. The different approaches the band has exploited through their songs create an atmosphere that attracts the attention of the listener and at the same time prove that well-combined elements can make an album very interesting and enjoyable.
Tracklist:
"Gorilla the Bull"-3:49
"Not Fences,Mere Masks"-5:19
"Unsilvered Mirrors"- 3:47
"Grey Tangerines"-3:57
"These Dead Birds"-4:58
"Take Time for Always"-3:39
"Bye Bye Bi-Polar"-4:43
"Wrestling With Entropy In the
Rehabbed Factory"-3:19
"Delusions Are Grander"-4:20
"Holding Up Walls"-2:20
"Kowtow Great Equalizer"-4:12
---
RELATED LINKS