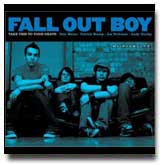 I have to admit I am bias to this group I remember when they were just another independent band playing thrown together shows around Chicago, and pubs and basement parties. Also their sound is intrinsic Chicago punk. Even the production reminds me of a Dog and Everything or Luckyboys Confusion. Neatly arranged chords where the strength is not in any impressive technique but on heavy arrangement, clean energetic guitars, and choirboy turned frat guy harmonies, and lyrics.

Currently touring with Allister and American Hi-fi supporting Take This To Your Grave, their debut release on Fueled By Ramen, of Less then Jake acclaim.

The songs Saturday & Calm before the Storm throw a loop in the choruses as someone starts growling the words as if they some how caught amnesia and thought that they were Glassjaw. It gets better when lead singer turns to a pure falsetto in Saturday. The lyrics have a reoccurring pessimism that could slip past you with the upbeat sound. Like "with every breath I wish your body will be broken again" said as a curse said to some girl which will no doubt make the insecure emeinem worshiping misogynist happy, another artist airing a real personal "beef" that is blindly followed under the guise of talent.

Wonder why they're so angry? Just six months ago they were either working part-time jobs or in school. However they have taken their experiences and melded them into an impressive album even if the lyrics leave to be desired, at least it has dug deeper then most emo/rock leaving an impression of believable sincerity.

You can hear the influence of having played these songs live. In Homesick at Spacecamp when the music pulls back and several voices cheer the chorus, as if the moment were crafted just waiting for an audience to participate.

If you like 2/4 times that you could've skanked to if people still did at concerts, then this album is for you. It is perfect for traveling Chicago or walking college campus, which is probably, who will pick this up.
---
RELATED LINKS
Official Web of Fall Out Boy
Label Site