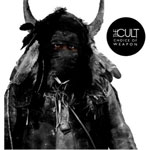 After a five-year studio hiatus, the Cult are back with their ninth album, "Weapon of Choice". Not since the 2007 release of, "Born Into This", have we heard a full length album from duo, Asbury and Duffy. "Weapon of Choice" is an album packed with 14 tracks ranging from classic rock anthems to power ballads to thought provoking mystical messages of life, love and death. It's almost an hour long of all new tracks. The fathers of post punk goth rock are back and believe me, it was worth the wait.
The Cult, formed in 1983, are a British Rock band who broke into the American mainstream music scene with hits like, 1985's "Love" album with the chart topping hit "She Sells Sanctuary" followed by even more commercial success from 1987's album, "Electric" and the monster hit, "Love Removal Machine".
As stated in an article on Wikipedia, The band fuses a "heavy metal revivalist" sound with the "pseudo-mysticism ... of The Doors [and] the guitar-orchestrations of Led Zeppelin ... while adding touches of post-punk goth rock".
Since their earliest form in Bradford, UK during 1981, the band has had various line -ups, and the longest-serving members are vocalist Ian Astbury and guitarist Billy Duffy, the band's two songwriters.
This albums line up consists of frontman, Ian Asbury on voc, Billy Duffy guitars, session bassist, Chris Wyse and former Rob Zombie drummer, John Temepsta. It's produced by "Master of Reality's" Chris Gross and veteran rock producer Bob Rock. Rock produced "Sonic Temple" in 1989, the groups most recognized piece of work, producing a slue of hits and massive tour, gaining them world wide notoriety. "Choice of Weapon" also marks the bands first release on new label, Cooking Vinyl.
The album starts hard with power grinding guitar driven track, "Honey From A Knife". It lays out what's to come. From the first riff, you know this is the Cult. Other elements, beyond the up front and in your face sounds of Billy's guitar and Asbury's vocals, are strewn throughout the album making it that classic Cult sound include Asbury's fast shaking tambourine, finely placed piano points, Tempesta's range of feather weighted brush strokes to meat tenderizing hits and Gross holding the solid groove foundation.
Track #3 is a song that really stood out to me, "The Wolf". If I didn't know it, I'd swear this was a lost track off "Electric".
Another track that made my ears perk up was, "For The Animals". This one could have been on "Sonic Temple".
Don't get me wrong, I'm not saying this is the same ol', same ol'. This is the Cult doing what they do best. Rock! But there is something new to the mix here as well. A fresh listening approach to a classic sound. The entire album keeps you interested all the way through. You get the full range of the Cult here; melodies, anthems, ballads and rock your fucking balls off jams. This is a great collaboration that really pays off.
If you can't wait to hear something from this album, you can download "Lucifer" now for free, right now, on iTunes. Or you can see and hear the new video for "For The Animals" online at their website or Facebook page.
Track listing includes:
1. Honey From A Knife - 10/10
2. Elemental Light - 8/10
3. The Wolf - 10/10
4. Life Death - 8.5/10
5. For The Animals - 9/10
6. Amnesia - 8/10
7. Wilderness Now - 7/10
8. Lucifer - 9/10
9. A Pale Horse - 8/10
10. This Night In The City Forever - 8/10
11. Every Man And Woman Is A Star - 8.5/10
12. Embers - 7/10
13. Until The Light Takes Us - 8/10
14. Siberia -9/10
The Cult kick off a 20 date summer tour for "Choice of Weapon" starting May 25th, 2012 in San Diego, CA. You can see them locally, here in Chicago, at The Congress Theater on June 1st, 2012 with opening act Against Me! Tickets on sale now.
For more info including the complete tour schedule, album release date and locations, biography, photos or much, much more, check out their official website and Facebook page at www.thecult.us and www.facebook.com/officialcult
---
RELATED LINKS