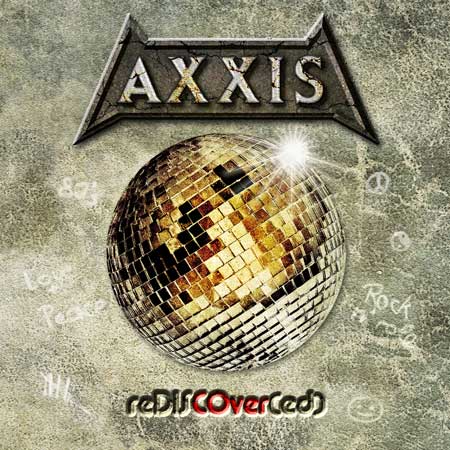 Growing up in the eighties I always experienced as a burden. Disco hip in those days and the most dreadful music marked my teenage days. Lucky for me I was taken under wings by my uncle who introduced me to rock and progressive music. I learned of Yes, Jethro Tull and above all - Rush!
My music taste evolved and my horizon widened exploring bands such as ELO and KISS towards the end of the decade. Why this story?
Well, German metal band Axxis clearly suffered from those same adolescent influences, judging their brand new CD. It's not the typical follow up to "Utopia," but certainly one to enjoy occasionally.
Surprisingly, the band succeeds to mold a wide variety of disco and easy listening songs into a metal joyride through that era. Whether it's Boney M's dance classic "Ma Baker," the ultimate disco stomper "Staying Alive" by The Bee Gees, or the more obvious Yes powerhouse "Owner of A Lonely Heart," Weiss' band created an album as varied and excellent as the 80's eventually were.
Bernhard Weiss' typical high pitched voice, works very well in this style. Staying close to the original he delivers well. Check out Billy Idol's over dramatique "White Wedding" or Celine Dion's "My Heart Will Go On" which had me smiling, even though not pitch perfect. Weiss entertains the listener, as does his band.
Absolute hammer versions are the rock tracks they reDISCOvered for us. ELO's "Don't Bring Me Down," Jefferson Airplane's "Somebody to Love" and Kiss' "I Was Made For Lovin' You" are just wonderful. Close to the original, but with an added metallic German-Axxis twist. Tull's "Locomotive Breath" is and outburst of guitars and towering keys, as where both disco stompers are transformed into cutting edge metal tracks with a tectonic undertone. Ponderous drums firing away and guitars are razor-sharp, making it work very well.
An oddity is Kraftwerk's "Roboter" which gets the Rammstein / Die Krupps treatment. High Tech marching beats, distorted vocals and industrial sounds shaken up in a metal mix. It took me a moment to get used to, but the song certainly grows on ya.
Axxis managed to make a collection of wide varied songs from the past, sounding as an Axxis rock CD. Sometimes they overshoot a bit, but that's always compensated by the enthusiasm which shines off of the edges of this silver spinner. Not only do they create some funny moments, they succeeded in making this CD an excellent BBQ collection. Enjoy!
74 / 100 (+10 bonus points for "FUN")
Track listing:
Owner Of A Lonely Heart (Yes)
Ma Baker (Boney M.)
Stayin' Alive (BeeGees)
Roboter (Kraftwerk)
White Wedding (Billy Idol)
Another Day In Paradise (Phil Collins)
Message In A Bottle (The Police)
Locomotive Breath (Jethro Tull)
Live is Life (Opus)
Somebody To Love (Jefferson Airplane)
Don't Bring Me Down (Electric Light Orchestra)
My Heart Will Go On (Céline Dion)
I Was Made For Lovin' You (Kiss)
---
RELATED LINKS