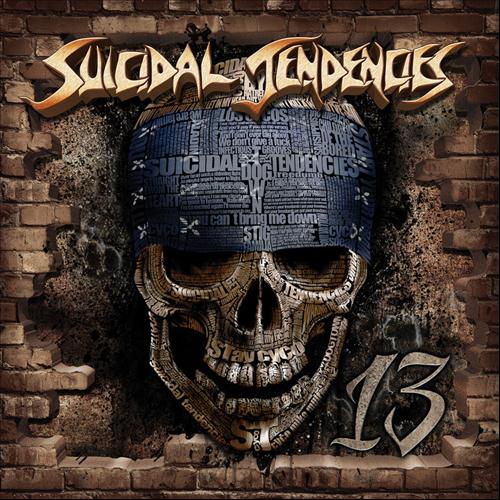 That's right everyone Suicidal Tendencies are back. Mike Muir and the boys let you know loud and clear in the first track, Shake It Out. From the first note and word you know ST is back.  I am sure that Suicidal fans will be very happy to finally possess a new album.  Muir lets us all know that he and ST miss us and he knows we miss him and ST too.  More than 10 years since a release, personally for me it's been a bit more but I am glad to have "13" playing loud.  Mike Muir brings in a new lineup in addition to him being the front-man to a cult metal / punk band since the 1980's, the line-up includes Dean Pleasants (guitar), Nico Santora (guitar), Steve Bruner (bass), and Eric Moore (drums).  Pleasants and Santora bring back some of that sound from the old days when Rocky George controlled the lead guitar sound.  In addition, many of you are fans of the funk that Robert Trujillo brought to ST back into the 1990s, as well as the side project that became Infectious Grooves.  Man, I and my friends bought everything released by ST and jammed for hours, chanting "ST, ST, ST."  This album brings back those HARDCORE memories.
Some of my favorite tracks on "13" are definitely the lead track Shake It Out, it starts strong and sets the pace for "13," reminiscent of "Lights, Camera, Revolution." Other tracks that I really got into are This Ain't A Celebration, Smash It, Till My Last Breath, Cyco Style…. Let me just say the whole CD is great, Suicidal is back! In Make Your Stand you can hear the subtle sound of the bass that just blows everything away, you are taken in slowly into the song and then get your adrenaline going strong.
In my opinion most of the album sticks to true early 1990s ST and with a little bit of old funk is evident in This Ain't No Celebration.  The hardcore / metal beat is complimented by Muir's voice who has led his life and always bringing Suicidal Back to all of us.  I have been jamming to ST for more than 20 years; ST is one of those bands that are grounded with their fans from the early 80s through today, that's right metal has some loyal disciples.
"13" will be released this coming Tuesday, March 26, 2013. Just in time for spring break and Easter. There is no excuse not to get out and buy on CD or download "13"… then blast it in your car or iPod.  It's a definite addition to your Suicidal Tendencies collection, ST is Back!!!
I want to dedicate my review and hopefully with ST's ok the song This World to my good friend, Scott Boedecker, which I had the pleasure to turn on to Suicidal Tendencies back in the early 1990s when we were in the US Navy on-board the USS Ouellet. Music was a way for many of us to pass time away from family, friends (and in the Navy…land). Scott passed away a few years back, he was a great friend (and an UnRated Magazine contributor); I am very happy to have spoken to him a few days before the good Lord took him. I know Scott is now at piece which he needed to find. 
Scott Donald Boedecker (March 31, 1960 - March 13, 2009).
New Music Video for 'Cyco Style' -- Live on YouTube Now
SUICIDAL NEWS:
In conjunction with the release of 13, SUICIDAL TENDENCIES will head out on a full U.S. tour, dubbed the 'Slam City Tour'. The tour features support from various champions of hardcore music both young and old. Support will range from NYC hardcore heroes MADBALL and SICK OF IT ALL to Houston greats D.R.I. The tour will include a stop at this year's New England Metal and Hardcore Festival in Worcester, MA on April 21st. See below for all currently confirmed tour dates.
 -- More Suicidal Tendencies news and tour dates at SuicidalTendencies.com
---
RELATED LINKS