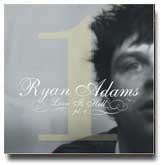 Rock N' Roll Hellraiser

Ryan Adams is a lover, poet, writer, cynic, stoner, drunk, poser, dip, God, rocker.... all words I have associated with this gargantuan talent of a rocker. Adams is one of the most indisputable and gifted writers-rockers of the current rock scene and one of its most unwelcoming stars at the same time. While he has enormous flair, he's like a volcano, ready to erupt at any time. It's one of the reasons his original band, Whiskeytown, disbanded. Back in 2001, shortly after 9/11, I enamored myself in my music and was constantly seeking new tunes to guide me to the light. New albums by Bob Dylan, Mick Jagger and especially Ryan Adam's "Gold" were constantly in my cd player. I found solace in "Gold", an incredible collection of tunes that it reminded me of early Springsteen and Dylan with their sweet yet subtle harmonies and lyrics. For the first time, in a very long time, I felt like I discovered a truly gifted artist whom I wanted to follow with each and every album and live performance religiously. However, about six months after I bought "Gold", I learned there was more than meets the eye when it comes to Ryan Adams.

I remember the anticipation I felt getting tickets to see Ryan at the Riviera Theater in Chicago. I had a few bootlegs of him in concert and had continually heard what a great live performer he was. I went to the show with great expectation, hoping I would see a show that would enthuse me and force me to see Ryan anytime he was within driving distance of Chicago. What I witnessed was a man, who appeared on stage like he was from another planet. He had no bond with the audience at all. He rocked and rolled through the first forty-five minutes like a champ and that was when the show came to a screeching halt. For the next two hours, he played two full fledged rockers (one of them a cover of "Brown Sugar") and the rest of the time, he ran through nothing but slow and mid-tempo numbers, and continually joked and read from a book of poetry. I remember standing for close to three hours watching him half-baked out of his mind reading poetry passages from a book and the whole time all I could think about was "I paid to see this"? The show was so ill defined it boggled my mind. The number one rule when playing a long show is pacing, something he paid no attention to at the Riviera. He completely baffled the audience. Even though the show was over two and a half hours long, I think barely two hours of music was played. Half of the time, he was lighting cigarettes and speaking in gibberish. I went on that March night hoping to see my generation's version of Dylan or Springsteen. Instead I felt like I observed this decade's Cobain (who was known for putting on a eminent show one night and would follow it with a shoddy one). I left broken hearted. It was easily the most self-destructive performance I have ever witnessed in my short life.

A little less than a year later, I was able to see Ryan open both Chicago shows for the Rolling Stones in January of 2003. One show had Ryan playing most of his "Gold" material, but he appeared to be so far gone, that I was disillusioned to the point where I could not believe another human would allow themselves to perform in front of 10,000 people in the shape he was in. However, the next night he played new material and a number of tunes off of "Demolition", including a gut wrenching performance "Starting To Hurt". Those forty-five minutes that night illustrated to me that he can be everything I could ever want from a live performer...funny, charming, willing to leave a pint of blood on the stage and rock like there was no tomorrow. Never have I seen a live performer be so alive and vital one night and sedated the next. Shortly thereafter, Ryan went into hiding, from everyone…the press, his friends and his record company, Lost Highway. Why? He was supposed to release a proper follow-up to "Gold" in March of 2003 ("Demolition" was a compilation of forty-plus songs he paired down for release). However, the record he handed to the label, "Love Is Hell", was nothing what they were hoping for. They asked him to reconsider releasing it and Adams went on a tirade speaking to the press speaking about how it's the best work of his career and it did not need fixing and how it should be released. Then what followed was… nothing. Not a peep was heard from him.

Months later, what went down came to light. Adams became a recluse and started recording a new album independently charging the studio time on his own credit card, independent of Lost Highway. The end result is "Rock 'N' Roll", a more upbeat and more focused affair, with the raging guitars that made bands like The Vines and Strokes albums go gold. Now what would the record company release; the ominous and heartbreaking "Love Is Hell" or the more buoyant guitar driven "Rock 'N' Roll"? It turns out fans will get the best of both worlds. "Rock 'N' Roll" is poised to be the official follow up to "Gold" while "Love Is Hell" is being distributed via two separate EP's. The results of both albums are good, but neither has the heart or writing focus of "Gold" or even "Demolition" for that matter.

"Rock "N" Roll" is the heavier and more focused of the two efforts. In some ways it starts where "Demolition" left off with plenty of high-energy rockers. "So Alive" is bursting with high-energy riffs and a vocal that is astonishing. You feel Adam's yearning for the girl and it works on every level imaginable including the song's piano coda as he is still longing and professing his love. This is the type of song you crank up to ten when you hit the open road, you roll down the windows and let the earth, wind and music move you. This is what I love so much about rock 'n roll…the ability to move you and bring a smile to your face in less than four minutes; this is what "So Alive" does for me. Most of Adam's songs seem to be centered on love; letters to lost loves ("Wish You Were Here"), a longing for a girl to take notice of him ("Rock 'N' Roll") and self-professions of his bad boy image ("Boys"). Broken hearts dominate "Rock 'N' Roll", but not to the extent that they did on his solo debut, "Heartbreaker". Lost memories and cravings for those absent loves over take both albums. However, the thriving sounds of the electric guitar on "Rock 'N' Roll" make the hit to the heart a little less painful. "Burning Photographs" is a stand out track where he professes that "he sees the light" with a fertile and sweet sound resonating on the track. Here, he is more bitter than heartbroken. I think people who love his albums identify with these circumstances and situations, which is why I feel he has struck a personal chord with people.

The angry "Note To Self: Don't Die" could very well be a reminder to himself. What alarms me about Adams is his vast talent is almost a precursor of things that may come. How many artists of extraordinary aptitude have we lost before their time…Janis, Jimi, Morrison, Kurt, Layne Staley and dozens others who danced with the devil and lost? I'm afraid he will go adrift in all of the excesses of rock n' roll and will find greater success on the other side than he ever did here on Earth. After seeing him live a few times where he spent more time telling stories with no meaning or point than playing music. I worry about him becoming a legend through death rather than in life.

I was talking about these two new albums with my friend Dan from New Jersey. We both love Ryan immeasurably, but do see his flaws. On initial listens of both albums, I really found myself escaping and loved hearing him covet and contemplate past relationships. However, Dan opened my eyes to something. He had huge issue with the laziness of the lyrics. He said to me "Lyrics like 'It's all a bunch of shit, it's totally fucked up, I'm totally fucked up' really frustrate me when I know this guy is a literary heavyweight and capable of writing great songs." Dan is so right. I don't believe he needs to be a virtuoso lyrically on each and every album. If you ever look back at lyrics by bands like Kiss from the 70's a lot of them are ridiculous, but the arena in which they were written and recorded, they totally worked. "Rock 'N' Roll" has some great little gems like "Do Miss America" and "Luminol" however, there is something deficient in the lyric department on both albums. I feel that Adam's idle lyrics work a better on "Rock 'N' Roll" than "Love Is Hell". However, when you listen to "Wish You Were Here" one wonders if he went in and sang whatever was on his mind without any preparation.
---

"Love Is Hell" is a much more somber affair to the raucous sounds of "Rock 'N' Roll". There are pieces of this album, which are luminous, and others that don't seem to serve any purpose. There is a song on "Love Is Hell" called "When The Music Don't Come" and I think this is exactly what occurred during the recording of this album. I am not sure if it's possible for Adams to have writer's block, but he unquestionably needs someone to help him sift through his songs, not all of them are going to be amazing. I am all for releasing as many songs as possible, but look at what happened to Prince. He's an amazing songwriter, but most people don't have the patience to listen to fifty songs looking for the ten really good ones. "Love Is Hell" is not a dire album by any means, but when a man is as capable with words as Adams is, you would think he would shape the music into a better mold. The entire album plays out like the lost "Let It Be" sessions by the Beatles. There were some amazing songs created during those sessions, but overall, they lacked the focal point of the bands pervious efforts. The song "Love Is Hell" and "English Girls Approximately" are standout tracks and justify the release of the album alone. One song that both albums share is "Anybody Wanna Take Me Home", which does excel. In the song, Adam's talks about disappearing "Just like magic", yet another nod to his loneliness and his disoriented soul. "This House Is Not For Sale", "Faker" and "Afraid Not Scared" all have their moments, but overall, I don't deem that "Love Is Hell" amounts to more than a week worth of songs recorded off the cuff. Am I happy they are releasing these albums on separate EP's (one in November and the other follows in December)? Yes, I am ecstatic to get any music from Ryan Adams; yet, I feel he could be striving for a higher plane. The album appears to have been recorded over five days in September 2002 and while the songs may be as candid and heartfelt as Ryan think he's ever done…it does not mean that this was a attentive effort. Apparently whatever he was going through at that particular time in his life, he expunged through the music that resulted in "Love Is Hell". However, great pain does not always equal great art. It simply feels like he wrote these songs on a whim and simply expected the record company to press them up on vinyl and stick a hole in the middle and ship it. It has its moments, but does not shine through as strongly his previous albums did.

"Love Is Hell" is more atmospheric…more moody than anything else he has done to date. Who knows, maybe over time it will grow on me and become a lost masterpiece of sorts? However, right here, today, October 2003, I think it's a solid album but Lost Highway was right in making Adams go back into the studio for a more proper follow up to "Gold". While Adams did kind of walk through these two albums without any major effort, I think they are both quite good albums but neither reaches the heights of "Gold" or "Heartbreaker". Lazy lyrics aside, I love the way "Rock 'N' Roll" really rocks and it's good to see him embrace the electric guitar. Ryan's alternative country tag takes a back seat while the guitars rages ahead on this record. The melancholy feel of "Love Is Hell" is quite expressive and sincere, but overall, I don't feel that there is enough glue to hold this one together.

Last year there were rumors of a four cd box set from various songs Ryan had recorded in demo form. This never came to light, but what did was a single disc collection called "Demolition". The paradox is that "Demolition" was simply put out as an "in between" album, something to keep his name in the news. Ironically, it flows better and has more structure than either of these new releases. Ryan Adams is a colossal talent to be reckoned with, but he needs a kindred spirit who will guide him through his career. He has the talent to move and inspire the masses; I just hope he does not pass this up because he's too inebriated. I still need great rock music in my life; it helps you ease the blows we are dealt in life. Ryan Adams has the potential to stir my soul each and every time he picks up a guitar. I just hope he realizes what an impression he can potentially make.

"Rock 'N' Roll": B+
"Love Is Hell": B-