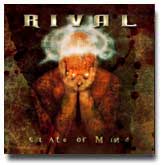 Metal Blade Records – March 5, 2004

It's always a joy to see local boys go far, and not only have the Rival guys gone as far from home as to Germany to perform in the "Headbangers Open Air" and "Bang Your Head" festivals, but then they landed a recording contract with Metal Blade Records as well.

Rival was formed in Chicago in 1990 as members Johnny Johnson on bass and lead vocals, Neven Trivic on guitar, Gary Olson on drums, and Chuck McNulty also on guitar, gravitated together to form one of the hardest hitting Chicago metal bands around. While playing clubs throughout the Chicagoland area they concurrently released a self-titled EP in 1991, and a then full-length CD, Modern World, in 2000.

Now, on Metal Blade Records, Rival's State of Mind release is a blatant progression in song writing ability and proves that these guys have learned something along the way in their 14-year trek thus far. It's not just all about fast guitars, throbbing bass lines, and bashing drums anymore, though there is a whole lot of that too, but the flow of inward-thinking themes and piercing lyrics offer a poignant metal package.

Highlights of the nine-song State of Mind include:
"Reach" – Highlighting the issue of youth violence in the classic Rival sound with a thriving, ferocious rhythm, and dueling guitars. As Johnson belts out his lyrics, he proves once again that metal singing can be pleasant and understandable without wimping out the power of the music. Unlike the guttural demonic bellowing of other metal vocalists, this combination of melodic vocals combined with feral music demonstrates how chaos and calm can skillfully go hand in hand in the rock world.

"Hell Train" – Whose intro is one of the coolest ever and actually gave me chills the first time I heard it. I'd once described Rival's music as the kind that makes you want to drive fast; with "Hell Train" you might crash if you let me music take over. It's wild, lawless, and bold.

"Insane" – With a slight Queensryche feel of influence. Trivic and McNulty's guitars perfectly symbiotic, while Johnson and Olson keep a steady and solid groove.

"Tyrants" – Addressing the madness behind the September 11th attacks on American soil, a deeply emotional memory and topic for most people. Everyone from Bret Michaels to Bon Jovi to "The Boss" Bruce Springsteen has written their own take on the tragedy. Rival's version of which is brimming over with powerful abandon.

And my favorite on the disc, "Remember You" – This is a slightly different sound in contrast to the rest of Rival's cache of material, but change is good. This song shines brightly as evidence for how Rival has matured as songwriters and musicians. Fearlessly coloring outside of the lines, "Remember You" is a haunting, though simultaneously strapping song, that is more about feel than speed.

With a huge preexisting fan base in the Midwest United States and Germany, Rival's debut on Metal Blade Records is promising, and one that will soon catch the eyes and ears of the rest of the world.

And even the cover of State of Mind is cool.

Email Sass at: sass@rockstarsass.com

Join UnRated Discussion where you can post your review or thoughts.

---

RELATED LINKS:
www.rivalmusic.net
www.metalblade.com