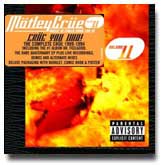 When we started this band
All we needed, needed was a laugh
Years gone by...I'd say we've kicked some ass
When I'm enraged…Or hittin' the stage
Adrenaline rushing…Through my veins
And I'd say we're still kickin' ass
-Kickstart My Heart 1989
Motley Crue was one of the maddest, raddest and baddest rock bands on the planet in my early teens. Their music, while not innovative, was an amalgam of many of the cosmic acts that came before them; Cheap Trick, Jeff Beck, Aerosmith, Kiss. I find myself once a year listening to nothing but Motley for a few weeks because the music still holds up today. From their punk and sloppy yet luminous debut, "Too Fast For Love" to the underappreciated "New Tattoo", this band and their songs are timeless. The generation before me had The Clash and The Ramones; the generation after me had the slew of Seattle bands that redefined the music landscape. For me, the band that was not afraid to buck the system was Motley Crue. From the overtly sexual videos, to changing their image, logo and sometimes singers on every record, this chaos puts them a league above the bands that tried, but failed to mimic them. They are the band who led the path for other metal bands form LA to break from the underground. Many may laugh at this, but I say don't laugh too hard. Without the Crue leading the way, an album like "Appetite For Destruction" never would have existed. That's a fact. Motley opened the doors for all of the bands from the strip who followed. Love or hate the bands who attempted to copycat them, they planted the seeds which culminated with the release of "Appetite" six years later. While other bands tripped over themselves trying to imitate the Crue, Motley stood out apart from all the others as four distinctive and unique personalities whose music still thrives today.
One of the truest testaments of the Crue during their first decade is each album outsold the previous one. These were not small albums either, each one reached multi-platinum. How many bands can say this? Maybe REM and U2, but their record sales were on a much smaller level. With the exception of 1984's "Theater of Pain", the Crue was also an artistic force pushing their talents to extremes with each and every record released. This brings us to the most fascinating time in the band's recorded history, 1989-1994; the Bob Rock period. It was during this time that the Crue found their creative niche behind a Canadian who went on to produce the biggest metal record of the 90's, Metallica's infamous "Black" album. However, before ever having a war of words with Lars Ulrich or James Hetfield, Bob Rock pushed four Motley men to boundaries I don't think they ever imagined they could reach.
"Music To Crash Your Car To: Volume 2" is a testament to the creative and collaborative efforts of Motley Crue and Bob Rock, which documents the bands time with the renowned producer. Within it you hold two perfect rock albums, possibly the defining Sunset Strip metal album of the late 80's and the album to not come from Seattle during the 1990's. This box ironically contains their best and worst selling records: 1989's "Dr. Feelgood" (6x platinum) and 1994's self titled album with lead singer John Corabi (400,000 copies sold). These are night and day albums, vanilla and chocolate, right and left, two major extremes, two very different bands, and two truly immense albums.
He's the one they call Dr. Feelgood
He's the one that makes ya feel alright
-Dr. Feelgood, 1989
When Motley entered the studio for 1989's "Dr. Feelgood" one was wondering if their best work would be in front of them. Just a few months prior, Nikki Sixx overdosed and was actually dead for a brief period. The band was on a self-destructing path that almost no one in the history of rock could ever touch. Seeing their destructive behavior, their managers wisely cancelled all overseas dates for 1988 and sent them into rehab. Once clean and sober, the Crue found the amount of material and ideas flow from them like a vast ocean. What Bob Rock pushed these men to do is nothing short of astounding. They entered the studio clean and sober for the first time in their careers. Rock helped guide them through the studio and made them buckle down and work. The end result was the exclamation point on LA 80's metal: "Dr. Feelgood". "Dr. Feelgood" is more than a hair band album; it's a masterpiece of the LA hard rock scene from the late 80's. Truth be told, it sounds unlike any other album from that time. The Crue were proving to the world they were more than a flash in the pan. They were a band with serious chops and lyrics by Nikki Sixx which pushed conventional boundaries. I always saw them as America's answer to The Clash-raw, dangerous and ready to pulverize everything in their sight. On first listen, this album made me, and every other Crue fan, realize that even multi-millionaire rock stars can still be hungry. What they created was a monstrous record one would expect from a new band, not one that had sold close to twenty million records. There is the sleaziness of "Slice of Your Pie", "Rattlesnake Shake" and "Same Ol' Situation" yet the band also shows maturity with more serious songs like "Without You", "Time For Change" and "Don't Go Away Mad, Just Go Away". However, the album's best tracks are the title track of a drug dealer's rise and fall and the overdose inspired, "Kickstart My Heart" which slams your ears with such a powerful force, you are shaking, trembling and dizzy after letting it assault your senses. Blending the perfect balance of torrential tunes and rich pop melodies, it's no wonder this album sold over 6 million copies upon its release.
Following "Feelgood" was the double platinum "Decade of Decadence". While the complete compilation has been out of print for many years now, the unique and rare tracks appear here on disc #2 along with the songs that comprised "Supersonic and Demonic Relics" from 1999. It's a dynamic disc that finally includes the rare "Black Widow", a long sought after song from the "Shout At The Devil" sessions. It also includes the musically superior "Home Sweet Home '91", which since "Decade" has been unavailable. While the original is a classic, the piano on the '91 version is superior to the original. The accompanying home video shot by Matt Mahurin was one of the best of it's time. The original version helped define the 80's power ballad and remains most fans' favorite. However, truth be told, the '91 version is the one with teeth.
When daddy was a young man
His home was living hell
Mama tried to be so perfect
Now her mind's a padded cell, ya
-Primal Scream 1991
The remainder of the second disc is anything but throwaway tunes. "Rock N' Roll Junkie" is better than any fix the band took during their drug induced hey day and "Saints and Sinners" stands up to every track on "Shout At The Devil". Many of these tracks deserved to be on the actual studio albums back in the 80's. However, the definitive tracks on disc 2 are "Primal Scream", "Angela" and a cover of the Sex Pistol's "Anarchy in the UK". "Anarchy" is loud and in your face, a song that band tore apart and nailed. "Angela" is the picture perfect pop rocker Nikki Sixx wrote for his then wife, a former Playboy playmate. The song which stands heaps above all others is "Primal Scream". This was the only hint of where Motley was going on their next studio album. One may be ready to dismiss it solely on the basis of it being a Motley Crue song, but read the lyrics and you will change your mind. It's easily the most powerful song in the band's cannon. This song summed up where the Crue was going to be going in the 1990's and even through the previous decade of decadence had rewritten the rules; it appeared those rules were about to be rewritten again…until the unforeseen happened.
The lines on their faces so deep, yeah
A revolution, or reach out
And touch the day
We're overdue, child…Change
Now it's time for change
-Time For Change, 1989
In February of 1992, just a little over four months after the release of "Decade Of Decadence" Vince Neil was no longer part of the Crue. What happened is still under debate to this day. The bottom line is that the band and Vince parted ways, moved on and did not rekindle the friendship and musical brotherhood for half a decade. It's a shame, because the momentum, moment and musical heights the band was reaching for were forever lost.
In Vince's absence, Motley surged ahead and found singer John Corabi of The Scream. John was gritty to the core. His handsome looks were hidden by the long curly hair and piercings that adorned him. I had met Corabi just a few months before at an in-store signing for The Scream. He appeared to me to be incredibly genuine and gentle. Ironically, he was the soul who matched up with Nikki and Tommy perfectly as far as where they wanted to take the band. Vince had always been a premier front man. John was that, plus a very accomplished musician to boot. Motley immediately began jamming and writing with Corabi. They forged ahead and the fruits of their labor were finally heard a little over two years later. Debuting at #7 on the charts, "Motley Crue" was a deep departure of the party atmosphere of the band's signature 80's albums. Here was a band that had grown up, but in ways no one ever thought imaginable. This was a shadowy and multifaceted album in which their inner demos were excised.
Oh, life, it's misunderstood, yeah.
Life's not always fair, or so they say.
-Misunderstood, 1994
Something not known among all of my friends is that I did extensive research for the Tommy Lee autobiography coming out later this year. While doing research for the book, I continually found myself going back to the 1994 album, as Tommy unleashed many inner demons on that record. This album is a treasure of unheard songs more worthy than its cutout bin status upon release. The bad news is in the course of writing Tommy's bio, authors were switched and my research was essentially thrown out the window. The silver lining to this situation is that I rediscovered the 1994 album during this time. As a band, Motley had never been as collaborative as they were with Corabi. This album was light years ahead of it's time. If it had been released in 2000, it would have been a multi-platinum smash. It is perfectly in line with the material Soundgarden, Pearl Jam and Alice in Chains were creating out of their tortured souls just north of Motley's home of Los Angeles. "Motley Crue" is an album where the human condition is studied and seriously pondered upon. A powerful resonance reeks from this album. However, while it was a brilliant side project, it was simply not Motley Crue. It's still a great album, but instead of spending two years and $2 million to produce it, the band should have put a six month time limit on it and done it as a side project before reconvening with Vince to pick up where they left off with "Primal Scream".
Now, should they have continued on with Vince? I say yes. They should have been cool and collected enough to simply take a break, do a side project with Corabi within six months, and then re-group with Vince. That is what they should have done. Instead, they broke up a brotherhood whose feel and vibe would never be quite right again. They created some powerful music later in the 90's but that review is being saved for Volume #3 of "Music To Crash Your Car To". The truth of the matter is that if the band had maintained the relationship with Vince, they probably would not have hit a stall in the road. Instead of rebuilding an empire, they would have only needed to replenish it. But their decisions took them down a different path. In retrospect, it can be discussed endlessly whether it was wise or not, however, this box set leaves very little to tear down except the walls as it showcases two very different bands, creating two truly indisputable classic rock albums and some extras which are deserving to be included on these masterpieces.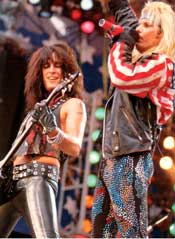 Now, while the music within "Music To Crash Your Car To Volume #2" is spectacular, I do need to bring up a few minor quibbles that are important to note. If you are a die-hard Crue fan, you probably own all of the material on this box set. Only one song has not been released before, "Black Widow". Every Crue album was remastered and reissued in 1999 and then again in 2003. The release of this box set does not serve the loyal fans. They are essentially being force to pay $50 for one song, albeit a great one. Or in the case of Volume #1, fans had to pay $50 for the original Leathur version of "Too Fast For Love", which is not available anywhere else. I have no issue with the band repackaging these albums into elaborate box sets; however, by adding few bonus tracks it is raping those who owned these albums on cassette, cd, remastered reissues, etc. There should be at least one bonus disc of material on each of these sets to appease the devoted fans. Hopefully this is something they consider before issuing Volume #3 later this winter. However, my main quibble with this box set is with the completely inappropriate title. Anyone who knows the story of the Crue knows Vince Neil was convicted of manslaughter for the death of Razzle, the drummer of Hanoi Rocks, in 1984. Vince drove drunk, killed Razzle and injured two other drivers in the incident. The title, "Music To Crash Your Car To" is an insult to the memory and legacy of Razzle. I am literally flabbergasted that someone did not stop this before it went to press. How could they even allow them to release a box set with such a title? I don't want to judge a book by its cover, it's the music inside which matters, but it never hurts to display a little respect and class. RIP Razzle. Now that I have said what I wanted to say, I will get off my soap box.
Look inside the mirror, but I don't know who I see.
Smoke another cigarette, a smile holds back the tears.
These contradictions seem to be the story of my life.
A simple man with memories of those long lost golden days.
I close my eyes and slowly driftaway.
-Driftaway, 1994
So why am I taking so many words to define a band whose heyday is a decade and a half past us? I'll tell you why, because I love this band. Since I first got into Motley I have discovered so much incredible music-Bob Dylan, The Clash, U2, Johnny Cash, Springsteen, Peter Gabriel and dozens others. Each of these bands are true artists, ones who have a mission. They want their art to affect those that listen to it. They want that art to be taken seriously as a profound art form. Now, while Motley Crue at their core was a loud and raging hormonal machine, no other band provided a better soundtrack to my adolescence. This was the music that saved my life. For those cloudy days where there was not a beam of light to grasp onto, I had the Crue's records to show me the light at the end of the tunnel. If there was a time that was dark or dreary, these albums helped me make it to the next day.
Motley Crue's music is a prescription for pain. In the decade since the last music on this box set was recorded, I am floored at how many people I meet from all over who point to the lyrics on these albums as a driving force in their life which have helped them through periods where darkness almost overwhelmed them. To those who love them, they will always be more than a flash in the pan party band, but one that seriously shaped and made a difference in people's lives. While numerous other LA bands tried to be cool, Motley defined and redefined its meaning with every record. The music on each and every release was titillating, sinuous, frenzied and poetic enough to defy age. As long as there is adolescence there will be a place for Motley's music. In the day of 'here today, gone tomorrow' musical acts, future generations can only pray they have a band like this to lead them through their time of change. Say what you want about these men in 2004, but you can not take away the music showcased on this box set. Forget the reality TV shows, honeymoon videos, solo albums and side projects; listening to this set makes it all forgettable. It just goes to show you that the power of MUSIC overshadows everything else. When Mick, Tommy, Vince, Nikki and even John are ashes in the ground and no one will remember their tabloid headlines, there will be the music. Regardless of whether the Crue's best music is behind them or not, they live life on their own terms.
Hey man, get out of my face
I deal with my problems at my own pace
With your screwed-down, anti-human views
Deal with the pressures by playing the blues
If you wanna live life on your own terms
You gotta be willing to crash and burn
-Primal Scream, 1991
Join UnRated Discussion where you can post your review or thoughts.

---

RELATED LINKS:
Motley Cruew Online