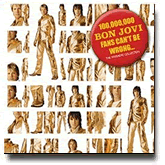 "Another Side of Bon Jovi"
Bon Jovi: 100,000,000 Bon Jovi Fans Can't Be Wrong… Album Review By Anthony Kuzminski

"All I ever wanted to do was share our music with as many people as possible for as long as possible"
- Jon Bon Jovi (9/17/04)

I sit here holding the new Bon Jovi box set in front of me. I'm listening to it onslaught my ears via my earphones (my favorite way to listen to all new music), taking each track in like a gift, piece by piece. I feel like a kid on Christmas, overwhelmed and can't decide which new toy I want to play with first. What I am staring down at is beyond impressive, you know, one of those really cool packages that every band dreams of having one day. However, most acts continue to market their box sets it towards casual fans- the very people who are least likely to buy it. Take for example the Kiss box set from a few years back, it was five discs and four of the discs had previously released material. What a waste of money. When I heard Bon Jovi was putting one together a few years back, I was thrilled…but cynical at the same time. Since 2001, Bon Jovi has tripped over three releases in a row, all of which could have been career milestones and instead became mere products without soul. Their live album, "One Wild Night", liner notes by Lonn Friend aside, was probably the most inadequate live album to ever be released (and there are A LOT of them). The album was rushed without a purpose, sequence and even proper recordings. It was full of edits and they relied too heavily on previously released b-sides many fans already owned. "Bounce" was released the following year and while it was easy on the ears, it was the band's weakest effort since its sophomore record, "7800 Fahrenheit". It appears the most soul searching and pulverizing tunes were left for b-sides. "This Left Feel Right"…I don't think there are words in the English language to illustrate the downer and catastrophe that album was. If you really want to know how I felt, the review should still be up on this site. That being said, I was hoping to get ten or twelve songs off the box set that I did not already own. The band has so many b-sides (live, acoustic, studio, instrumental, etc.) that when I compiled them to save space on CDs a few years back it took twenty-five CDs to amass all of them. I was holding my expectations for this box set at bay, because if I was to judge what would be on the box by the way these three previous releases were handled, I figured 80% of it would have been released before. Boy was I wrong.

Title and cover photo aside, this is one of the greatest box sets ever assembled. In fact, off the top of my head, only Bruce Springsteen's "Tracks" and Bob Dylan's "The Bootleg Series Volumes NUM:1-NUM:3" are as comprehensive and full of such vivid music. For every album Bon Jovi puts out, they usually write and record about 30 songs. Over the years, many of these have popped up on international b-sides. To my great surprise, most of those b-sides were out to the side for this box set and the purpose was to give the fans songs that have never been performed before. Because this box contains a 60-page booklet, 50 unreleased songs and a DVD, I'll dissect each one of them below, culminating in a track-by-track review of the box set.

THE PACKAGING: I'm not a fan of the title or cover. It comes off as a little over the top for my taste, but this is strictly my opinion. Bragging about 100 million records sold reminds me of a guy who brags about the number of women they sleep with: it just comes off tacky to me. That being said, the box is nicely put together and not flimsy like other box sets out there. In short, unlike Springsteen's "Tracks" which started falling apart almost immediately, this one should hold up over time.

THE BOOKLET: This booklet goes beyond my wildest expectations. Not only does it have notes from Jon Bon Jovi, but Pierre Robert, a DJ from Philadelphia, adds a personal touch with insider liner notes. The pictures on the inside cover the band's entire career, from the big hair of the 80's all the way up to the gold suits in 2004. The best picture is the full and unedited photo for the first album. Along with the pictures are used concert tickets and even single sleeves from international markets. Many of these pictures I have never seen before. At the end of the booklet each band member gives a personal message to the fans. Inter-dispersed throughout the book are comments from fans around the world and what Bon Jovi means to them. Some of the comments in the book are from people in countries I did not even know existed, showcasing how far and wide Bon Jovi's music has reached. Included are comments on 29 of the 50 songs in the box set and why certain songs were chosen.

THE DVD: This is not some high concept DVD, but one that is bigger on substance than style which is fine by me. Anyone who bought the band's QVC DVD knows that was one of all style and zero substance. I'm happy to say the exact opposite occurs here. That being said, many of the clips in this are from "Access All Areas", the bands out of print documentary from the "New Jersey" tour. There is also home video footage of the band around the world. What I love about this footage is that the band is not "on" for it. Someone in their crew merely had a camera and shows them on the bus, on their planes or in the studio doing what they do everyday. The new footage is comprised of Jon alone in his home studio and of the band in LA discussing the different tracks. Consider this DVD a commentary track to the CDs. It's great to see the band reminisce about certain songs and be in shock at others as they don't even remember recording or writing some of them. The footage of Jon in his home studio is not crisp and glossy and to be honest, it's a tad hard to hear, but I love it because he's not made up for a TV interview and simply talks about what really matters: the music. It has been far too long since I felt like Jon has let us glimpse behind the curtain in the land of Oz.

THE MUSIC: Some of the best music the band ever recorded is spread across these four discs. I'm not lying when I say that. Even the songs that are b-sides at best are incredible to hear and see what the band was venturing into during different eras.

> "I was guilty of always looking ahead, always feeling I had to prove to myself and to anyone else who cared to pick a fight that it wasn't a fluke" – Jon Bon Jovi 9/17/04

SMALL QUIBBLES
No box set is ever perfect and I list these small quibbles here in the hope it's seen by people within the organization.

-1 Album Cover and Title: I'm not a fan of the title and cover of this album, a bit too gaudy for my tastes, but alas, I don't want to judge a book by its cover. However, the problem is that many people will, which is a shame because the music speaks for itself.

-2 Hugh McDonald: Even though the accompanying booklet is 60 pages and has well over 100 photos I only found two pictures of their long standing bass player in the booklet and one is of his back. This guy has played on every single Bon Jovi album. Considering that 95% of this box set was recorded from 1991 on, Hugh most likely played on 95% of the tracks, if not all of them. The band's reluctance to give their hired hand more respect is disturbing. I can understand why Jon does not want to make him an official member, but would it kill you to put more than two pictures of him inside of the box set?

-3 Disc Space: If you look at the times on each of the four discs you'll see that over 90 minutes of disc space went unused. Why not combine the music onto three discs then? I respect the band's decision to not make this box chronological and try to sequence the numbers in some organized fashion, but the truth is that none of the four discs play like an unreleased album. It's a box set and they are not supposed to really flow like that anyway. But with that much disc space why not add some of the 40 released b-sides that band has put out over the years: "Every Word Was A Piece of My Heart", "Borderline", "Let's Make It Baby", "Fields of Fire", "The End", "Stay", "Alive" and dozens of others?

-4 Missing Gems: One thing that has amazed me about this box set is how out of the fifty songs included on these discs, only four versions have been previously been released. However, apparently Jon and Obie O'Brien made a point to release things that no one, and they really mean NO ONE, ever heard. I respect this immensely, but some gems are missing: "Cadillac Man", the original demos of "Rosie" and "Never Say Goodbye", "Too Much Too Soon" (written the same day as "Wanted") and most importantly none of the other dozen tracks recorded for the "New Jersey" album back in 1988. Granted, many of the above songs were played in concert once or twice or demos have circulated in bootleg form for years. However, it would have been nice to get some of those songs on the 90 minutes of open disc space.

FINAL THOUGHTS
Minor quibbles aside, this is a box set by which all others should be judged and compared to. For the first time since 1996, I really feel like Bon Jovi is catering to their diehard fan base once again. This album was made for us, the fans. Instead of being treated to songs we already own, they have turned the other cheek and shown us another side of Bon Jovi. Let me say this, it's an inspiring side of the band we do not see enough of. Let's hope this overview of the box makes them look inward on future albums and tours. The last few years have been good and bad ones for Bon Jovi fans. For every high, there seemed to be two lows. All too often I felt like they did not care about that core base and was more concerned about the million other fans that may or may not buy their album. In short, my faith in the band was living on a prayer, but I kept the faith and now, it has been rewarded. I can once again say "I Believe" in this band.

Album grade: "A"

---
100,000,000 BON JOVI FANS CAN'T BE WRONG Track-by-Track.

(All tracks previously unreleased unless mentioned otherwise)
CD NUM:1: (54:35)
1. WHY AREN'T YOU DEAD?
A catchy tongue-in-cheek rocker from the "Keep The Faith" sessions which was most likely left off the album because they already had "Sleep When I'm Dead" and the two have a similar feel and sound.

2. THE RADIO SAVED MY LIFE TONIGHT
This is simply one of my favorite songs on the box. It reminds me everything I love about Bon Jovi. Sure these guys are not Dylan, Springsteen or Zeppelin, but the cliché lyrics are their trademark and no one does them better. We've all been driving in the car when we hear that certain song that elevates us and takes us to another place, just like this song. This was a leftover from "Keep The Faith".

3. TAKING IT BACK
This is a full speed rocker with impressive guitar work from Richie Sambora, as the band tries to prove they are back-even as musical climates drastically changed in 1992, when this was recorded.

4. SOMEDAY I'LL BE SATURDAY NIGHT (DEMO)
This is easily one of their best songs here in demo form. If not for "Crossroad" this song would be facing the same fate as many of the "These Days" songs, forgotten and left behind. There is a different beginning and different lyrics to this now classic song.

5. MISS FOURTH OF JULY
Richie Sambora calls this song his favorite on the box set and he did not even write it, but he does add some stunning harmonizing vocals. Jon's a big Tom Waits fan, and call me crazy, but I could actually see him singing it. A slow moving ballad recorded for the "Keep The Faith" album, this song could be a hit if someone covered it today.

6. OPEN ALL NIGHT
The band has had this title around forever, rumored to be the first title of their 6th album which went on to be "These Days". A song of the same title is on "Bounce" but the real gem is here on the box. Co-written by Eric Brazilian and most likely recorded in the late 90's for "Crush"

7. THESE ARMS ARE OPEN ALL NIGHT
I believe this was demoed by Jon in the late 90's, co-written by Billy Falcon. A slow driving number opposed to the rocker just before it. There are some similar lyrics between the two songs. 8. I GET A RUSH
A straight-ahead rocker that is reminiscent of Credence Clearwater Revival's "Rocking All Over The World". This song is further proof that no one can deliver more direct love professions than Jon Bon Jovi.

9. SOMEDAY JUST MIGHT BE TONIGHT
This is a nice mid-tempo number with some great organ and slide guitar. A song that probably needed a little more work but is has some great verses.

10. THIEF OF HEARTS
Left off last year's "This Left Feels Right" at the last minute, it has finally found a home here on the box. Co-written and produced by Pat Leonard, it's a sweet melancholy song which fits nicely here on the box set.

11. LAST MAN STANDING
Left off "This Left…" last year, it has found a home here and on the next Bon Jovi album."Last Man" showcases stunning lyrics where Jon reflects on the current state of the music business and speaks his mind; one of his most truthful lyrics written right after the death of Johnny Cash.

12. I JUST WANT TO BE YOUR MAN
This song starts off moody and mysterious, reminiscent of a Beatles or Rolling Stones song…which slowly builds until the chorus kicks in. The song has a cinematic feel to it; they should push this one to movie producers for placement in a film.

CD NUM:2 (52:09) 1. GARAGELAND
Written for "Crush" and probably should have made the album. It's a great catchy tune that really should have stood as a statement for the "Crush" album. Here the band shows what they do best, playing raw rock 'n roll. "Garageland" is an anthem that would shine live.

2. STARTING ALL OVER AGAIN
Recorded for "Keep The Faith" and released on the Japan version of the album. However, this is a different and much rawer mix. A great rocker the boys mentioned leaving off because of its high pitch and would have been tough to play live.

3. MAYBE SOMEDAY
A sweet love ballad that eclipses all of the ones released on "Bounce". JBJ and Sambora's harmonizing vocals are seducing on this one.

4. LAST CHANCE TRAIN
The song has a McCartney-esque feel to it. Bon Jovi shows their multiple influences on this track with more cliché love lyrics but delivered with passion that reminds me of Dylan from "Blonde on Blonde". Here we have yet another treasure long forgotten with a killer chorus. Recording date is not given but I believe it was recorded in the late 90's solo by JBJ.

5. THE FIRE INSIDE
This song was recorded for "Keep The Faith" and probably should have made it onto the second half of the album. Stripped of any instruments other than an acoustic guitar and minor percussion, the lyrics excel on this number. Along with "I Believe", "Bed of Roses" and "Dry County", this is Jon Bon Jovi at his best as a solo songwriter.

6. EVERY BEAT OF MY HEART
This song is a saccharine mid-tempo number. Here we have another love song where they profess their undying love..."I live for your love". A solid song but one that probably was one of many "I'd Die For You" songs the band had lying around.

7. RICH MAN LIVING IN A POOR MAN'S HOUSE
Played briefly on Jon's brief solo tour of Europe in 1998, this track was co-written by Dave Stewart. Nice guitar work from Southside Johnny guitarist Bobby Bandiera. This was most likely demoed post "Destination Anywhere" and pre-"Crush".

8. THE ONE THAT GOT AWAY
This was written originally for the Kevin Costner film, "Message In A Bottle". Another Bon Jovi love ballad that would have fit well in the context of the film; restrained and soulful, it's too bad the producers did not pick it up.

9. YOU CAN SLEEP WHILE I DREAM
An incredibly catchy chorus showcases with an optimistic lyric. No date of recording given, a solo composition by Jon Bon Jovi and due to the lyrical theme, I'm going to guess it's from 1992.

10. OUTLAWS OF LOVE
Not sure when this was recorded but I'm going out on a limb and saying 1986. Surprisingly it's as good as or better than anything on "7800 Fahrenheit". The lyrics are a bit advanced for that period of the band so it is most likely a "Slippery" outtake. Either way, it's a worthy inclusion on the box even if no one in the band remembered writing or recording it.

11. GOOD GUYS DON'T ALWAYS WEAR WHITE
This song was originally released in 1994 on the soundtrack to the motion picture 'The Cowboy Way' starring Keifer Sutherland and Woody Harrelson. It's a straight-ahead rocker bridging the gap between "Keep The Faith" and "These Days.

12. WE RULE THE NIGHT
This song definitely has to be from 1985. The sterile guitar feel and vocals are reminiscent of this period. This song probably owes more to the Scorpions or Dokken than Bon Jovi. You can hear a band still trying to forge its own unique sound here.

CD NUM:3 (55:51)
1. EDGE OF A BROKEN HEART
This is why box sets exist. Cut and recorded for "Slippery When Wet" but left off and put on a soundtrack to a Fat Boys movie the following year, the airplay of this song brought it to NUM:40 on the "Radio and Records" (a competitor of Billboard) chart in late 1987. If released as a single it would have been a top-5 hit for sure. Come on guys, now that it's out on the box, can we hear it live?

2. SYMPATHY
Written and recorded during the "Keep The Faith" sessions in Vancouver as the band was watching video of the Stones from their "Steel Wheels" tour. It sounds very similar to the bands rendition of Dylan's "Seven Days".

3. ONLY IN MY DREAMS (featuring Tico Torres on vocals)
Anyone who has seen them live knows they are one with their instruments, a set of extraordinary musicians. However, they are all extraordinary vocalists. To date, only the band's Christmas shows in Red Bank, NJ have given us a hint of their talents. Tico Torres' voice is a hybrid of Tom Wait and Steve Van Zandt. "Only In My Dreams" could have been sung by Jon, but thankfully it's not. It would never make a proper Bon Jovi album, but it's one of the highlights of this box set. This song was most likely recorded somewhere between 1992 and 1995.

4. SHUT UP AND KISS ME
One of my least favorite tunes on the box set, but it's a catchy little number co-written by long time collaborator Desmond Child with a chorus a tad reminiscent of "Proud Mary". An interesting number probably best left in the vault but yet another number here showcasing the band's different musical tastes.

5. CRAZY LOVE
This song showcases Jon Bon Jovi in full on pop mode. Co-written by Dave Stewart and most likely recorded between 1996 and 1998 with Jon's solo band.

6. LONELY AT THE TOP
This is hands down, the best song on this box set. This song could turn a non-Bon Jovi fan into a believer. Originally released in 1995 as a b-side, it was written for Kurt Cobain's daughter, Frances. Its haunting vocal gives greater tribute to the most influential rocker of my generation than any journalist has since his death a decade ago. This is coming from a bunch of guys who were thrown into the spotlight like Kurt, but as mentioned in the DVD on this box set, they had people there to get them through the trying times. It includes a spellbinding lyric; "I'm sorry you didn't get to know your Dad, I bet he's sorry he didn't get to know you too". This is the one song on this box that can send shivers down anyone's spine, Bon Jovi fan or not. There is a violin added into the mix of the song that differentiates this from the previously released b-side.

7. ORDINARY PEOPLE
Originally released as a b-side in 2000 for "Say It Isn't So" in Europe, but originally written and recorded in 1995 for "These Days". It's always been one of my favorite unreleased tracks by the band, so much so that I have included it on mixes for friends over the years. "These Days" was the bands masterpiece and while it would have made a nice addition, it is probably best suited for this box set. Another song that may make someone takes notice of the band's extraordinary songwriting ability. Included here is the unedited take of the song, which will make fans laugh when they hear what Jon says at the end.

8. FLESH AND BONE
A bluesy-rocker co-written by David Bryan, who really found his writing groove with Jon and Richie in 1995, unfortunately none of his songs made the "These Days" album. A worthy inclusion here in which Richie shines with a monster guitar solo, his best on the box set.

9. SATELLITE
This track soars with magnificent lyrics and an unbelievable guitar solo by Richie. It was left off "Keep The Faith" because of the arrangement. A little more work on this one with Bob Rock would have possibly given the band another epic masterpiece along the lines of "Dry County" and "Next 100 Years".

10. IF I CAN'T HAVE YOUR LOVE (featuring Richie Sambora on vocals)
In early 1992, I remember coming across cassettes of the demos for "Slippery When Wet", "New Jersey" and "Stranger In This Town". Getting these tapes was like winning the lotto. To this date I'm not sure how they circulated, but I still listen to them today. Sadly, of all the amazing tracks on those three cassettes only two songs made this box set. This is one of them. "Stranger In This Town" is the most underrated album of the last twenty years. It is easily one of my three desert island discs. Richie laid his heart and soul on that record. It's a career-defining masterpiece. Nothing Eric Clapton ever moved me as much as "Stranger". One of the outtakes from it is a tune he co-wrote with Desmond Child and Diane Warren. This tune and "Forever Mine" were my two favorite outtakes from "Stranger". Here we have "If I Can't Have Your Love" released for the first time. I don't think this was ever properly recorded and I believe it was recorded specifically for this box set. The song showcases Richie's powerful vocals accompanied by only a piano. It just goes to show what an extraordinary singer this man is. He may even be better than Jon. This is my second favorite song on this box set.

11. REAL LIFE
A song Jon originally co-wrote with Desmond Child and demoed in 1998. In early 1999 the band re-recorded it and was the first band recording released since 1995. This was one of the last songs producer Bruce Fairburn ever worked on. He died a mere three months later. It was chosen to be in the movie "EDTV". It was overlooked back then and it nicely being given a new life here on the box set. This version is remixed from its original album and later UK single release of the song.

12. MEMPHIS LIVES IN ME (featuring David Bryan on vocals)
David Bryan's passion for the last five years has been writing a musical, "Memphis". It's based around a man named Dewey Philips, one of the first men who played early blues and rock 'n roll on the airwaves in the 1940's. Here we get a stunning track that would fit easily on an Elton John album. It's not a rip off of "Levon", but it gives me that warm feeling listening to Elton's early 70's albums and the conviction with which Bryan sings the song gives me hope that this musical will make it to the stage sooner than later.

13. TOO MUCH OF A GOOD THING
A number with some potent guitar work by Richie on the track, not quite worthy of album inclusion but perfect for a box set. Co-written by Richie Supa (co-writer of Aerosmith's "Crazy"), the man Richie did most of the writing with for his second solo disc. I'm guessing this recording is from 1999/2000 as an outtake from "Crush" most likely written by Sambora and Supa with added elements by JBJ.

CD NUM:4 (61:28)
1. LOVE AIN'T NOTHING BUT A FOUR LETTER WORD
This song was written after Jon spent three weeks on the road with Southside Johnny in 1991 playing rhythm guitar. The song oozes the R&B flavor that dominated Southside's best works with horns and harmonica. This is the finished track with added elements by Sambora and Bryan. This is a great track that did not fit in with "Keep The Faith. Another gem being uncovered for this box set.

2. LOVE AIN'T NOTHING BUT A FOUR LETTER WORD (DEMO)
Here is JBJ's solo demo of the song without the R & B flavor. Instead of the soulful sounds of the previous track, we get an uncompromising rocker.

3. RIVER RUNS DRY
Written by JBJ and Desmond Child, "River Runs Dry" is one of Jon's storytelling songs. This is another song that will startle people who only know Bon Jovi for their big hits. The acoustic guitar that bookmarks the beginning and end sound a bit like "Stairway To Heaven". You could play this for someone who is not familiar with Bon Jovi and I bet they would be taken aback at how good this song is. The chorus reminds me a bit of "Thunder Rolls" by Garth Brooks.

4. ALWAYS (DEMO)
"Always" was originally written for a Gary Oldman film "Romeo Is Bleeding" but pulled back by Jon because he did not like the movie. A&R man John Kalodner urged the band to record it and release it and it went on to become their biggest hit ever. It spent six months in the US top ten and reached a career high NUM:2 in the UK. Here we have the original demo done on the band's European tour in 1993.

5. KIDNAP AN ANGEL
Co-written by Billy Falcon (whom Jon produced an album for in 1991) in the late 90's. I believe "Just Older" came out of these sessions as well. Most likely a demo from for the "Crush" album, driven by the acoustic guitar and harmonizing vocals.

6. BREATHE
"Breathe" is a nice little harmony that would have fit nicely on the "Bounce" album. Surprisingly the "Bounce" demos, which did not make the album, were better than half of the material that did make it. Personally I think "Alive" or "Still Standing" should have been included over "Breathe". However, this is simply a matter of taste.

7. OUT OF BOUNDS
"Out of Bounds" is an outtake from "Slippery When Wet" outtakes, and one of the few from the 1980's on this box set. It was written in 1986 for an Anthony Michael Hall movie of the same name that went unused. The sound and style of the song is definitely from the late 1980's. On the DVD when Jon is talking about this song, he informs us of another possible title for the "Slippery When Wet" album. All I will say is that it is too good to spoil here.

8. LETTER TO A FRIEND
Not much is known about this mid-tempo rocker with dual vocals most likely written in 1992 for the "Keep The Faith" sessions. The bass line in this song sounds like the same one from "In These Arms". This is a good song about yearning, but was done better on "In These Arms". This song is driven by the bass and drums.

9. TEMPTATION
This superbly unsubtle track was originally released in 2000 in Europe as a b-side. The version that was released was raw and dirty, and along with "Let's Make It Baby" the most challenging piece of music I had ever heard the band create. This version is fleshed out and in studio form from the "Keep The Faith" sessions. I prefer the original demo version, but it's a treat to get a different version of the song.

10. GOTTA HAVE A REASON
"Reason" was written in 1993 with the late Michael Kamen for the film, "The Three Musketeers". Here we have a laid back acoustic demo. Not picked up by the movie's producers who went with "All For Love" instead, but once again, perfect for a box set.

11. ALL I WANNA DO IS YOU
This is a bluesy/ R&B number driven by the piano and organ, not a great song, but a fun one and sounds like more Southside Johnny influence here. No recording date can be determined but I'm guessing 1992 as it's similar to "Four Letter Word".

12. BILLY
Once again, no recording date can be determined for this song, but it's an enlivening rocker written by Jon and Richie. There are elements of this song that sound like they are from the recording of "Crush".

13. NOBODY'S HERO/ LIVIN' ON A PRAYER (DEMO)
"Nobody's Hero" is the last track listed on the box. No date is given for the recording. The famous dual vocals by Jon and Richie which have forged their songwriting partnership drives this melodic but slow moving song led by David Bryan's piano. One of the many 'professions of love' songs Bon Jovi does better than anyone. This is a gem that would have been nice to be included on an album over "Save The World" or "You Had Me At Hello". The duet shared by Jon and Richie on this disc is the best I have ever heard the two on record.

The biggest surprise on this box set is the hidden and unlisted bonus track at the end of "Nobody's Hero". To my great surprise they have chosen to include the original 1986 demo of "Livin' On A Prayer". This version has no talk box, but you can still hear the triumphant energy at the end of the song showing that even before it was fleshed out in the studio, it was always a classic.