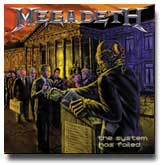 "Die Dead Enough", heard every day on radio stations as the new release by Megadeth after a long wait of uncertainty for the band and Dave Mustaine who suffered nerve damage a few years to his hand. We are glad you are back Dave and that Metal is alive in your blood. The excitement among Megadeth fans is voice on radio requests. The line up and long time bassist Dave Ellefson is MIA, we wish you well, and the music lives on. "The System Has Failed" is RAW! Megadeth and Mustaine stick to the roots with his lyrics, music and political thought only expressed by his rhythm and his weapon that he releases. The crunch we know so well as Megadeth from track to track is what I and so many have been waiting and glad that Dave Mustaine is Back in Business. Over the years, Megadeth grew lyrically belting out complex sounds like no others in metal today, yesterday or in the future to come. Dave Mustaine is one of the fathers that planned the metal we listen.

Politics always played strong in Megadeth history and why should it change for "The System Has Failed". From the opening track "Blackmail the Universe" as the unforeseeable occurs, where no imagination could even bring to happen in such a world that terror thrives at our back door and must be countered each day. Dave Mustaine has always voiced of what is happening in our current news from no difference in "The System Has Failed" a new release that brings our current situation of war, politics, and judicial system to our face. The tracks are hard on this CD as we expect to see from Megadeth and owning "The System Has Failed" will not be a disappointment. If you are not a fan give it a LISTEN and you might just be converted. Because Megadeth will be hitting the streets live!

"The Scorpion," one of the more melodic songs, however don't let that make you believe its nothing but hard because the lyrics are of a man whose in control of his situation of people and surroundings and knows how to manipulate to his advantage. Megadeth is that band that took its own and still does today. "The System Has Failed" is most likely the last release for Megadeth under the Sanctuary label. Mustaine did not hold back and made a great new Megadeth full-length release that is great lyrically and musically and bringing back Chris Poland on guitar takes control of lead and compliments Megadeth as guitar as days in the past.

"Back In The Day", reminded me right away of Frank Sinatra's "It Was A Very Good Year" a different version to a different generation reminiscent of life from youth. A line from the song "In Denim and Leather" was what we all lived for in the infancy of the metal thrash scene in the 1980's, last the lyrics state "Metal's King back then, And still is to this day". This can only be visualized because Dave Mustaine and many as him lived a live that was what we all imaged the road live of metal is!

"The System Has Failed" is pure Megadeth re-invented once again as Dave Mustaine always has done over the past 2 decades. This disc is a keeper, Metal Roar, welcome back to Dave and Megadeth.

"So live your life and live it well
There's not much left of me to tell
I just got back up each time I fell"


Join UnRated Discussion where you can post your review or thoughts.

---

RELATED LINKS:
Megadeth Official Site