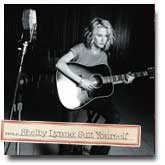 "I'll survive and come out on the other side"
-"You Don't Have A Heart"
The yin and yang of relationships is a double edge sword. How can a four-lettered word, love, display such an incredibly wide range of emotions, both good and bad? If one needed any examples of the ups and downs of love, they should look no further than Shelby Lynne's new album, "Suit Yourself", on which the bend in the road all relationships encounter is articulated with insightful and stripped ambiance. Despite no instantaneous stand out single, I have found myself returning to "Suit Yourself" time and time again, it is a triumph in subtlety and restraint, split into twelve unique and essential chapters that spread like a virus with every listen. Each time the earphones are placed in my ears a new lyric emerges, an innovative vocal seizes a long forgotten feeling and I delve deeper into the heart, mind and soul of a long suffering and underappreciated artist. However, before I submerge deep into "Suit Yourself" allow myself to take you on a side trip into the evolution of my relationship with the sexy and soulful…Shelby Lynne.
---
The first time I ever laid my eyes on the magnificence of Shelby Lynne was at the House of Blues on May 4, 2000. I was front and center for an industry gig Bon Jovi was doing for Island Records., with about 1,400 people climbing my back and ready to attack the stage. She was opening for arguably one of the biggest bands in the world and I for one was not excited, I wanted to see my band get out there and do their thing. However, from the moment she took the stage all the way through Bon Jovi's encore when she joined them for "Me and Bobby McGee", she held her own. On stage that night, she had the impossible feat of keeping 1,400 people engaged while they waited for the Jersey brotherhood to take the stage. Not only did she do that, but she caught my attention with more than the tight white pants she had on. There was a feeling of originality exuberating off of Shelby, like she had been down many roads, beaten down many times, but here she was still standing and doing what God put her on this glorious Earth to do; make music. She soared like a veteran who was confident in her musical abilities. She took me by such surprise that I sought out her Universal debut; "I Am Shelby Lynne". The moody, raw and sonic album sold well over the next year leading up to her Grammy for Best New Artist (even though she had previously recorded a half dozen country records).
Shortly after her Grammy win, she was teamed up with producer Glen Ballard (No Doubt, Alanis Morissette, Dave Matthews). The end result "Love, Shelby" was an underrated album, poorly marketed and released during the busiest release week of the year -Thanksgiving. Most die hard fans felt alienated by her sexed up look and her choice of producer. I for one feel that the criticism was unwarranted. It was a slick produced album; however, what most people overlook is that it was executed incredibly well. Ballard polished the tunes to perfection and even though radio did not pick up the album, it contains one of my favorite songs from the last ten years, "Jesus on a Greyhound". Shortly thereafter, Shelby hopped over to Capitol Records. In 2003, she released "Identity Crisis", a stripped back affair focusing on the songwriting and one of the best records released in 2003 and even though it failed to find a wide audience, she seemed reinvigorated to be doing what she loves to do-making music.
Now, here is where the story becomes entertaining…on her stop through Chicago in early 2003, she was doing an in-store record signing with performance at the Borders downtown location. I showed up at the store and saw her band was ready to go, but no Shelby. While waiting I walked though the aisles looking through the cd racks when a very sexy woman appeared next to me, dressed plainly in jeans, a sweater and a hat covering a short hair-do. I remember looking over at her smiling. She returned the favor and looked me dead in the eyes before she trotted off to the next aisle with a smile that lit up the room. I saw the encounter with the mystery woman as innocent flirting and ego stroking-nothing more, nothing less. I was exultant to get a smile out of someone and she was damn cute to boot! I walked away thinking I should have struck up a conversation with her. After a few minutes of strolling, I made my way back to the performance area and waited. Slowly, the same girl with jeans, a sweater and a hat walked through the crowd and up to the microphone. It had been Shelby Lynne whom I had shared that smile with and I did not even recognize her with short hair and a hat. I was flattered and embarrassed all at the same time. Part of me wishes I had recognized her and introduced myself, told her how talented I thought she was but then again, my story of successfully flirting with a slightly older woman (I was 26 at the time) wouldn't exist.
Her Borders performance was brief, but sweet. Her band backed her up covering a trio of tunes off of "Identity Crisis". It was dramatically different from her House of Blues performance two years earlier but what struck me was how incredibly genuine and open she appeared to be while singing with minimal back up. Her eyes remained shut for "Telephone", but beneath those eye lids I could see what she was picturing…as her lyrics formed images in my mind, and took me to another world, much the same way Bob Dylan or Bruce Springsteen can do with their lyrics. After flirting with her music for the previous few years, I realized right then and there, Shelby Lynne is an artist who opens up worlds for me, and the fact she pulls it off gracefully with simplistic production, is an even greater triumph.
---
Which leads us to "Suit Yourself", an album that can not be defined in one genre, but many…blues, rock, country and production that harkens eminent folk music of the 1930's and 1940's. Besides the deeply personal moments, the fly-on-the-wall recording itself is full of revealing moments with live in-studio banter and even after the final song ("Track 12"); you can hear the "stop" button hit the control board. Something overlooked on 2001's "Love, Shelby" was the extraordinary songwriting on it. Her lyrics always cut deep and they should never be confused with a sexpot image or pop superstardom. On "Suit Yourself" the only thing not completely naked on it is the album cover. The album strikes a fine balance with songs full of heartbreak and happiness. They are entrenched in the partnership of love; the good and the bad. The vocals, sound, mix, lyrics and heart and soul leave nothing to the imagination, because she lays it all out for us right here in the songs; raw and real.
Take one listen to the yearning she feels on "Where Am I Now". The song follows the narrator through one of life's eternal searches, a place of comfort in life, whether it's life on the road in a rock band or merely searching for an eternal soul mate that will walk that line with you.
"I Cry Everyday" is an evocative bluesy number with dual dubbed vocals which harmonize throughout the opposite channels in your speakers, hypnotizing the listener to the intimacy and heartache felt by the singer. Towards the end of the song, Shelby's vocal yearns for a former love that has turned their back on her; here is a beautifully mixed triple harmony of Shelby's vocals. The album may have been recorded in a stripped down fashion, but it is still produced with excellence. There is some masterful mixing on this song, showing that it's possible to be intricate, soulful and effortless at the same time.
"Old Time Sake" conveys despondency and abandonment with simple but true words. "The years we had were not all that bad" as she pleads to her lover, hoping he won't leave. The sweet and somber number is one of the album's best.
"You and We" showcases some of the cleverest lyrics I have ever heard paired with rhythmic rhyming. Her play on words, of a partnership in the throes of the early stages of love, shines through even though the track is less than a minute.
"You Don't Have A Heart" is one of the more upbeat numbers on the album, showcasing some fine organ playing by Benmont Tench (Tom Petty & The Heartbreakers). She's lashing out at a man who has done her wrong.
"Iced Tea" is a song about enduring love. The comfort of home, in a partner, comes full circle on this track. "You seem like a memory I have always known…You feel like the only home I've ever known"…these lyrics wring so true your heart aches just from hearing the words sung with subtle zeal.
I've chosen to save the best track for last, "Johnny Met June". Anyone who is not familiar with Shelby will hopefully know of her by the end of the year as she is playing Johnny Cash's mother in the film "Walk The Line". However, her connection to the Man In Black goes much deeper than a celluloid cameo. Sitting in her house in September of 2003, she heard on the radio that Johnny Cash had passed away. She immediately went into her home studio and recorded the album's crowing achievement-"Johnny Met June". The song is about Johnny going to heaven and meeting June all over again. It's simple and profound. There is not a single line in the song that feels forced or cliché. In fact, she tried re-recording the vocal a number of times without success, opting for the vocal from her demo as it fit the heart and emotion of the moment. This is the album's most profound, simple, sweet and evocative song. Through death their relationship was renewed and they can once again start all over again. It gives you hope and comfort that in death there may very well be life.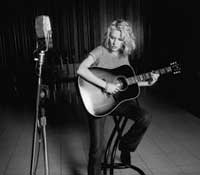 What strikes me as extraordinary is Shelby's frankness and solace on "Suit Yourself". She is living in her own skin and from the sounds of the album, it sounds comfortable. Shelby will always be an artist I watch with a close eye and it will be more for the artistic beauty within rather than her outer magnificence. She's like a fine wine, getting better with age. When she sings I relate to her as I feel her emotion. I love artists who open windows for me and soothe pain. Her voice is calming and wisdom can be heard from it. Shelby has taken her life experiences and put them to music for the world.
Shelby is more than just a pretty face or someone who was in the right place at the right time. Call me crazy but I feel like Shelby Lynne is the female Steve Earle, holding nothing back and whatever anguish she has experienced, she does not bury it, but liberates it on her albums. Her songs wring with truthfulness and honesty. She has reached the highest highs and the lowest lows anyone can face. How do I know? I have the records to prove it. Despite whether or not she will admit it, even if they are just stories, they need to grow from somewhere within…someone in her life path, a seed was planted in her and luckily for us, that seed has blossomed 12 times on "Suit Yourself"
Shelby is on that same journey and like Madsen's eyes in "Sideways"; Shelby's vocals soar with experience and tales of love, woe and hope. What is most important to me, more than record sales, is that Shelby continues to do what she does best, bare her soul. If one is true to who they are and what they do, in the end, the sun will always shine on them and that in turn will bring inner piece. Shelby has found it here and it sounds like it suits hers. If you choose to judge her based on previous records or her looks, suit yourself as you'll be the one missing out.
Album Grade: "A-"