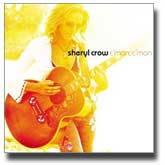 Sheryl Crow: Winding Down Life's Winding Roads
Something greatly mistaken in this world of ours is the thought that money will equal happiness. This is not always the case. No matter who we are, we are always striving towards that end goal of being at peace with our life. So what does that entail? Well, I'm no psychologist, but I would venture, some kind of harmony in your relationships and professional life. There are those of us who have both, some have one and not the other and then there are those that have neither. No matter who we are, we are all walking down this never-ending winding road we call life.
Walk with me the diamond road/Tell me every story told/
Give me something of your soul/That I can hold onto
We sometimes wish we had fame, money and power because we feel it would make us happy. However, everything is not always what is appears to be. Sheryl Crow is someone whom you would feel would have everything going for her; a top ten album, numerous Grammy's, sold out concerts all over the globe and a legion of fans that has moved with her from album to album and she has changed her styles without losing record sales in the process. So what could possibly be missing? My guess would be human touch. In recent interviews she has openly discussed the fact that she has attended therapy and has hit a wall more than once over the last few years during the making of her most recent album, C'mon, C'mon. I applaud her for making this information public, because it only helps us confirm, that we all need a helping hand from time to time.
The irony is that through her struggles, she produces distinguished empathetic music, which in many ways is therapy for her but also for the millions of people who buy her albums. Her fourth studio album C'mon, C'mon is a treasure chest of songs, each one plucked from her soul. It was almost 4 years in the making. She started writing soon after completion of her melancholy 1998 album The Globe Sessions. During that time, she hit more highs and lows than she would have preferred in her personal life. In recent interviews she speaks of the feelings of loneliness and hopelessness she has come up against, which are moods we all feel from time to time. It is especially apparent that she has struggled with this recently after just one listen to C'mon, C'mon.
The songs are either buoyant or morose, which I feel defines the best of both of Sheryl's worlds. Artists tend to be in a particular mood and will cut songs from an album because they don't fit into the theme. Bruce Springsteen is known for doing this. He threw of the song "Fire" from his Darkness On the Edge of Town album because it didn't fit thematically. Numerous other artists have gone on to take the song to number one on the pop charts. However, Sheryl Crow has had the ability to make both moody, atmospheric and exultant records all at the same time.
I'm gonna soak up the sun/I'm gonna tell everyone/To lighten up (I'm gonna tell 'em that)
I've got no one to blame/For every time I feel lame/I'm looking up/I'm gonna soak up the sun
The album's first single, "Soak Up The Sun" has been all over radio for the last few months without it slowing down at all. In fact, with summer coming, I bet it gets ever more airplay, it deserves to as well. In a time when finding good music on the radio is about as hard as trying to find the Ark of the Covenant, I make sure that when I hear it, I crank it on my car radio and roll down the windows. Hearing this song is so mood changing, that I compare it to an unknown stranger who compliments you and makes you smile for no other reason than being genuinely being surprised at the compliment. It's a perfect pop-rock song. It's something that everyone likes from the ages of twelve to fifty. It simply brings a smile to my face when I hear it. The irony behind all of this is apparently Crow wrote this song at her darkest hour. She had hit a wall recording C'mon, C'mon and was not sure what to do or where to go with it. She did the only thing she could do, walk away from making the album, just because it was work for her. There was no passion behind what she was doing. She took some time to herself and when she came back, she had the goods.
The record is very bipolar in its themes. There is great bliss and vast sorrow on this record. On the one hand, you have the pure exhilaration of "Soak Up The Sun"; then there is the soul, who is petrified of being unaccompanied through their life in "Safe and Sound".
I don't blame you for quitting/I know you really try/If only you could hang on through the night
I don't want to be lonely/I don't want to be scared/All our friends are waiting there
These are just two example of how Crow has articulated her sincere thoughts and desires to us, her fans (aka students of life). Usually artists are chastised for being poignant and wearing their hearts on their sleeves. Lenny Kravitz's most recent album, Lenny is much like C'mon, C'mon. Kravitz and Crow are two artists who have constantly strived towards making great albums with essence, and not just putting a disc out with 2 or 3 singles on it. These two artists have expressed their souls to us through great rock and pop songs. Very few artists can bond with the listener on a level that these two have. Kravitz even shows up on C'mon, C'mon giving backing vocals to the bluesy "You're An Original". These artists let us into their mind, their thoughts and their heart. They are not afraid of exposing their scars on their sleeves for us to see. These are the type of albums that I tend to connect with in my life on a daily basis; Springsteen's Tunnel of Love and Lucky Town, Mick Jagger's Goddess In The Doorway, Peter Gabriel's Us, Richie Sambora's Stranger In This Town, these are albums where the artist wears their hearts on the sleeves with pride. Their struggles and life journeys console us when times get tough. Sometimes, the nakedness expressed on these albums are so assaulting on the senses, it scares some people. Great art can shock you and make you think about your own life journey, C'mon, C'mon and the other albums mentioned above, do just this.
While, I feel that Crow's The Globe Sessions is a better album than C'mon, C'mon, she is freer with expressing the wide range of emotions that we all come into contact with in our daily lives. Doing this takes more than grit; it takes an artist who has no quibbles about letting the world into their personal lives. By doing this, they somehow can translate joy and pain into an art form we can learn from. Sometimes a song can make you remember an old feeling of love or excitement, which you have no felt in a long time. Or better yet, it can help you reexamine your own life and the road you are taking. C'mon, C'mon is an album like that for me. It is an album that gives me great joy when listening to it and on the other hand, it also helps me reflect on my life. Hearing someone else express pain through music can sometimes be the greatest friend in the world. You have someone you can relate to and help you put that pain down to rest.
Don't miss the diamonds along the way/Every road has led us here today
Life is what happens while you're making plans/All you need is right here in your hands
Life is constantly in forward motion. Many times in life, we only learn by looking back on it. Sheryl has managed to learn from these experiences and has in turn, created a near perfect pop record. If there is any drawback to the album, it is the onslaught of material on it. The two moods of jubilation and despair are all over the record. The flow of the album is not as smooth as it was on The Globe Sessions, but that is because the two albums came from different desires within her mind, body and soul. It may not be as well constructed as The Globe Sessions, but if she stuck with one mood for the album, it would not be coming from her heart.
There is always a light at the end of the tunnel, and there are lessons to be learned through every journey we take in our life. They key is to put those lessons into action. Like my favorite song on the record, "Diamond Road" we have to cherish the journeys, both good and bad, that have brought us to where we are today. Each one of those experiences is a piece of the puzzle that makes us who we are right now in our lives. Sheryl Crow is a driving spirit of great strength in this world. She puts everything she has into each one of her albums and bares her soul and her experiences to us, in the hope that we will take the songs and translate them into our lives. She is an artist who expresses her soul to the world without resignation. We should all take a note from her and to be sure we appreciate the diamonds in our lives.
It's not having what you want/It's wanting what you've got -Soak Up The Sun