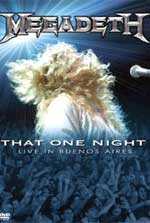 Megadeth That One Night: Live In Buenos Aires
If anyone had ever thought that Megadeth was going to be one of the bands tucked comfortably into the large pool of "80's metal bands," then they were terribly mistaken. And not to be judged solely by one successful album after another, as if that isn't enough, but as of 2006 Dave Mustaine has also put together two annual, massively successful Gigantour music festivals.
Coming up in 2007, not only do we have the third Gigantour event to look forward to, but this March Image Entertainment will release the new live Megadeth DVD, That One Night: Live In Buenos Aires. Recorded in October of 2005 in front of more than 25,000 feral Argentinean fans, the audience's riveting participation is goose-bump-inspiring during much of this 90-plus minute film.
From the moment Mustaine arrived in Buenos Aires with fellow Mega-mates, drummer Shawn Drover, guitarist Glen Drover, and bassist Jimmy MacDonough, fans flooded them everywhere they went. Mustaine even comments on film how there are very few places they play where fans will sing along with the guitar parts, but they do so feverishly in Argentina.
And in one of the coolest things I've ever seen a rock band do anywhere, there's footage of Mustaine and Drover outside the hotel jamming on their acoustic guitars while sitting on the grass and having a sing-a-long with a group of fans. Not many bands are humble enough, nor brave enough, or even cool enough to do something like that.
During the tireless concert performance, Megadeth played many of their greatest and most powerful songs that span two decades. Kicking off the show with "Blackmail The Universe" Mustaine makes rocking look easy. The assertive front man with nothing to prove, Mustaine commands attention in the casual, grooving way that only he can. He is what he is, and his fans wouldn't have it any other way.
Moving into a flowing guitar-crunching stream from "Set The World Afire," "Wake Up Dead," and the poignantly emotional "In My Darkest Hour." Who ever said that concert recordings aren't as good as studio albums has never heard Megadeth live before.

Drummer Drover bashes his heart out as the other Drover, on lead guitar, harmonizes flawlessly with Mustaine, and MacDonough lays an unshakeable foundation of each song's backbeat. These four musicians obviously care about giving a good show, and are plenty skilled enough to do so.

Another snippet of Mustaine singing "She Wolf" atop the lawn of the hotel leads into the concert rendition. Probably my favorite Megadeth song, "She Wolf" is not only a quality rock and roll tune, but one that is hard to tire of.

"Reckoning Day" then gives way to another Megadeth classic and fan favorite, "A Tout Le Monde." Then "Hanger 18" with guitars a-wailing, and "Return To Hanger."

During the passionate devotional "I'll Be There," Mustaine himself listens to the audience singing along boisterously and appears both touched and victorious.

Other songs include "Tornado Of Souls," "Trust," "Something That I'm Not," and the ferocious "Kick The Chair." "Symphony Of Destruction" which is impossible to sit still through, "Coming Home," "Peace Sells," and "Holy Wars."

There's also a special feature bonus of a remixed concert version of "Symphony of Destruction."

Dave Mustaine and Megadeth continually put out the goods, and keep earning more and more respect as time goes on – which quite frankly is absolutely deserved. That One Night: Live In Buenos Aires is another sparkling gem that music lovers will indulge in for years to come.