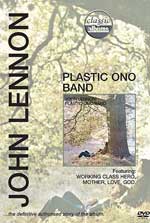 Classic Album: Plastic Ono Band
I have been listening to a lot of Pink Floyd lately. I always have been a big fan of The Final Cut. In 2004 it was remastered and had a new song added in the middle of it, so of course I bought it again (for the third time actually). The new song, "When the Tigers Broke Free", is an incredibly sad song. "When the Tigers Broke Free" was featured in the movie The Wall, and even came out on a single with a note that it would be included the new album The Final Cut, but when the album was released the song was not there. I have a copy of that single, "When the Tigers Broke Free", in a beautiful blue picture sleeve from The Wall. But the song is mixed very differently than the version that is included in that 2004 The Final Cut.
The song starts with a low bass drum, voices, and horns playing what sounds like a slow dirge (think of the beginning of Saving Private Ryan). Then Roger Waters comes in, "It was just before dawn, one miserable morning in black 44". He then describes how his father died in World War II in the battle of Anzio so many years ago. The tigers referred to in the title are German tanks. The company that his father was in was completely wiped out. No one survived (a true story). In the song he not only tells about the death of his father, but he also tells us about how he found out about it as a child, finding the death notice hidden in a drawer of old photographs. He is not only telling us about it, he is forcing us to see what he sees, to live through that experience, and to see it with his eyes, but from his perspective now as an adult. All the components were there in the single, but when in placed in the context of The Final Cut, and with the new mix, it is a very raw, nerves totally exposed, very sad song. It is strange that they left it out of the original album. "When the Tigers Broke Free" now feels like the center point of the whole album, and it is hard to imagine The Final Cut without it. I think it captures the feeling in one song, what Pink Floyd was trying to put across in the whole of The Wall and does it better. It is often an overlooked album because it really is a kind of Roger Waters solo album, but despite this it works very well, and it is a very musical album. This is an album with real dynamics, soft whispers and loud explosions, and it has a point of view, and definitely a concept album, and a very good one at that. You could take The Final Cut, John Lennon/Plastic Ono Band, Neil Young's Tonight's the Night and the Kinks "This Is Where I Belong" and have a really depressing Sunday listening to the Hi-Fi.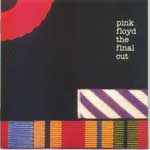 But the fact is that life isn't all fun and games, and these albums are art. They need to be heard. The Final Cut is very much a piece with John Lennon/Plastic Ono Band. They are both raw, angry, and painfully sad albums, and they both spring from an early loss of a parent for the artist. There is a place for these albums just like there is a place for the Bonzo Dog Do Dah's Band's The History of the Bonzos. Do you really want to listen to Abba night and day?
I was listening to John Lennon /Plastic Ono Band a lot when I was about 12 or 13. I still listen to it, especially the song "Remember" which I have always had a soft spot for. I got into the Beatles late in the game. I can barely remember seeing the huge stacks of the White Album when it came out in 1968, and the first Beatles album I actually remember hearing was Abbey Road, which one of my friends had on cassette and let me borrow for awhile. At that time the album was everywhere in a way I don't really think could happen nowadays. I already knew who the Beatles were though. I had an old copy of the single "Paperback Writer/Rain" that my mom had got from a radio station in a giveaway. I still think "Rain" is one of the best damn rock records ever, and if you haven't heard it you should track it down. I played that single to death. Lennon sings lead and wrote it. I still listen to it all the time, really loud. You can find "Rain" on Past Masters /Volume Two.
The first time I heard John Lennon/Plastic Ono Band was in a record store in the local mall when it first came. They had one speaker in one corner of the store and the other speaker in the other corner probably 30 feet away, so you would hear guitar in one speaker and then the piano would be on the other side of the room. I remember walking into the store and hearing "God" playing. It made a huge impact on me (it was probably among the first steps in my becoming an atheist later which is another story). I finally got my hands on the album when my mom took us to a place that sold random stuff left over from auto wrecks that nobody had claimed, and I found an 8-track of John Lennon/Plastic Ono Band there . Listening to that album at the time two thoughts came out of it for me, and please remember that I was fairly young at the time. The first was that John was really trying to express how he was feeling inside in an artistic way that I had never heard before, and the second was that a lot of what you are told as a kid is bullshit (Mom was always right though).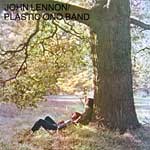 John Lennon/Plastic Ono Band is a powerful album, and I don't believe that you can really get a feel for what Lennon was about without listening to it and being familiar with it. It is his best album, though Imagine was always more popular. To me "Imagine" always sounded like Lennon trying to write a statement that would be a statement. John Lennon/Plastic Ono Band is the real deal.
As Ringo says in the interviews included on this new DVD about the making of John Lennon/Plastic Ono Band, he did not mind doing the interview because the album was a good one. That is an understatement. The album is a little difficult. It has John doing some of his screaming, ala "Cold Turkey", and there are not a lot of bells and whistles on this album. Everything is stripped down to the basics; drums, guitar, piano and bass. In case you didn't know John's mother passed away when he was young. The album starts and ends with songs about his mother and the fact that she is gone. It hits a lot of the same chords that Waters' "When the Tigers Broke Free" hits, and it hits them hard. The album works. It gets to you.
As for the DVD about the making of John Lennon/Plastic Ono Band, I suggest strongly that before you watch the DVD, and if you are not familiar with the CD, that you buy the album first. You will be glad you did. There was not any footage shot during the making of the album so there is none on the DVD, but almost everyone that was involved with the album, there is no Phil Spector in here though, is interviewed and does a good job of explaining their impressions at the time, including Yoko and Ringo. A lot of the footage that is used we have seen before in other Lennon DVDs, but it doesn't really take away from this project much. The engineers have access to the multi-tracks, and we watch as they fiddle with the controls and hear Lennon's voice isolated, or a take that never made it onto the record. Dr. Arthur Janov, who was a promoter of primal therapy which had a big influence on the album, is also interviewed here. According to the documentary at one point Lennon suggested calling his album Primal and Yoko's album should be called Scream. The bonuses on the DVD are just about as good as the main program. They include a full take of Lennon singing "Instant Karma" on Top of the Pops. The song holds up well. It still sounds great. The bonuses include more of the engineers fiddling with the multi-tracks though in longer takes. On another note I have never been a big Yoko fan. This DVD spends some time on the making of Yoko Ono/Plastic Ono Band that came out at the same time. The information about Yoko, Lennon and crew making her album is fine and fits right in with the rest of the material. The actual album is another matter.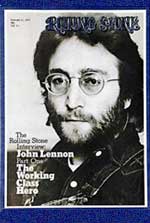 I have never been of the opinion that Yoko was ahead of her time. She was just incredibly unmusical. I would even go as far to say that she has no musical talent at all. Go dig up a copy of "Well (Baby Please Don't Go") which is on Sometime In New York/Live Jam and then come back and tell me that Yoko has talent. I think it is an incredibly funny record, unintentionally so. You can see just a hair of her singing on a clip on the DVD which is from the Toronto Peace Festival where they show Lennon and Yoko singing (for lack of a better term) "Cold Turkey". I have always liked Yoko's "Yang Yang" which was on a later Apple single, but only because Eric Clapton is playing a blistering guitar part on it. And you can appreciate Yoko's intelligence in the way she influenced John and such. Without Yoko there would have not been any John Lennon/Plastic Ono Band. Overall this is a pretty good documentary on an album which truly deserves the spotlight. If you would like more information on Lennon the book, Lennon Remembers, is a transcript of a long angry interview which was done very close to the time of John Lennon/Plastic Ono Band.
You can write James Harper at movielover77061@yahoo.com
RELATED LINKS