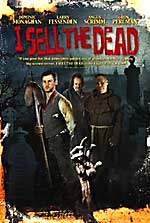 I Sell The Dead
The Dead Have A Sense Of Humor Too!
I Sell The Dead (out on DVD/Blu Ray now) is a horror/comedy that puts the wackiness back into those genres. Directed by newcomer, Glen McQuaid, who invokes both the creature-laden Universal monster movies and the atmosphere of Hammer films, lets this fog-shrouded tale take on an almost vintage EC comic book approach to the storytelling.
The film concerns a grave robber in the 18th century who before meeting his death at the guillotine, reflects on this life of both murder and fending off vampires, zombies, and other ghouls. The film is told in a series of flashbacks of the encounters with such creatures as well as a rival family of grave robbers.
Larry Fessenden, the independent horror director of such modern fright pictures as The Last Winter and Wendigo, produced and acts in the film as the more seasoned of the main characters. When speaking of how this film fits in with the other projects that he has had a hand in Fessenden explains, "It's much more fanciful. We're borrowing from a different style," he said. "What I like about Glen's vision is it's much more comedic and upbeat."
Some movie fans think the fright genre is only about blood and guts, but their has been a long line of horror films with a healthy dose of comedy in their vein. Films such as Evil Dead II, Re-Animator, and Dead Alive have gone for gore and gallows humor and succeeded, while still being kooky, gloriously absurd, and altogether brilliant camp movies.
"The thing I love about horror is that there are so many styles," excited Fessenden. "You can have a very realistic, spooky, and psychological story," he explained, then continued. "But I also grew up loving zany, crazy kind of horror. That's what we're doing here."
Fessenden who has had roles in a number of other horror films, like Session 9 and The Roost, is also known in the genre for his characters always getting killed in gruesome ways. "It's just become a tradition," he laughs. " I guess when people need to kill someone off they think of me. It's fun for me, I think I have ten or eleven of them under my belt."
Humor and horror are often said to go hand-in-hand due to the buildup of suspense to get to the joke or the scary punch line. One has to understand that even if a film may be funny it can talk about very serious issues. For instance, the 1978 original Dawn Of The Dead is social analogy on American capitalism and consumer culture. Pretty strong stuff for a film that features a pie being pushed into a zombie's face during one scene, and some gory comic book style humor.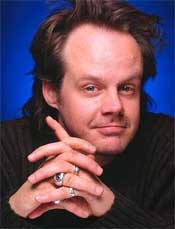 "I take horror quite seriously, even if I Sell The Dead is a fun, goofy movie," Fessenden said. "It is a way to speak about very scary things. If you were too literal it would not be as cathartic. Horror has always served a purpose. To be cautionary storytelling."
Fessenden concludes about the power of cinema being bled to death by studios who seem more than before about profit than pushing boundaries.
"Cinema has so much power to take you to an unexpected place," he said. "The only thing I would regret is if our movies were served up to us to fulfill our every desire, so that there is no mystery, and nothing stays with you because it is very familiar. That's all under the guise of entertainment."
"'Entertainment' feels like a code word of giving the audience what they expect for being mindlessly entertained," Fessenden said, then concluded. " I am not advocating for intellectual films, but I am saying if you play with the medium you can surprise and seduce and give something that is a truly memorable experience. The movies that really stay with you are the ones that challenge you in some way."
So, does I Sell The Dead challenge you? Maybe not intellectually, but you will find that the film does offer a number of scenes that few films do----a decapitated body knocking out an evil Ron Pearlman (Hellboy) playing a priest with a love for alcohol and a devilish secret or two.
I Sell The Dead is out on home video now!
RELATED ARTICLES: