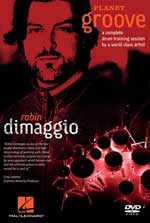 Robin DiMaggio - Planet Groove
Describing veteran drummer Robin DiMaggio in one or two words is impossible.
He's not just a percussionist but also a songwriter, composer, conductor, arranger, producer, and engineer. Not only does DiMaggio excel at the drums but he also plays the piano, bass, guitar, alto and tenor saxophone, the harmonica, bagpipes, and the clarinet. And he has not only worked with a couple of prominent musicians but a slew of them including Glen Hughes, Slash, Steve Vai, Chris Isaak, Johnny Cash, David Bowie, Paul Simon, Diana Ross, acclaimed sitarist Ravi Shankar, and violin maestro L. Shankar, among many, many others.
In Planet Groove, DiMaggio's first instructional DVD, he runs through nine different drumming styles and offers 24 different lessons -- several with slowed down segments as well and multi-angle camera views. Planet Groove features both English and French language options, more than 75 minutes of sessions, and takes viewers on one hell of a swaying good time.
Although the editing transitions between lessons and intros are a little abrupt, the DVD flows well - undulating back and forth between DiMaggio's antidotal narratives and then watching the master show how it's done.
Regardless of their level, fellow drummers can benefit from this DVD - maybe to learn some new chops, a different style, or some new tips and techniques.
For non-drummers this might be a bit hard to follow, not just because of the technicality of the subject matter, but also with DiMaggio being a true artist sometimes his analogies and descriptions are a little esoteric. But anyone who truly loves the drums, even non-players, Planet Groove is not only enjoyable, but true motivation to pick up those drum sticks and start taking lessons.
RELATED LINKS: