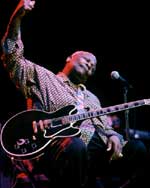 It's been over fifty years since he had his first number one R & B hit, but on Tuesday night B.B. King could be found in the same place he spends over 200 nights each year - on stage playing Lucile and singing the blues to his fans at the Arie Crown Theater in Chicago. The 12th Annual B.B. King Music Festival came to the Lake Michigan shoreline this year, bringing with it two guitar legends and members of the Rock and Roll Hall of Fame. On the bill with the King of the Blues this year is former Yardbird Jeff Beck. Although their styles are vastly different, the idea of seeing these two masters at the same show was something I couldn't pass up.
With only a drummer and a keyboardist to back him up, Beck took to the stage first and played for a little over an hour. Using the proven combo of Fender Strats and Marshall amps, Beck whipped through a series of instrumentals that showcased his skills as he switched between thoughtfully phrased bluesy numbers to slide guitar solos and into heavy rock numbers. As he moved though selections representing his work in the Yardbirds and the Jeff Beck Group and even his new release Jeff it was apparent that he is one of the most skilled and versatile guitarists that you'll ever see. What was far less apparent was a rapport with the audience. Although Beck played masterfully as he seemed to feed off the energy of the drummer, it was clearly difficult to involve the crowd into his show. Power chord and riff-based instrumentals one after another at times seemed to alienate a crowd that was already segmented by the two unique styles of King and Beck. Even the impeccably played Curtis Mayfield hit "People Get Ready" seemed to be missing something - maybe the lack of vocals. The unused microphone to the left of Beck all evening symbolized to me what would have improved his set show significantly, even if only to intro the songs or interact with the audience for a moment. Highlighting Beck's hour was his rendering of the Beatles' "A Day in the Life" during which he "sang" every lyric with perfectly chosen notes.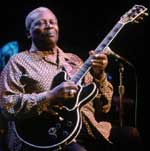 After Jeff Beck's set, B.B. King took center stage and for the rest of the evening, he showed why he has become an ambassador of the blues. At just under 78 years old, a lifetime spent on the road has started to catch up to the King and he explained almost apologetically to the audience that he has diabetes and now plays his shows sitting down in chair. But that had little effect on the show. The immediately recognizable sound that influenced guitarists from Clapton to Page and Hendrix still could be heard as B.B. opened his show with "Let The Good Times Roll". As he finished the song by asserting "B.B. King's back in town", he gave a hint at his ability to involve the audience from the beginning in his entire show. His piercing voice and expressive looks told the band and the crowd that he meant business and they had better follow along.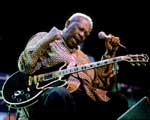 Playing with the same band that has backed him for years, B.B. played his standards such as "Caladonia" and "The Thrill is Gone" while also offering songs from his latest CD Reflections. The most memorable part of B.B.'s set was the showmanship that could be seen in his expressive gestures as he interacted with the crowd and the band. As Jeff Beck showed, many of the performers today could take a lesson from King. Maybe it's a skill that comes over time or maybe it comes from truly enjoying playing for a crowd. But it was clear that B.B. loves playing his blues and getting the crowd to play along with him. Seeing so much effort being put forth by a guy older than most of the audience's parents did not go unappreciated by the fans. For a guy who doesn't play chords and can't play and sing at the same time, he's developed a unique sound and style that will influence many musicians for years to come. I'm not sure if the different styles of King and Beck worked well together. But it's always worth seeing people who are the best at what they do and B.B. King and Jeff Beck fall into that class.
---
RELATED LINKS