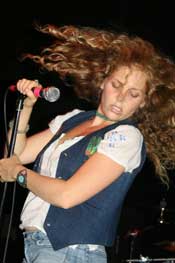 The five member, New York based, all female band Antigone Rising have come a long way over the past few years. Powerhouse lead vocalist Cassidy explained that when coffee giants Starbucks last year, chose her band to distribute their CD, From the Ground Up , it helped her band gain wide exposure from coast to coast. "It was an honor being chosen as Starbucks first band to be promoted and signed for distribution," Cassidy said smiling ear to ear. This then started a trickle into other exciting territories like appearing on The Tonight Show, a VHI special, a live performance on The Today Show, and probably the bands proudest moment so far was opening for legends The Rolling Stones at a few cities last year.
Antigone Rising is currently on a fall tour testing out some new songs that will appear on their next CD scheduled for early 2007 release. Martyrs was packed full of fans waiting, watching, and wishing for the girls to take stage. Finally sisters Cathy and Kristen Henderson started up the night with their fancy guitar work. Then drummer Dena Tauriello and bassist Jen Zielenbach took their place while Cassidy started off the night with their opening number Hello. With temperatures soaring in the club the girls took off to perform a few new songs. Serial Killer , a hard-driving rock song, is described by Cassidy as a "song about killing a relationship." The Way I Am, was insanely a catchy rocker, about somebody not accepting a person as they are; but trying to change a person to fit their mold. Other new songs included Crawl and Wings . Cassidy then described the song Hollow about a girl the band met who was starving herself to death.
The band played some of their older hit songs like What?, She Lived Here , and a song about a one night-stand, beautifully performed, called Longshot.
Antigone Rising is one of those bands that you just have to see live to understand their larger than life stage presence; Cathy's wicked guitar solos, and Cassidy's wild yet angelic vocal abilities. In fact Cassidy said, "If you have not seen the band, give it one shot." "If you don't like it, I will give you your money back!"
Well, looks like Cassidy will be able to keep the money. It is hard to find a solid rock act with this many catchy and energizing songs. I can guarantee that one show will not be enough. In fact, you might even start throwing dollar bills at her!
---
RELATED LINKS