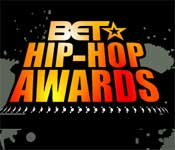 The first ever BET Hip-Hop Awards took place at the historic Fox Theatre in Atlanta, Georgia. The show aired on Wednesday, November 15th and was hosted by comedian Katt Williams. The Hip Hop stars had ATL on lock and all the big names poured into Atlanta for what may be an annual event since everything seemingly went off without a hitch. I started off the weekend by heading over to the Fox Theatre where the show was being held for the rehearsals of Baby, Ludacris and Young Jeezy. Baby and Lil Wayne performed "Stuntin' Like My Daddy," while Luda and Young Jeezy put the rumors to rest of a beef by performing "Grew Up A Screw Up." Jeezy also performed his newest single, "I Luv It."
I must say this was my first time seeing artists of this caliber during their rehearsals and the differences in the rehearsals was just amazing to me. During Baby's rehearsal he was not so animated, he just held the mic and "sort of" participated. It was pretty much the same with Young Jeezy who donned the stage with strippers errr uhh I mean dancers who had the men up and out of their seats, while the ladies were probably scratching their heads wondering what was really going on? Ludacris on the other hand must not have been given the memo that it was just a "dress rehearsal" because he ripped the stage with the same enthusiasm he would have had if there had been an audience of his peers and fans amongst him. After a long day watching, recording, and photographing the dress rehearsals, I headed over to the media center where former America's Next Top Model contestant Tocarra who is a correspondent for "The Black Carpet," was doing a press conference for the awards show. She expressed her opinions on being a plus-sized model and she looked beautiful doing it. I've met Tocarra previously and she still remains very personable and humble despite her success in the entertainment industry.
The next day I headed over to the Fox Theatre. Red carpet celebrity arrivals began at 3 p.m. and boy did the celebrities come out in droves. The Ying Yang Twins, Yo-Yo, Kid Capri, Styles P, comedian Saigon, D.J. Quick, Bootz (Flavor of Love), Sean Paul (Young Bloodz), Mychael Knight (Project Runway), comedian Bruce Bruce, Bobby Valentino, Sharon Carpenter (BET News), Webstar and Young B (Chicken Noodle Soup), Bianca Olivio (College Hill), Ray Cunningham (College Hill), Arlando Whitaker (College Hill), Will Grishaw (College Hill), Flavor Flav, Deelishis (Flavor of Love 2), Monica, Grandmaster Flash, UK artist Sway, Camille Winbush (Bernie Mac Show), Keisha Cole, Busta Rhymes, Young Leek (Def Jam), D4L, Dem Franchize Boyz, Remy Ma, Papoose, Ludacris, Too Short, model Sara Carpenter, Young Dro, Big Tigger, DJ Red Alert, T.I., Chamillionaire, Melyssa Ford, Rick Ross, Usher's group One Chance, Swizz Beatz, Rich Boy, Evander Holyfield, Keyshia Knight Pulliam, Kevin Lyles, Donnell Jones, Wood Harris (The Wire), Bow Wow, Fabolous, Tyrese, Katt Williams, Jim Jones, BG, Da Brat, Jagged Edge, Lil Jon, Eight Ball, Russell Simmons, George Daniels (George's Music Room), Sheryl Underwood and more than I care to mention all came out to support the show, while Jay-Z and Diddy both opted out of the red carpet hoopla. For the most part, everyone was extremely nice with the exception of one or two who didn't feel the need to speak to the media at all. Of the "celebrities" who were extremely nice, Ludacris, T.I., Chamillionaire, and Lil J Xavier took the award for being the most accommodating to the press. As far as people in media who you may know, I spotted Jamie Foster Brown (Sister 2 Sister Magazine) and Wendy Williams who I am told made both T.I. and Evander Holyfield angry on the red carpet.
I was looking forward to seeing Katt Williams, the host of the BET Hip Hop Awards, however he didn't meet with the media. He was whisked into the Fox Theatre, though I'm quite sure that had much to do with his recent arrest on gun charges. To kick off the show, Ludacris, Young Jeezy, Jermaine Dupri and Lil Jon welcomed everyone to Atlanta, with their version of "Welcome To Atlanta." There were also performances by T.I., Ludacris, The Game, Snoop Dogg and Young Jeezy. Noticeably absent from the show were the female rappers in the industry and Remy Ma expressed her concern with the ladies of Hip Hop not being recognized on such an important night, noting that "she would have won" had there been a category. There are so many ladies who could have not only performed but won in many of these same categories, I am surprised BET overlooked the ladies in such a huge way. I'm sure next year they will more than make up for this snafu. All in all, it was a pretty organized event in a city that is being dubbed as the " Mecca for Hip Hop." On comments worth noting is Snoop Dogg who in the media center used an expletive when asked about his opinions on voting, and Flavor Flav who announced a new animation and reality talk show. While Deelishis, when asked whether or not she plans to record an album stated, "That's not a closed chapter."
Here's a partial list of the winners from the 2006 BET Hip-Hop Awards.
HIP -HOP VIDEO OF THE YEAR
ELEMENT AWARD: PRODUCER OF THE YEAR
Jermaine Dupri:

"Control Myself" (LL Cool J f/ Jennifer Lopez)
"Fresh Azimiz Remix" (Bow Wow f/ Mike Jones)
"Pullin" Me Back" (Chingy f/ Tyrese)
HIP-HOP HUSTLER AWARD:
ROOKIE OF THE YEAR:
ALLTEL WIRELESS PEOPLE'S CHAMP AWARD:
Chamillionaire f/ Krayzie Bone - "Ridin'"
BEST LIVE PERFORMER:
ELEMENT AWARD: LYRICIST OF THE YEAR:
HIP-HOP MVP OF THE YEAR:
"I AM HIP-HOP" ICON AWARD:
HIP-HOP TRACK OF THE YEAR:
ELEMENT AWARD: BEST HIP-HOP DANCE:
BEST HIP-HOP MOVIE:
HIP-HOP CD OF THE YEAR:
ELEMENT AWARD: VIDEO DIRECTOR OF THE YEAR:
Hype Williams
BET MOBILE HOT RINGTONE AWARD:
Young Dro Feat. T.I. - "Shoulder Lean"
BEST UK HIP-HOP ACT:
---
RELATED LINKS