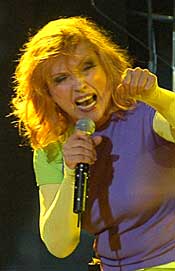 The tide was high as the New York based, hall of famer band, Blondie took stage for a night of classic songs that the sold-out crowd at Ravinia was eager to hear, dance, and sing along with. The band consists of co-founder Chris Stein – lead guitar, Paul Carbonara-guitar, Leigh Foxx-bass, Kevin Patrick – keys, and the hard- hitting original band drummer Clem Burke. Finally emerging in bright lime color pants and jacket with a violet shirt underneath, was punk superstar and co-founder Deborah Harry who started the night with the catchy tune "Call Me" which led into another chart smash "Dreaming." As the night went on Debbie seemed to loosen up as she took off her jacket and danced and swayed to the music and looked for as much audience participation during a few of the songs. Debbie was in full form and the music and her singing was top notch.
The Blondie music is a good mix of punk, rock, hip-hop, and a little disco. With the face of Debbie and the catchy songs, it is no wonder they received a huge range of applause after each song. Some oldies performed included "Accidents Never Happen", "Atomic", "Picture This", and "In The Flesh." They threw in the Roxy Music hit "More Than This", and also performed their last #1 U.K. hit from a few years ago called "Maria."
The crowd went into overdrive when the start of her rap/disco song "Rapture" started up with the bells being played like the original recording. Debbie did a great job in performing the very first mega-hit rap song with lyrics like, "And out comes a man from mars, and you try to run but he's got a gun, and he shoots you dead and he eats your head." Then she went into another smash hit before the encore with "One Way (Or Another)" that she performed deliciously as the song is about stalking someone you are longing to meet. She even threw in a few newer lyrics wickedly like "I have your social security number!" It was a perfect song to end the night. But one of her biggest songs had not yet been heard, and the band came out for their encore to perform "Heart of Glass" and by this time the crowd had already been on their feet from the last few songs, and the dancing really started. Debbie thanked the audience as they neared the end of the song and blew a few kisses as she left the stage, and then the band jammed for a bit and finally they left the stage.
Rumor has it this is their farewell tour. Hopefully this rumor is not true, since it has hard to find a band with this many chart-topping hits with catchy and fun lyrics. One can only hope they continue recording and performing. As in the words of Rapture - "I said don't stop, do punk rock!"
---
RELATED LINKS