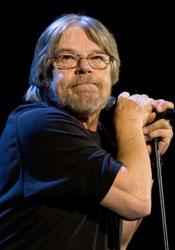 In the darkness of the Allstate Arena, thirteen-thousand Chicagoans, seeking a connection, are howling as a burly sixty-plus year old man dressed in a black shirt and jeans strolls across the stage. This simply dressed man was not security or a guitar tech, but the headliner, Bob Seger who rode through Chicago with his Silver Bullet Band. Despite a winter storm on the horizon, the only storm the entire sold out crowd was concerned about was the one they witnessed on the stage of the Allstate Arena. It's been a decade since Seger has toured and eleven years since his last studio album. In recent interviews Seger has even admitted he feels his best work is behind him, but one would never guess after the two-hour plus show they delivered to the Chicago crowd.
We rolled across the high plains
Deep into the mountains
Felt so good to me
Finally feeling free
Arriving on stage with little fanfare Seger and the band rolled immediately into "Roll Me Away", setting a pace for the evening that would be near faultless. As the band began to hit its stride two-minutes into the show, it was evident that even if Seger chose not to tour, his songs would be immortal because these songs are enthralling. People diss "Greatest Hits" records constantly and I don't blame them, these compilations show an artist in a very limited scope. Yet, in the last decade, Seger's two "Greatest Hits" discs have sold over ten-million copies in the US alone. Many of his early albums are still unavailable on cd and yet, people from multiple generations have constantly sought out these albums because of their strong resonance. Hearing a song like "Roll Me Away" gives you goose bumps. Find me anything on FM play lists today that is half as powerful. "Roll Me Away" is to Bob Seger as "Thunder Road" is to Bruce Springsteen (ironically E Street Band piano player performs on studio track). While the media spews forth artists who are more respected for their celebrity than their craft, hearing this song with thirteen-thousand flapping jaws gives me hope for the future of music. There was nothing fancy about this evening and as Seger was about to prove, it was an evening concerned with music only.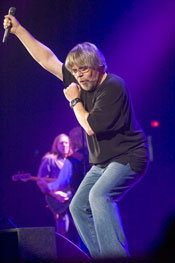 The set list varied nicely between the classics and material from Seger's first album in eleven years, "Face The Promise" (which was represented on the twenty-five song set list by six numbers). I don't believe "Face The Promise" is on the level of Dylan's latest output, however, after hearing the songs performed live, I do plan on returning to this album again. Any songwriter worth a damn has their songs develop, expand and mature in the concert and tonight was no different. The rocker "Wreck This Heart" was affectionately received by the crowd as was the albums first single, "Wait For Me", a soaring ballad reminiscent of a classic Seger song in lyric and sound. "No Matter Who You Are" continued to keep the crowd absorbed even though it was the third new number performed in a row. Performing these songs side by side, with the classics, proved there was more than meets the eye with these new songs. The only new song that appeared to fall a flat was "Simplicity", which despite a big bite from the rhythm section and guitars, was overshadowed by the horns which I don't feel suited the song. If I had one criticism of the evening, I feel that a few songs relied too heavily on the horns or saxophone, which while fun, didn't add any new dimensions to these songs.
The evening's biggest surprise was the inclusion of two sure fire hits so early in the set ("Mainstreet" and "Old Time Rock N' Roll"), both of which had the crowd on their feet projecting their approval at full volume. These songs put a spell on the crowd. He didn't have to reintroduce them as they never left the crowds consciousness despite a decade absence from the road. Seger addressed his audience throughout the evening, but was short with his comments as the band plowed through its powerhouse set. One surprise was the song "Satisfied", which was released on "Greatest Hits II" and while I never paid much attention to it, in concert it was a honky tonk bluesy bar song that still showed that Seger can still deliver a punch with his weathered bluesy voice. The classics hits continued to flow with "Turn The Page", "We've Got Tonight" (both featuring Seger on piano) along with faithful and fired up renditions of "Beautiful Loser", "Ramblin' Gamblin Man" and the main set closer "Katmandu". I had never seen Seger before so my review may be a little limited, however, what continually impressed me was the respect Seger had for his audience, never resting on his laurels, giving his all and making the show affordable ($65 which should be noted is still less than what Springsteen charged for his reunion tour with the E Street Band back in 1999/2000).
Over the last decade, I've seen numerous acts till through their hits, but hit a brick wall when performing new numbers. Surprisingly, most of the Seger's elder audience knew the new material and even stood for the majority of the night's performance. Just because the demographic was older for this show it does not mean a younger generation wasn't represented. Two rows behind me was a teen girl who sang along to every song and shook her body as if the music had possessed her. Seeing the rejoinder of this person made me wonder if the teenagers of today will have an artist they will be able to embrace and follow for decades? It's unlikely many in today's landscape will survive. Seger is among the last of a dying breed that can perform over two-dozen hits and still leave the crowd wanting more. How many acts today have five songs that will be embraced twenty-years from now?
Stood alone on a mountain top,
Starin out at the great divide
I could go east, I could go west,
It was all up to me to decide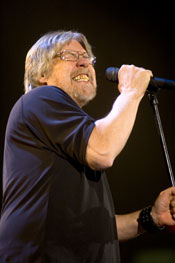 The four song encores left the crowd needing more as he and the band plowed through the songs with roadhouse exuberance. The ballads "Against the Wind" and "Night Moves" demonstrated the beauty of simplicity. Neither song was big on bombast and merely showed how much these songs resonate and continue to move people. There were so many instances throughout the evening where Seger probably could have cued the crowd to lead the way with little effort. There are those who may view Seger as a poor man's Springsteen, but if you do, you're missing out. Like Springsteen, Seger's songs speak to us of lost love, endless summer nights full of sunsets, hopes and dreams.but there is a flipside to these dreams. What happens when these hopes abandon you? How do you deal with it? That is the beauty of the 21st Century Bob Seger. On his current tour, it's more than a nostalgia trip, but a yin and yang of emotions between the yesterdays of innocence and the current domesticated Seger who has found solace in his family life. A song like "Wait For Me" tells the other side of "Against The Wind" but instead of lost dreams, it talks of devotion, fidelity and the solidity of family. There is something comforting about following this artist over his forty-year career and attending a Bob Seger concert is like a reunion with an old friend. Find me an artist today who will have a career in four years let alone forty-years from now? The music industry is a wasteland of celebrity currently and seeing someone who is over sixty rocking harder than most teens is more than inspiring, it's downright electrifying.
"Hollywood Nights" and "Rock N' Roll Never Forgets" brought the evening to a close. Despite a solid decade-plus absence from the concert stage, Seger made it appear as if he never left. The two-hour plus performance raised the roof and not only will rock n' roll never forget but the fans won't forget about Bob Seger anytime soon.
Roll, roll me away,
I'm gonna roll me away tonight
Gotta keep rollin, gotta keep riding,
Keep searching till I find what's right
And as the sunset faded
I spoke to the faintest first starlight
And I said next time
Next time
Well get it right
-"Roll Me Away"
Main Set: Roll Me Away, Tryin' to Live My Life Without You, Wreck This Heart, Mainstreet, Old Time Rock and Roll, Wait For Me, Face the Promise, No Matter Who You Are, Betty Lou's Going Out Tonight, We've Got Tonight, Turn the Page, Travelin' Man/Beautiful Loser, (10 Minute Intermission), Simplicity, Ramblin Gamblin Man, C'est La Vie (You Can Never Tell), The Answer is in the Question, Satisified, Sunspot Baby, Horizontal Bop, Katmandu.
1st Encore: Night Moves, Hollywood Nights
2nd Encore: Against the Wind, Rock and Roll Never Forgets
---
RELATED LINKS
---
There is a signature richness and power to the music that Bob Seger has been making for four decades, and as succeeding generations have discovered those qualities, his reputation as an artist and songwriter has only grown. His work represents the honest best of what rock & roll can be. It's passionate, unpretentious, uplifting and true to itself and its audience. Perhaps most of all it is distinctly American, a plainspoken testament to the dignity, hopes and aspirations of ordinary working people. In a time as obsessed with glamour, celebrity, fame and materialism as ours, his songs remain a bracing tonic, an emblem of the belief that everyone's life is a worthy subject of art.
That's one of the reasons why Seger's songs have lasted so well and continue to be so well-loved. His Greatest Hits collection has sold more than seven million copies, and albums like Beautiful Loser (1975), Live Bullet (1976), Night Moves (1976), Stranger in Town (1978), Against the Wind (1980) and Nine Tonight (1981) have all enjoyed multiplatinum sales. In March of 2004 Seger was more than deservedly inducted into the Rock and Roll Hall of Fame.
Seger's songs tell stories about characters with whom listeners can readily identify. They are often about people who are trying to find their way through a world that has proven more complex, challenging and perhaps even dangerous than they could have imagined. Innocence drains away, and what's left is a combination of knowledge, experience and an aching nostalgia for something that has been lost along the way and must be recovered. His characters cross a line, frequently without realizing it, like a car passing over an invisible borderline at night. By the time they figure out that they are no longer in the world they knew, that world is simply a receding image in the rear-view mirror. Getting back to it isn't always easy. Sometimes it's not possible. As Thomas Wolfe wrote, "You can't go home again."
That road is one that Seger has traveled himself, though he has fortunately always proven able to find his way back home. One of Michigan's finest, he grew up outside the media's spotlight and soaked up the muscular rock & roll and seductive soul sounds for which Detroit remains famous. Drawing on those sources, he defined a musical voice for the American heartland years before John Mellencamp and Bruce Springsteen or any of the other artists who have mined similar territory.
But, while rollicking statements of hell-raising intent like "Ramblin' Gamblin' Man" and "Heavy Music" earned him a reputation among hardcore music fans, he struggled for many years to break out of his regional scene. Bad luck and bad timing conspired to keep him a secret from audiences outside Michigan, Florida and a few other hotbeds of support. When people heard and saw Seger, they fell under his spell. It just seemed for a time as if he would have to personally perform in front of every single person he wanted to win over.
Finally, he more or less found a way to do that. The album that brought Seger significant national attention was Live Bullet, a double-vinyl-record set that was recorded live in Detroit in 1975 with the Silver Bullet Band, which he had formed the year before. Whatever recognition Seger had garnered to that point was based on two elements: the emotional power of his songs and the intensity of his live shows. Riveting performances of such soon-to-be classics as "Beautiful Loser" and "Turn the Page" combined those two virtues on Live Bullet. The mood was further heightened by the make-or-break ardency that Seger and the band palpably felt. Happily, the album broke and perfectly set the stage for the moment of Seger's true dramatic rise: Night Moves.
That album's title track, needless to say, ranks with the likes of American Graffiti, the film that inspired it, in its evocative depiction of sexual discovery and the bittersweet passage from adolescence into adulthood. The album's virtue is that its other songs - like "Mainstreet," "The Fire Down Below" and "Rock and Roll Never Forgets," for example - each isolate an aspect of that journey (lust, yearning, the search for lost youth), which lends it a satisfying sense of unity. It is one of the seminal records of the Seventies, and the ongoing life that "Night Moves" has found on the radio attests to how strongly listeners of all ages have felt their lives represented in it.
But Seger was only beginning to find his voice - or, more accurately, to have his voice heard. He was a superstar now, even if an unusually grounded one, and each of his albums routinely gathered the sort of attention (and often sales) that he had sought so futilely early in his career. The six studio albums he has recorded since that time have generated a catalogue of songs that have entered the pantheon of contemporary popular music: "Hollywood Nights," "Still the Same," "Old Time Rock and Roll" (which is not a Seger original), "Fire Lake," "You'll Accomp'ny Me," "Against the Wind," "Like a Rock," "American Storm," "The Fire Inside" and "Lock and Load," to compile a list that is by no means complete.
Now Seger is back with Face the Promise, an album that extends his legacy into the 21st century. His raw, rough-edged voice still seethes with the conviction that charged it decades ago, but the years have lent him the stature of experience and authority. Not that such authenticity was ever a quality that either Seger or his songs lacked. He has expressed the frustrations, hopes and dreams not simply of people like himself, but that he himself has felt. When he sings, you believe it.
The breadth, energy and cinematic beauty of Bob Seger's music speak eloquently for themselves. His struggle for recognition may have been fought and won long ago, but the battle to convey his vision precisely as he experiences it within himself goes on unabated. Not giving up until he's satisfied that he's gotten it right fulfills the promise he has made to his fans and to himself. He faces it every time he steps into the studio, and he delivers on it every time people hear one of his songs and respond, as they so often do, "Yes, that's exactly what it felt like."