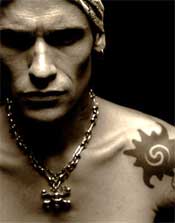 April 11, 2006 – Buckcherry's third release, "Fifteen" hits the streets. An album of quality rock and roll songs refusing to hide in the shadows of the one single that's already been burning up both the airwaves and the Internet – 'Crazy Bitch.'
On this, the very day of their new album's release, before heading off to do their show at New York's Irving Plaza, the tattooed, on-stage wildman, vocalist Josh Todd, made time for a heartfelt conversation with Sass about fatherhood, Prince, and the business side of the music industry.
With the immediate popularity of 'Crazy Bitch' flaunting its fun - albeit raunchy - lyrics, Sass wondered if the band had received any disapproving feedback at all in additional to the praise. "We haven't really gotten any negative slack from it. But we've got people – writers – that call us shallow or something like that because of what we write about. But it's just one song, it's not the whole record," explains Todd.
"And it really wasn't planned this way. 'Crazy Bitch' just kind of took off on it's own. Our intention with that song was to put it out on the Internet just as a dirty track and to have fun – like a street track. But Satellite Radio started playing it on their own, then it became #1, so we decided to go to regular radio with it and just edit the F-words out, and it worked. It's like #5 now!"
Chorus:

"Hey!
You're a crazy bitch
But you fuck so good I'm on top of it
When I dream
I'm doing you all night
Scratches all down my back to keep me right on"
"I'm finding that a lot of women like it too because aside from the lyrical content I think there's a 'crazy bitch' that wants to come out in every woman - sometimes, not all the time. I like it, and you should see it at the shows too, it's so much better live."
While most musicians' canned response is: 'All of them,' when asked what their favorite songs are on their new album, Josh Todd however, is far too insightful for that.
"The song 'Onset' I think is one of my favorite songs. I just like what I came up with lyrically, I love the chorus and I love the guitar riff. And probably my favorite vocal performance on the record is 'Brooklyn.'"
Additional fans of Buckcherry's music are the guys in My Chemical Romance. To announce the release of 'Fifteen,' My Chemical Romance sent out an email to their entire mailing list of fans about Buckcherry's new album - an act of friendship and support that is seldom seen this blatantly in the rock world.
"Those guys are really great guys and great musicians," said Todd. "They're really close with Keith [Nelson], our guitar player and my partner in crime. They came out to one of our shows in Los Angeles at The Whiskey because they're in L.A. right now making a record. It's just really cool of them to do that. They've got a lot of people on MySpace.com and it was really beneficial to us, and I'd like to just thank them publicly. That's rad!"
Back in the mid-1990's in Los Angeles, guitarist Nelson was introduced to Todd by their mutual tattoo artist, then together they went on to form Buckcherry. After their self-titled debut release in 1999, and their 2001 sophomore album, 'Time Bomb,' Todd then left the band.
At this time Todd released 'You Made Me,' what's considered his solo album, but a solo project wasn't exactly what the crooner had in mind.p>
"I never really intended to do a solo album. It was a band and I got talked into calling it my name. And, as far as that project is concerned, with those people, I won't be doing that with them. But, I don't know, I may put a record out at some point in time under my name, I'm not sure."
Having asked Todd about one of the songs on that album which happens to be one of this journalist's all-time favorite songs - 'Slave,' Todd added: "'Slave' was inspired by one of my favorite artists – Prince. He used to write 'slave' on his cheek and I thought it was great so I wanted to use it in a song."
Todd then elaborates on the breakup with Buckcherry, "I never wanted to go off and do a record, that wasn't like why Keith and I parted ways. There were all kinds of things going on. I needed to get happy again musically, and that was just me staying busy, you know?"
Now in 2006, regrouped and revitalized, Todd has found his inner peace, musically.
"Buckcherry has always been my passion – I'm a majority writer in Buckcherry, I started the band with Keith and it's always been my baby – mine and Keith's. Now we have this great band because three of the members quit after 'Time Bomb,' and [now] it's the band that we always wanted."
"We always wanted it to be a team and sometimes that gets lost along the way when you're gaining popularity. It's really hard to keep a band together but this is a band I know is going to ride it out and get to the Rock and Roll Hall of Fame – that's really my goal."
What other potential milestones does Josh Todd have in mind for Buckcherry?
"I have a lot of goals, I want Buckcherry to be recognized as a really great rock and roll band. We've been kind of flying under the radar for a long time and I want us to compete with the top people in our business because we're that good. I want a platinum record, I want a multi-platinum record, and I want to have a body of work that I can look back on when I'm 60 years old and go, 'I made my stamp, I made my contribution,' and be happy about it."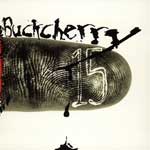 With the fresh gems off of 'Fifteen' along with older favorites from Buckcherry's previous albums, the possibilities for an ever-changing set-list are endless as the guys continue their tour throughout the rest of 2006 and begin their quest to become rock and roll royalty, one show at a time.
"We take the best from all three albums and make a really great show. I mean, we'd love to play the whole [new] record but people are just getting to hear it now. More will be revealed in like a week, we have to check the Internet and see all the fans are gravitating towards which songs, and then adjust our set-list accordingly."
And with the summer concert season coming up fast, you can bet you'll have plenty of chances to see Buckcherry in the months to come.
"We're going to be touring a lot – so far we're booked through June. We've already been to Japan twice, we've been up to Canada and we're going to go up there again, and the states. We'll probably go over to Europe at some point late in the summer, then come back and hit all the markets again."
"We've got a lot of singles on this record that have got long legs, and I think we'll be touring for a good 15-16 months on this record. We already have two [albums] in the can, so we can do a lot of shows."
Now having kept afloat for over a decade in what tends to be an ephemeral entertainment industry, Todd explains what he's learned thus far: "I've learned what not to do. What not to do as far as the business is concerned. I've become a better businessman; I've become a better vocalist. I really try to learn from my mistakes and grow and continue to be open-minded, whether it's music or my personal life or anything."
"I wish I would have been more of [a businessman] when I got my first record deal. Musicians just want to be artists, they don't want to think about all that, but if you don't think about it every body takes your money. You've got to be smart."
And though rock and roll makes the man, music isn't all that Josh Todd is.
"I'm really passionate about being a good father. I have two daughters and I'm married. I want to be a good husband and a good father, and a good friend."
When asked if fatherhood has changed Todd at all, he explains that it's taught him to respect women more, which lead to Sass' light taunting about his respect for women despite 'Crazy Bitch.'
"Well, you know, this is a business," states Todd establishing the difference between what's entertainment and what's real life.
Todd then adds, "I have a lot of explaining to do at some point. I'm a real traditional father, I'm old school and my daughters will tell you that. I know exactly how men think and we've already had a lot of conversations. It's all about being open with your kids and talking about everything so that if there's a situation they don't feel like they can't talk to anybody."
Ready to head off to the Buckcherry show for the evening, Todd gives a shout-out to UnRated Magazine's readers:
"I just want to encourage everyone to go get the record, it's called 'Fifteen.' Go to our website, Buckcherry.com, and check out where we're playing and come to the shows. If you're not a Buckcherry fan – you will be!"
---
RELATED LINKS