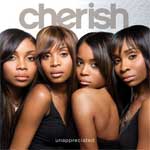 The lovely ladies of Cherish consist of four equally talented sisters. Their first release on Sho'Nuff/Capitol Records, "Unappreciated" is a good balance of ballad and up-tempo songs. Having first hit the scene in 2003 under the wing of Jermaine Dupri; Farrah, Neosha, and twins Felisha and Fallon each brings their own style to the music. Producers Jazze Pha, as well as Dre & Vidal, Jasper, Don Vito and Adonis all compliment Cherish's sound. "My style is really more cool and laid back," Fallon says. "I'm the lowest note out of the group and I have sort of a soothing, airy feel to my voice. Farrah's the sophisticated one in the group. Felisha and I are kinda tomboyish while Neosha is the sexy one. She's the soprano. We all have our unique sound."
The album is described by Cherish, "as ranging from sassy to sensuous to crunk." "Taken" is definitely one of the sassier songs, with school-ground handclaps that get you hype! The title track, "Unappreciated" is a strong track that focuses on a relationship where a woman feels she's not getting the attention she deserves.
Standout tracks on the album are of course, "Do It To It," as well as "Unappreciated," and "Chick Like Me," featuring Rasheeda.
---
RELATED LINKS