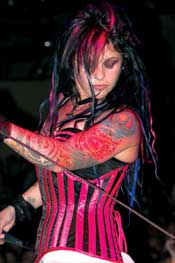 Website Biography December 2006:
Dilana Jansen VanVüren was born in Johannesburg, South Africa on August 10, 1972. Her surname changed to Smith when she was about two years old, when her mother married her step-father, and he adopted her. Robichaux used singing as an escape from an unpleasant home scene, participating in school choir competitions and festivals, as well as church choir.
When the opportunity presented itself, Robichaux dropped everything and started performing full time, from a traveling duo, to a mixture of bands in South Africa and Holland. Moving to the Netherlands, she formed her own band, focusing more on original works and becoming one of the country's highest paid acts.
Recording her first album Wonderfool led to four music videos, five singles and well over 200 gigs. She also sang the title tracks for two major motion pictures and performed in a festival in Belgium, along with Joe Cocker, K's Choice, Heather Nova among others for a crowd of more than 100,000.
Pretty driven, Dilana now lives in the United States where she is enjoying success as a solo act with surely more hits to follow. And we'll follow her. Honestly, Dilana has the power to make us follow her anywhere.
---
RELATED LINKS