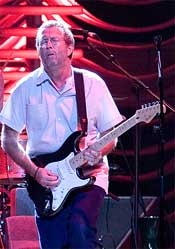 The long awaited Eric Clapton concert took place October 21 st at the American Airlines Arena. In transit to the venue it was just a chaotic situation. The downtown construction and lack of planning was just a horrible experience. The city manager should be fired for the horrible job they are doing with their recent city rejuvenation projects. You've got 2 state of the art brand new facilities within a mile radius stuck in the middle of torn streets detours and NO signs to redirect traffic flow. So this created a nice confusion among the drivers who just want to make it safely to the arena to enjoy the show. Making this even more frustrating is the lack of parking in the arena itself. Arriving 40 min prior to the show the arenas parking garage was already full and the parking across the way being a chunk of cash ($40.00 per car) was a hard pill to swallow.
Finally we parked and on the way walking to the arena, avoiding the dirty piles of garbage and debris among the overflowing sewage on the street and pot holes. As I managed to get to the front steps of the arena, in one piece and getting no mud on my clothes. This is in no way a reflection on the Eric Clapton show but a little bit of a disappointment on the cities care for their supposive best income and revenue generating venues ( Carnival Center and American Airlines Arena). As I sat in my nice center stage floor seats, I begin to notice that I was not overreacting to how I felt about the conditions of the surrounding areas and arrival to the venue as more then two thirds of the audience around me where dressed in cocktail dresses and high heels. This may be a concert at an arena but the people who attend like to get dressed for the occasion and I'm sure they did not appreciate mud all over their fancy shoes.
The opening act was The Robert Cray Band. Oh my god did they sound good!!!. I was happy that I sat down for the opening act. I was blown away by their smooth sounds of jazz and blues rhythm and Robert's wonderful vocals. He sang "Time Makes Two" from his 2003 CD, "Time Will Tell", when it hit me, as he swayed back and forth in front of the microphone. Robert Cray's blues voice just reminded me of Ray Charles. Yes I know some would take insult to having me comparing this band to such a legend, but honestly he sounded that good and his movements on stage and his love for his guitar just reminded me of that passion Ray Charles showed in his performances.
As The Robert Cray Band ended and the stage crew began to set up for Eric Clapton on stage, I took a moment to look around the arena and catch the flocking of people rushing to their seats, making sure they sat down before Eric Clapton took stage. The upper areas of the house where full, but the middle section wings where were half empty. This brought me back to my entrance and wondered about that garage parking. How can it be full? The arena is not even half way to its capacity? Anyways my mind quickly came back to the enjoyment of the show as the house lights went down and the audience began to scream and applaud in a standing ovation as the band took stage. The center spotlight comes on to present the very humble Eric Clapton who quickly goes into his first song of the night "Pretender."
Eric Clapton sounded better then I ever remembered him. It was a sweet comfort feeling to hear him sing. The band was in sync, smooth and sounding better then the CD version of the song. Needless to say I was pleased and quickly the bad parking and traffic resentments dissipated.
A very modest looking Eric Clapton wearing his good old fashion blue jeans and a short sleeve shirt sporting his unshaven guy next door look was just what was needed to make this a great show. Goes to show you a simple show but with great vocals is just as good of a show as all the flashy lights and drama other groups create on stage to distract from their terrible vocals.
Through out the concert, Eric Clapton shared spotlight with his band, giving the members moments for solo play and time to showcase their string work. Yet again, Eric Clapton shows to audience at the arena how humble he is and giving his band credit for the great music he has brought us throughout the years.
My favorite song of the night was "I shot the Sheriff" and why? Well because it's a song I remember vacationing to with a margarita on my hand and it's a happy place for me.
Clapton's music takes you places, makes you happy, makes you sad, but most important of all it makes you feel period. That is the best compliment an artist can have, it is music you can relate to which makes you feel his joys and pains. It was a great night of smooth sounds, no technical difficulties and a great live singer with an outstanding voice.
This was a great concert, well worth the troubles to get there.
---
RELATED LINKS