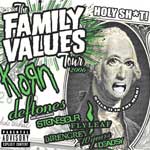 For anyone who was unable to make one of the 30 shows that marked the return of the Family Values 2006 Tour this past summer (sadly, like myself), you can now enjoy the live experience on CD the day after Christmas. Recorded live from shows in San Bernardino, California, Holmdel, New Jersey and Boston, Massachusetts, this upcoming release gives fans a heavy dose of Korn (tour headliners and founders) and steady diet of the remaining Family Values lineup in just over one hour of music. With a release date currently set at December 26, 2006, this 16-song disc rolls the whole Family Values experience up into one big joint that you can't help but want to take a quick hit of. This is the fourth Family Values Tour compilation disc that has been released to date. Old-school fans might remember the releases of the '98, '99 and '01 tours that included notables Korn, Staind, Limp Bizkit (notable is only relevant) Filter and Primus. The track listing is as follows:
Right Now – Korn
Coming Undone – Korn
I'm So Sick – Flyleaf
Wasteland – 10 Years
Through Glass – Stone Sour
My Own Summer – Deftones
Merciless Cult – Dir en grey
Reborn – Stone Sour
Waking Up – 10 Years
Pride (In the name of Love) – Flyleaf
Ryoujoku No Ame – Dir en grey
Shoots and Ladders/Wicked – Korn
Nosebleed – Deftones
Freak on a Leash – Korn
Blind – Korn
Carrying Over – Deadsy
The disc starts off with an extended into that would make even a die-hard Korn fan unsure of what lied ahead. With a hard, punching rhythm, Korn delivers "Right Now with raw backup vocals and the usual ferocity and knock-out blow that a Korn concert delivers. "Coming Undone" from See You On The Other Side is very reminiscent of the album version and really doesn't stand out as anything unusual or special. However, as the CD moves on, Jonathan Davis enjoys the company of both Chino Moreno on "Wicked" and Corey Taylor on "Freak on a Leash." I can tell you that Jon and Corey Taylor (Slipknot front man) singing together on this decade-defining hit is truly something rare and unique. Korn also donates a very standard, "you've heard it before" version of "Blind" to this album. The Deftones rock live versions of "My Own Summer" from Shove It and "Nosebleed" from Adrenaline (1995)...exactly what you've heard before from a Deftones live show but something this album must have. Corey Taylor and Stone Sour's current hit "Through Glass" comes up as track number five. If you ever doubted that he had the range or thought Corey could only sing thrashing songs like (sic) from behind a mask, give this a quick listen. Even when Corey decides to baptize us all on "Reborn," he demonstrates the range between Slipknot and Stone Sour.
Flyleaf's "I'm So Sick" provides contrast and transition early in the lineup until we are terrorized by Richard Patrick's version of U2's "Pride (In the name of Love)." Ummm, Richard Patrick, where have you, Filter and all your other busted side-projects been since Family Values Tour 1999? And, where exactly was this song supposed to fit in the Family Values theme? Flyleaf loses me here. Being a fan myself, I enjoyed 10 Years' delivery of both "Wasteland" and "Waking Up" from The Autumn Effect. I'm not sure if I'd go as far as considering this the "almighty" tour that Jesse Hasek deems it, but one that I'm still sorry I missed out on.
Overall, I generally enjoyed the artists that played on this holiday release and found there to be many more tracks I'd put on repeat as opposed to deleting off my iPod. Much like any compilation disc, you have to know this going in or you will be highly disappointed. This is 100% live and an accurate taste of what over 400,000 rabid fans saw on the 2006 summer tour. I rate this a 7 out of 10 because I think it captures the essence of what makes certain bands very "real." For instance, if you've never seen 10 Years play live, this couldn't be a more accurate portrayal of what to expect. For the same reason lawn tickets were $10 though, the bands on the back half of the bill are weak and could easily be removed from the compilation as quickly as their set time slots. I would have also changed the track layout. Personally, I have a difficult time putting a good number of solid bands together and then ending with Deadsy – especially when there was such a thunderous start with "Right Now" from Korn.
*The DVD will be sold separately and take viewers backstage, on-stage behind-the-scenes and in the dressing room with exclusive concert footage, interviews and out-takes all in digital 5.1 Surround Sound.
---
RELATED LINKS