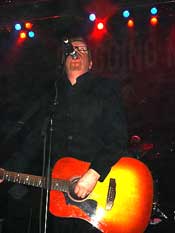 When you're part of something great, you immediately know it. That's exactly how Dave King and his band mates of Flogging Molly feel about what they do. They play Irish-laden punk music, with many instruments that others would not even dare flirting with. They use sounds and subjects that only musicians from the 'homeland' could get away with using. They get up everyday and put their heart and soul into everything the band does, because they know that during their live shows, their fans will give just as much.
If you've ever gotten the chills while watching one of your favorite bands, then you'll know what I'm talking about. It's an unbelievably invigorating feeling, and I can tell you that while watching this Irish-infused punk band, I get them every time! With the passion and vigor of an entire Irish army, Dave King and friends rock your socks off from beginning to end. On the second-to-last day of their 'SideOneDummy College Tour,' Flogging Molly still had sufficient oomph to awaken the Chicagoans to life. InkTank PR states it perfectly in their latest press release in saying Flogging Molly has a "near-legendary live show - a ferocious tornado of fists, beer bottles and stage dives - collide with guitar, fiddle and accordion leaving the sweaty masses in awe."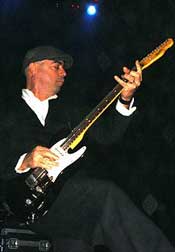 Flogging Molly fans live vicariously through the band, and it sure seems as though Dave King and the rest of the band live vicariously through their fans. Music fans never leave a Flogging Molly concert without feeling tremendous gratification. People become dancing fools while watching the Dublin-rockers--so much so that they could envision themselves as having performed in "Riverdance.' While connecting arms with their neighbors and twirling each other around, they do their best impression of an Irish jig, leaving everything on the dance floor.
When Dave King slowed things down with an acoustic start to "Black Friday Rule,' it gave the crowd a chance to refuel, replenish, and rehydrate with some Guinness and Irish whiskey! This concert became one of my most exhilarating when Dave King reached down and poked me on the chest, and asked the crowd if they saw my tall ass in front of the pit, wearing a Tigers jersey in the city of Chicago! My entourage, including my uncles and buddies, got a large kick out his comments. It was a moment that will no doubt be committed to memory.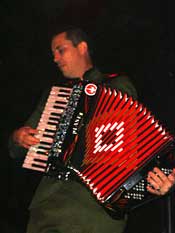 For going through so many trials and tribulations throughout his life, Dave King is such a positive, happy, and easygoing person on stage. It carries through to the crowd, and while singing and dancing their hearts out, everyone in attendance wears a huge smile throughout the entire show. Whether he is telling jokes in between songs, or poking fun at a guy in the crowd that looked like the lead singer from Nickelback, Dave King loves every second of his time on stage, and it shows. Many of his fellow Irishmen who reside in Chicago were in attendance and showed their shamrock pride.
They always put on an astonishing show, and I honestly feel that anyone would take pleasure in the spectacle that is a Flogging Molly concert. Flogging Molly whole-heartedly loves what they do, and what their music does for others. Fans of the band are hoping that this Irish group never decides to hang up their accordions, tin whistles, or left-handed banjos.
Setlist:
Another Bag of Bricks
Wailing Wall
Likes of You Again
Swagger
Selfish Man
Laura
Whistles the Wind
Drunken Lullabies
Tenement Square
Rebels
Factory Girls
Tobacco Island
Queen Anne's Revenge
World Alive
Devil's Dance Floor
Salty Dog
Within a Mile
What's Left of the Flag
Black Friday Rule
Seven Deadly Sins
RELATED LINKS