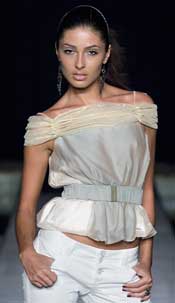 October 11 th -16th, 2006 was Fashion Week Miami Beach "Funskshion" and we where there each night to bring you all the details.
Wednesday, October 11th, Opening night at "Carnival Center for The Performing Arts sponsored by Harpers Bazaar"
This year Funkshion, now in its 3rd year, brought excellent designers to the forefront of fashion in Miami Beach . The week long event kicked off at the newly opened Carnival Center for The Performing Arts. "La majia de la moda" (the magic of fashion) sponsored by Harper Bazaar en Espanol. The Spanish publication prides themselves in bringing the most stylish trends from the runways straight to their readers.
The evening was hosted by Telelmundo's host, Monica Noguera. The night featured a glimpse of the upcoming season's designs from the most popular designers in the industry. I must say on a personal note I never cared much for the 1980's look, so the new trends of trying to reinvent the era is nothing that impressed me. On the other hand, some designers were not influenced by the 1980's trends of designs and brought out their very own signature elegant, clean line, well constructed garments which were very impressive to see.
The night was not without its little glitches but then again what show ever does go as planned. The estimated guest arrival was of 300; however an approximate 1100 people filled the house. A little quick planning and rearranging and the show finally went on.
As the house lights went down and the runway lit up, Monica Noguera took center stage to announce the line up for the night. The runway show was one continuous show of all garments by models walking one right after the other only separated by the announcer introducing the name of the designer. Some designers were represented by as little as three pieces and some where by as many as ten. I saw allot of empire waist dresses, open low cut neck lines and a surprisingly number of neutral toned garments. It seemed that majority of spring 2007 season lines will be filled with these clean, neutral, elegant colors.
Custo Barcelona
First of the night was Custo Barcelona - This innovative duo continue to do what they do best bringing their graphic designs and printing to their punk style fashions. You look at their designs and you know this can be a rock star wearing it. They mix bright colors and prints with imprinted graphics to make a real eclectic look. Not to mention Funky by my standards I love the embroider details and how they mix different patterns and materials in their jackets.
You can buy their designs online at their site or at one of their now 15 stores. Visit them online at www.custo-barcelona.com.
Escada
It was all about the Jackets for them on this night. The surprising use of this bright color really was a great addition to the show. As the show went on I began to see a trend of this color popping in other designers showcase as well. Though im certain it's not the same, this mix of orange and red tone is bound to be this coming season's hot color. More from their web site at www.escada.com
Adolfo Dominguez
As to be expected Adolfo Dominguez never disappoints with their excellent constructed garments, you just want to wear everything they make. It's such a clean and timeless line from the purses to the coats it all worked great together. They did however continue their signature grey and black tones with no introduction of any big colorful pieces. But it's all very wearable, chic, elegant, and well it's classy. Why change something that works so well. I loved the coats. Their new black coat reminded me of an updated version of Escada's last seasons Cruise collection coat and it's just a very nice piece that every woman should own. More at their web site at www.adolfo-dominguez.com.
Dolce & Gabbana
OK these two for sure know how to make a woman look curvacious in a dress. The animal print long tailed dress was such a hit the model wearing it was glowing. She was smiling so hard I think the mouth cracked. The dress fit her like a globe and it accentuated from her cleavage to her toes. I can not disagree she looked stunning in it. More at their web site at www.dolcegabbana.it.
Carolina Herrera
Evening wear for the sophisticated woman. I was hoping to see more of that red color she brought out for her summer collection but only one red evening dress was shown. This season seems to be more of a neutral and muted color combination for them. More at their web site at www.carolinaherrera.com.
Nicolas Felizola
The surprise of the night for me was this designer. Aside from having celebrity Itali Cantoral walking one of his animal print dresses. He showed this one red dress that I said Oh wow; I can see Paris Hilton wearing that. It says glamorous, fresh and sexy all over it. The color I was told by a representative of the designer to be mentheolate chiffon, a mix of red and orange, from his new collection called DIVAS inspired by the Hollywood glamour of the 1940's. The dress had a great flow as the model walked the runway representing the vibrant color. I have to say this was my favorite dress of the night for sure. Sadly I could not see her shoes well from where I was sitting, but the dress was great on its own. More can be found at www.nicolasfelizola.com.
Gustavo Cadile
To end the night the designer of choice was Gustavo Cadile, who delighted the audience with a gorgeous display of woman evening wear full of elegance and glamour.
Introducing very bold colors to his collection this year, with a touch of the ever so popular red/orange, a stunning kiwi-lime dress with a gorgeous broche on the waist and as his ending gown a embroider and beaded gold dress with a tight fitted design reminiscing of the late 1950's fashions. More can be found at www.gustavocadile.com.
Thursday October 12th, 2006 Night at "The Tent on the Fifth"
First night at the "Tent on the Fifth", this was the first night of runway shows after the opening night where we saw several emerging designers as well as fashions by JLO and Alexander Crocker.
JLO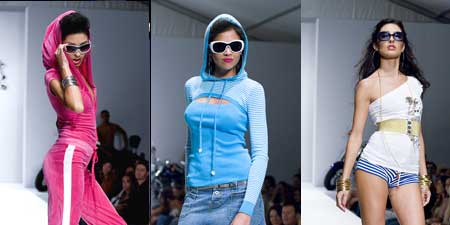 My mom once told me if you can't say anything nice then don't say anything at all. So I'm going to take that advice with the exception of the comment. I think it's something I can wear to bed very comfortably.
Alexander Crocker
We met back stage with Elias Maida the creative director of the Alexander Crocker label who filled us in the details of this new spring 2007 line. This year's line is named appropriately reinvented Kyoto . The Asian theme inspired by collection contains 32 one of a kind pieces which are all hand sown and constructed from antique laces and embroideries which designer has collected over the years. Some of these being as much as 200 years old, and the fabric specifically made from his designs to construct only a single, one of a kind garment. This intricate work and attention to detail has given this designer a spotlight with celebrities. Spotted among the audience were Rocco Dispirito, Barbie Simmons, and Ivelin Giro.
We begun to make way to our seats as the shows was about to start. The first few garments to walk the runway just brought your attention to the vibrant colors and embroider materials, but it wasn't till the punch low neck line gown that I begin to fall in love. Surprisingly it was not as vibrant in color but a nice golden champagne tone. I guess what make me love it was that it fit the model so well and it just had that glamour feel to it. I felt it would be a great elegant piece to wear over a swimsuit and no one would know you are in beachwear. After this piece the next one following was in the same tonal range and surprisingly followed my train of thought being it was a throw shall like long beaded piece over a swimsuit.
In the mid show, after a small pause, the audience was entertained by singer Maria Carolina Semprum, singing the melody of Cirque De Soleil "la Nouba" song "Liama." She looked like a Nubian princess wearing one of the designer's creations. This song made me all teary since the tracks for that show were part of my wedding ceremony. I'm sure it had more meaning to me then others in the audience and I'm sure more than a few wondered why I was wiping my eyes. The show was cohesive; the theme was carried well throughout the entire set. It was like a fairy tale of an Asian princess hiding in her closet not knowing what to wear. The garments just showed incredible details, vibrant colors and rich fabrics. Overall what I liked the most was the effort put into making this a high production entertainment.
Alexander Crocker
141 Aragon Ave
Coral Gables Fl 33131
Ph:305.648.8554
www.alejandrocrocker.com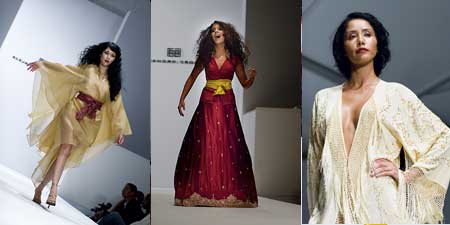 Friday October 13 th, 2006, Night at "the tent on the fifth"
Yet another night filled with great shows among them swimwear designer SILU and the ever so popular Heatherette collection.
If I had to pick one night only to attend of the entire week it would had been this one. What a fun night this was. I got a very educational interview with Sylvia Ulson, designer of SILU swimwear and the ever so fun Richie Rich on his roller skates.
SILU Swimwear
From Brazil, comes Silvia Ulson, designer of "SILU", bringing with her the hot Brazilian lines of swimwear to the United States. We had a moment to talk with Sylvia after her show and get to look at her line of swimwear up close. My first reaction to her line was wow it covers more than what I was expecting. After close inspection I'm was even happier to see they are lined from corner to corner, both bottoms and tops.
"Sylvia, I'm used to seeing the tiny Brazilian cuts where the front of the suit is a little thinner. What is your cut? I noticed it's a lot wider in the front then I'm used to seeing." Sylvia's reply was, "My cut is the true traditional Brazilian cut. Tiny very short very small and sexy but comfortable and covers all that needs covering. That's why people here tonight where shocked as well, and why I have decided to bring to Miami this style."
I looked at the suits and coming from a girl who always had issues with tops I will go down the list of things I liked. First there is the material. The Lycra combination she is using on her line is nice and thick as well as super soft. So it forms to your body, avoiding those awkward wrinkles in the not so filled places. I loved the stitching on the strings of the tops. It was made taking into account that you're going to pull and tie them more than a few times in the life of the suit so the thread is not going to snap every time you keep making it tighter. The lining inside the suit is lovely. Nude toned material making a nice coverage. Silu also has a cupped line of tops that like a pushup bra. Now at last, my favorite, the bottom portions. The front of the suit is wide covering to a great level of comfort but still keeping the line of the cut low bellow the hip bone and be back curve follows your natural shape avoiding the thong feel of prior versions I am used to seeing.
SILU swimwear is opening a store right here in Miami Beach but in the meantime you can purchase these swimsuits through their website at www.siludesign.com.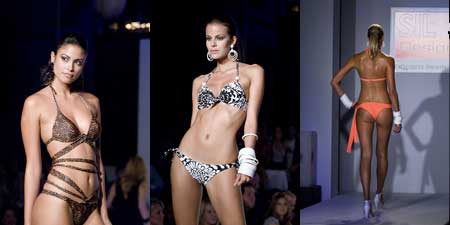 HEATHERETTE
Although Paris Hilton did not walk the runway in one of his gowns like she did in New York we just loved their show as much as we did then. Paris was not present this night but Nikki Hilton and Perez Hilton did come to the show in support of their friend and designer Richie Rich. Richie Rich was kind enough to spend a little time with us before the show to tell us about their vision and theme of this spring 2007 collection. "This year's line is called "Passport to paradise"; it's a tropical blend of fantasy fun and lots of fun prints lots of energy. This year we are using printed fabrics with lost of hibiscus flowers, allot of tropicals with crossbones and pirates, like a little wacky shipwrecked. It's kind of like your fantasy island gone wrong but so right." I had to ask this fun designer wearing his signature roller skates what he thought would be the trend this year and this is what he had to say. "I think allot of color is going to come back and I think allot of prints, mix it up, having fun with it, anything kind of goes these days I think. It should be fun." You can buy your very own Heatherette look at JCPenny's Junior sections of your local mall or their website. www.heatherrete.com.
After our interview we took our seats for the show and it was a little hard to move around and get anywhere with the tent bursting with people. The end of the runway had a beach side decoration with a row of suitcases lined up spelling the brands name "Heatherette" the back wall of the runway had a large plane crashing into a tropical island with the propeller of the plane spinning all glammed up in glitter. It was going to be a fun show for sure. From the flamboyant sexy male model in coconut wear and straw hula skirt to open to the ever so popular Amanda Lupore sassy runway walk. It was a spectacular show.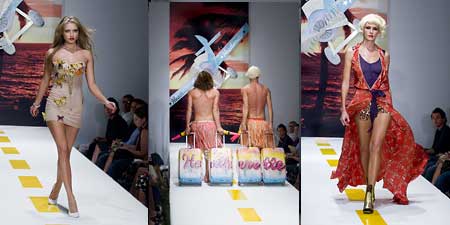 Saturday, October 14th, 2006, Night at "Nash"
This was the last night of runways shows and a bit of a downpour occurred throughout the night on and caused some delays making it difficult to enjoy the nights show.
Sweetface by JLO
Finally the rain held back long enough for the new Sweetface line from JLO to be shown.
The location was outdoors on a refreshing patio at a nearby hotel where the runway was placed over the pools. All white chairs adorned with white roses along each side of the pool where the guests sat to enjoy the show.
The line was a muted palette as prior ones had shown thorough out the week and the addition of a retro feel shoulder pieces and high waisted series of belts was the most noticeable chic addition to this line. I begin to feel a little of a safari clean neutral color thing happening.
The night ended again with JLO not making an appearance as in some previous shows. The strong point of the new Jlo line with their demographics is they have catered to the new chic trends offering their young customers current trends under the JLO brand. More on at www.shopjlo.com.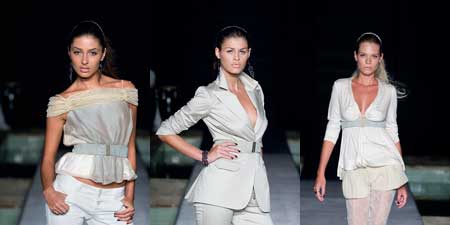 ---
RELATED LINKS