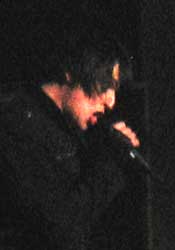 Boston based band Hourcast are making a name for themselves, giving fans a show that is worth the money they spend on tickets as they toured the US opening for Godsmack and Breaking Benjamin and now with Sevendust.
Singer Patrick McBride is the only member of Hourcast not from the Massachusetts area. The guys said they found McBride on the internet and they flew him from his native St. Paul to Boston to hang out and jam together. After their sessions together, the band decided that McBride is what they were looking for so they went into the studio together and started to write songs and record.
Bassist Dave Sullivan jokingly said that McBride was the best singer for their band as well as the best looking guy to front their band.
The guys look to fellow bands such as Def Tones, Tool, NIN, and faith No More for musically inclined inspiration.
They said the music scene in Boston has really died down from what it used to be 10 years ago.
"There were more clubs for bands to perform at, but a lot of them are gone now," said Guitarist Dave Henriquez.
Hourcast had a very unique approach of going to win over new fans. Instead of handing out flyers at to get the attention of new fans, they gave out two song sampler CDs. This gave music fans the chance to listen and get a feel for their music instead of just seeing their pictures on flyers and leaving it up to the sight option to introduce themselves to the public.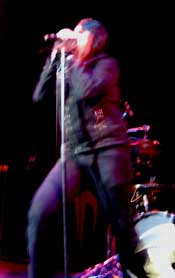 In June, Hourcast's first single Freeze was released nationally. Their freshman CD titled State of Disgrace was released June 20.
The artwork for the album cover as well as the Freeze video was done by Vincent Marcone.
"Vincent started creating the artwork for the album cover and we all wanted to bring it to life," said McBride. "Jerry (Clews, Hourcast drummer) spearheaded with Vincent and the cover was brought to life in our video. We all saw it and loved it."
Hourcast is also featured on the soundtrack of the recently released movie Saw III. The single Sakkara was chosen for the movie which was released on Halloween 2006.
Hourcast believes that they are growing slowly, but surely. They know that to get to the top and stay there they will have to pay their dues and make it a slow build to the top. This hardwork ethic really pays off in their live show.
The energy that they put into their show is amazing. The fans went from the beginning of their set at the Mark not sure what to expect. By the end of their set fans on the floor had their fists in the air banging their heads to a new band that really gave the Quad City area a show they could tell their friends about and a new band that they should give a listen to.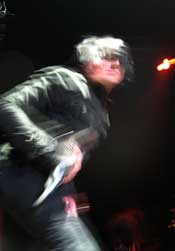 "We are not just an average post Emo band, you can actually understand the lyrics to our songs," said McBride. "We really bring our A game every time and are really focused on giving the fans a great experience."
Hourcast ended the tour with Godsmack on November 21, 2006 and start back on the road again on the 27th of December opening for Sevendust. .Hourcast wants to thank their dedicated fans for helping them get to where they are today.
"Keep the faith, keep up the support and expect a new single, new video and non stop touring," said Henriquez.
Hourcast can be found on the internet at www.hourcast.com, www.myspace.com/hourcast or at www.purevolume.com/hourcast.
---
RELATED LINKS