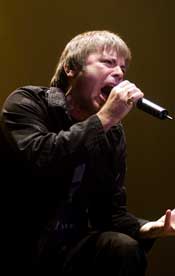 On October 18, 2006 Iron maiden returns to Chicago for an almost sold out show at the Allstate Arena. The metal maniacs that have been around for over 26 years has recently released their newest album to the US this past September, "A Matter of Life and Death", and performed the entire album from start to finish for their Chicago performance. In fact, Iron Maiden only performed 8 US shows for their newest album, and Chicago was their second to last stop before they head to Japan and Europe. Lucky Chicago Maiden fans got to experience an amazing performance by Bruce and fellow band mates, but this show seemed to cause more controversy between die hard older Maiden fans than it did joy that they are still performing live.
Iron Maiden only performed three older songs off of previous albums before "A Matter of Life and Death", and only during their encore of their performance. This seemed to have some of their older fans in an uproar, since the entire show was in fact a performance of their entire newly released album. I listened to numerous fans complain that the band should have done a lot more "older songs" for their show instead of their entire new album. Regardless of the fact that they still had their multiple action drawn background changes from song to song, and even though Eddie came out of a full size army tank truck big enough to almost engulf the stage, some older Maiden fans were not happy with the show due to the band not playing all of their old hits. It seems, in my opinion, that since they did not bust out the entire "The Number of The Beast" album, that they have now dropped in their live performance giving abilities by their 26-year old fan base.
I did however, think that the show was fantastic. Bruce Dickinson - vocals, was as lively as ever by singing each song crystal clear amidst running all over the stage with energy like a teenager, and singing songs theatrically by using his hands like an orchestra conductor in time with the musicians as he sang. Before performing "Out of The Shadows" Bruce announced to the arena that the next song "is about love, about waking up and realizing you love someone." Honestly, the entire band seemed as if they hadn't formed 26 years ago, it was if they were a fresh new metal band just newly formed with the excellent energy level every band member had during their performance. Bruce Dickinson also thanked the crowd for buying their newest album prior to their encore, regardless that the older Maiden fans seemed to only come alive during their older songs being performed during the encore.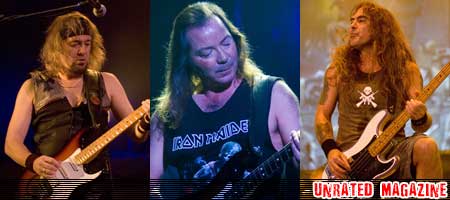 The younger crowd at this show seemed to love the fact that Maiden played their newest album, and considering how long they have been producing albums, I frankly think that it is awesome that a 26-year old band can attract so many new younger fans! Iron Maiden has also definitely not changed their music-style, regardless of the fact that they have produced 16 albums, something that is quite impressive in this day and age where numerous older metal bands frequently seem to "grow stale", and create un-original albums just for the sake of generating more profit for their pockets. For those fans that complained about the show, I feel that these fans need to realize that the band is still very strong musically, and they are still able to almost sell out shows due to their ability to produce quality albums, not quantity in album production with a desire to change their music style to attract a "new fan base", like several older metal bands have done in the last decade. Older Maiden fans still got their original Iron Maiden, they just got to see them perform a new album out of the 16 original albums they have created, as opposed to repeating history and replaying songs that have been performed live numerous times over the years. Their new album performance also seemed quite fair to play, especially in appreciation to their newer fan base, that weren't even probably born when Maiden first released their 1980 album "Iron Maiden"! Overall this show was another great Maiden performance, and the older fans that felt it was not "up to par" to their expectations, they need to get over it, and appreciate the fact that these metal masters are still alive and kicking, as well as still producing amazing albums.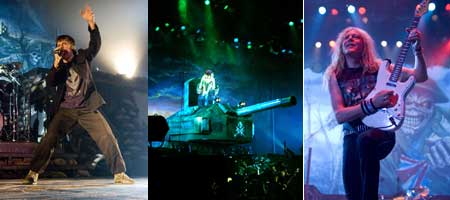 ---
RELATED LINKS