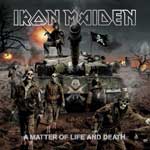 Iron Maiden has gone and created another excellent album, reflecting that the 26-year old band is still alive and "kicking." The September 5, 2006 release of "A Matter of Life and Death" is Iron Maiden's 14th original album release. Iron maiden started back in 1980 with their first album "Iron Maiden," and they don't seem to have lost any of their original edge in creating great metal with this album. In fact, it seems that their newest album has created quite a stir amongst a younger fan base, and has actually benefited them as artists by pulling in a newer fan base by staying progressive in the metal music industry, without losing any of their classic "Maiden" sound.
The album "A Matter of Life and Death" features Iron Maiden's classic "Eddie" skeletal artwork on the front cover, and this album is all about war, and the destruction it causes. It also talks about soldiers out risking their lives and the hell they go through out on the battlefield. There is honestly not a bad song on the entire album. Some of my favorites on this album are "The Longest Day," "Brighter Than a Thousand Suns," and "For the Greater Good of God," but it is truly hard for me to only label these few songs, as the entire album is fantastic.
What I think makes this album so great, is that it seems that this band has grown musically in their orchestrated harmonies. All of the instruments flow very well together, and each can be heard clearly. This album was very well produced, and has a very clean sound. Some of the guitar solos, for example, at the beginning and the end of "The Longest Day," the middle solo on "Out of The Shadows," and the guitar solos throughout "The Legacy" provide a dark and ethereal feel to each song. Dave is also brilliant in his vocals, and seems as if he has gotten even better in his alto singing abilities. The bass and drums only accompany both the guitars and vocals perfectly, creating the perfect mix of metal music.
I highly recommend all Maiden fans buy this album, and if you are a newer metal fan, and not yet introduced to the awesomeness Iron Maiden can create, I truly recommend you running out the door and purchasing this album… right now! If you would like to purchase Iron Maiden's newest album "A Matter of life and Death," or just want the latest news or more info on the band, you can also go to www.Ironmaiden.com or www.sanctuaryrecords.com
---
RELATED LINKS