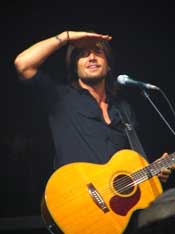 Keith Urban is releasing his 4th solo album in the USA on November 7. If the sneak peak of new songs is a fair indication of the quality of the upcoming release, Love, Pain, and the whole crazy thing should please fans, critics, and radio programmers alike.
I attended one of the two preview concerts. The fan club limited tickets to 2 per member for the weekend. You could buy 2 for one show or one for each show with your personal password. Through the online purchase, I was able to get fantastic seats for myself and a friend.
Due to an imploded building, traffic, and the filming of the concerts, the show was delayed by about 45 minutes to accommodate fans who were stuck in the gridlock. Jerry Flowers and Chris Rodriguez from Keith's band came out and entertained the crowd by playing a few acoustic songs.
Keith started his show with his new single Once in a Lifetime and it did not disappoint. As expected, he augmented the guitar solo compared to the radio version. Other new songs included "I Told You So" and "Shine" which I can happily report are not covers of the songs made famous by Randy Travis and Collective Soul. I often feel that covers can be waste of space on a CD by an artist who is quite capable of writing his own material, particularly when the originals are very well-known songs.
"Stupid Boy" tells the story of a man who did not realize what a great thing he had until his girl was gone. By far the coolest new song is "Faster Car." Keith wrote this song with a drum machine and bass guitar and played part of his initial recording to give the audience an idea of what a song sounds like in it's beginning stage. For "Faster Car," Keith plays lead with a bass guitar. I'm sure it's been done before, but it's the first time I've witnessed a song carried with a bass riff. It was the highlight of the show to me and I'm sure I'll be tempted to skip right to "Faster Car" when I first play the CD.
We were treated to a different take on "Raining on Sunday" when Keith played it alone with an acoustic guitar. I missed the electric solo, but I enjoyed the change. I was a bit concerned when Keith played "Somebody Like You" quite "early" in the set. After a pause to bring a keyboard onto the stage, he came out to play "Got It Right This Time." With it's lyrical content and placement in the set, I couldn't help but think of it as "Tonight I Want to Cry.. The Happy Ending." Honestly, it didn't do much to excite me. I admit I'm not typically a fan of ballads, but even then I usually like them more in the live setting. This one just didn't thrill me. It may be one I never warm to or it may be one I need to hear a few times to appreciate.
Keith never fails to amaze me with the passion he puts into both is vocals and his guitar. His voice sounded great and his playing was mesmerizing, as always. With a tearing-down-the-walls version of "Who Wouldn't Want to Be Me" the show came to an end.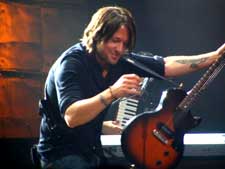 Before Monkeys start hurling sharp objects, let me state my disclaimer: I don't believe that being a devoted fan of an artist requires you to like every song and gush about the perfection of every show.
I admit I was disappointed. An hour and ten minutes passed and the show was over. I've been to shows that were filmed before and usually they are longer than normal shows since some retakes are required and songs are played that do not make the broadcast. I'm not angry or sad that the show was so short, but it was a disappointment by comparison to others.
Let me say this, I would have hated for anyone to have experienced that as their first Keith show based on my recommendation. I gush about this man's performances to anyone who will listen and part of the reason is that people "get their money's worth." By calling this a fan club event, he basically asked his fan club members to make arrangements to get to this show and gave them less time than the average Joe concert-goer in any other city. That sounds much harsher than I actually feel. I'm certain there will be some backlash from the fan club members over this and hope that if Keith listens to the backlash he can see it from that perspective.
That said, I've been to enough Keith Urban shows to know that one disappointing show is a tiny blip in the big picture. I enjoyed the show, abbreviated as it was. This show accomplished it's goal: my appetite for the new CD has been whetted.
Songs played, not necessarily in the correct order:
Once in a Lifetime
Days Go By
Raining on Sunday (acoustic)
I Told You So
Stupid Boy
Making Memories of Us
You'll Think of Me
Shine
Faster Car
Somebody Like You
Better Life
Finally Got it Right This Time
Who Wouldn't Want to Be Me
---
RELATED LINKS