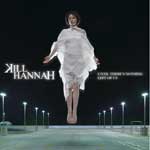 The last Kill Hannah record, For Never & Ever , was released in 2003.
In his more cynical moments, group founder and singer/songwriter Mat Devine might say that's a metaphor for how long it's taken to write the band's new record, Until There's Nothing Left of Us , which was released Aug. 1 (Atlantic).
Devine started the band in the early '90s and had nearly 10 years to write that first Kill Hannah record, he said. But it paid off: Those songs — including the radio single "Kennedy" — were the ones that finally got the Chicago-based pop-rock band its record deal with Atlantic .
But after the band recorded For Never & Ever , the label underwent several significant personnel changes, and Devine said he worried daily that his band would be next up on the chopping block.
"Just about everyone we met at the label got fired before our [first] record even came out," he said. "We've always been super aware of that and have done everything possible to keep from being flagged. We're just super lucky to have gotten a second chance, and we're not taking it for granted."
He also made a promise to himself and to his band that he wouldn't fall into the "rock star" trap.
"So many bands, once they get signed, they just want it all right away," Devine said. "They spend their entire budget on a bus, a video, etc., without having a long-term plan. So unless their single goes through the roof, they're bankrupt in six months.
"So we've always, when it comes to anything, looked for creative ways to accomplish the same things in a — I hate to use the word — 'thrifty' manner."
Kill Hannah spent nearly two years on the road to promote For Never & Ever . When the band finally returned to Chicago , Devine was exhausted and creatively sapped. He spent several months writing songs for the new album, and he found himself endlessly tweaking them and going back over ideas with his band.
"With the first record, we had that luxury of time that allows you to write when you're inspired," he said. "Inspiration could come for 18 songs in the course of six months, but it's not likely. It's a lot of pressure."
Until There's Nothing Left of Us marks the first time Devine has felt comfortable enough with his band to actively share songwriting duties. Kill Hannah's current lineup includes Jonathan Radtke (guitar, backing vocals), Greg Corner (bass), Dan Wiese (guitar, backing vocals) and Garrett Hammond (drums).
Devine chose to record the album in Chicago with producer Johnny K, whose previous work with metal rockers Disturbed — also from Chicago — earned him two platinum records. It was a choice the label wholeheartedly backed.
"From a political perspective, Johnny impressed the label because he had two back-to-back No. 1 albums," Devine said. "From more of a philosophical standpoint, I think we liked the idea of this record being all about Chicago ."
Devine said many of the songs on Until There's Nothing Left of Us , such as "Lips Like Morphine" and "Love You to Death," are supposed to emulate the feel of Chicago's bleak winters. Their repetitive, yearning choruses and chunky guitars are mildly reminiscent of the atmospheric rock of HIM, a band that Kill Hannah has toured with, yet the songs on Until There's Nothing Left of Us retain more of a confessional post-grunge angst.
Kill Hannah's sophomore effort is a step forward from For Never & Ever in harnessing the flexibility of the band's sound.
It's neither overtly electronic nor as self-conscious as some of the band's earlier, self-released EPs were. Instead, it mixes the members' diverse influences, from the experimentation of Arcade Fire and Peter Gabriel and the introspection of the Cure to the dance-punk of Billy Idol, whose "Rebel Yell" is covered by the band and available through its Web page on MySpace (www.myspace.com/killhan nah).
As on previous releases, the most distinctive feature of Kill Hannah's music is Devine's voice. Often mistaken for that of a girl, Devine's voice on such songs as "Believer" is light and breathy, almost as though he's lyrically channeling John Cusack's character in Say Anything — one part shy romantic, one part misunderstood artist.
It's a familiar feeling for Devine, whose experiences in college — in, ironically, Normal , Ill. , — left him feeling out of sync with mainstream America .
"Even in college, I never bought into the frat parties," Devine said. "I retreated to my room a lot. I remember at the time dreaming about one day having an army, living on an island and forming my own country."
When Devine moved the band back to Chicago in the late '90s, his music didn't have an initial following. A burgeoning heavy metal renaissance dominated the city's original music venues — perhaps appropriate for a city once known as the "hog butcher for the world" — and Devine's obvious glam and pop influences, shiny shirts, and spangled tank tops weren't getting him anything except a roaring headache.
It didn't help that the Smashing Pumpkins' Billy Corgan dubbed Kill Hannah the "next big thing," a surefire way to earn the jealousy and ire of fellow local bands.
"Back in 1999 or 2000, we'd play a club like the Metro [in Chicago ] once a month or so, and it was the only thing that kept us going," Devine said. "But we kept seeing the reaction, which kept getting bigger and bigger. ... I think we're all aware that there's more happening culturally in other cities, but there was just too much happening [for us] to give it up."
And time may be catching up with the band as well. Bands such as Franz Ferdinand and Louis XIV, both of whom also take an art-school approach to pop music, are blurring the lines between fashion and music, as well as poking at listeners' gender sensitivity.
"To be fair, maybe we did err on the flashy side with our fashion when we first came out," Devine said. "I think we'll always make conscious choices when it comes to our image, but now I think we're just trying to do it more tastefully."
---
RELATED LINKS