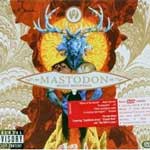 The metal band Mastodon has recently released their third full-length album "Blood Mountain" this past September. Mastodon has been touring pretty much non-stop, and they are definitely dedicated to performing live for their fans, which is a lot of their appeal. Every great metal fan appreciates a band willing to get out and give their fans consistent thrash metal, with a twist of melody, accompanied by great lyrics. Mastodon still has their original members since they first formed in 1999, Troy Sanders - Bass/Vocals, Brent Hinds - Guitar/Vocals, Brann Dailor - Drums, and Bill Kelliher - Guitar.

The album "Blood Mountain" definitely has an old school metal sound, and this album for some reason reminds me of the days when the band Motorhead ruled the metal world. This may be because in numerous songs, I hear a distinct "Lemmy" sound in the vocals, especially in "The Wolf is Loose" and "Crystal Skull." Overall this album is pretty good, you definitely have to be appreciative of this albums original melodic beginnings to numerous songs, such as the "Sleeping Giant", "Bladecatcher", "This Mortal Soil" and "Pendulous Skin" to name a few.

In the album "Blood Mountain", every song all seem to tell a story of destruction, and deception with a lot of the lyrics referencing mother natures wrath. As I listened to this album, I feel as if it is trying to tell a story in relation to what currently seems to be occurring with our planet, but I honestly could not follow the story if indeed there is one here. Overall this album's lyrics are intriguing, accompanied by some great guitar melodies, and thrash drumming. I will have to say that for me, the bass guitar does not stand out as much as rhythm, lead guitar, and the heavy double bass drums.

I would recommend this album to any old school metal fans that have not yet heard of Mastodon, and that may be looking for a newer metal band that can give you the feel of the late 1980's early 1990's metal bands. If you are a Mastodon fan, then you will definitely enjoy this album, as it is definitely progressive in its lyrics and melodies to their first 2 albums.
---
RELATED LINKS