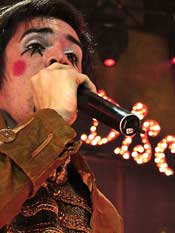 The drama builds, the curtains draw back, and what you see in front of you resembles a circus, with strippers, freaks, and dancers, and your attention is captured from the get-go. Now that I have yours, no...wait, wait, dear studio audience, I've got an announcement to make: Actually those are burlesque dancers, contortionists, and ballerinas that can only be seen altogether at a Panic! At The Disco show. With so many obscure things going on during this concert, your brain approaches sensory overload, but still leaves you with an invigorated feeling after all is said and done. Each band member sports face paint and costumes of a bygone era, but keeps the music eclectic and with a new-age feel. That eclectic sound of theirs has pushed Panic's first release, "A Fever You Can't Sweat Out," to hit platinum status back in August!
Lead singer Brendon Urie kept himself occupied during this spectacle of a show by singing, playing the piano, participating in choreographed dances, and riling up the crowd. Drummer Spencer Smith sat about 10 feet in the air atop what resembled a carousel, in front of a background that had a Broadway show crowd reminiscent of the early 20's. While people appeared and disappeared all night long from the carousel sitting just a few feet under Spencer, and while skits were run across the stage on a minute-to-minute basis, it never took away from the overall performance of Panic! They stayed true to their 'roots' and even though their 'roots' are only a few years old, playing Queen's "Killer Queen," and the Beatles' "Eleanor Rigby," fit their unique sound flawlessly.
During a few different songs, Brendon was bombarded by burlesque dancers, much to his bandmates' dismay. They followed him to his piano a few different times, and once climbed all over him and the piano where he was seated. Urie also took everyone into intermission while playing the piano portion of their 'Intermission' song--with blazing speed. During halftime, the crowd was shown a brief movie resembling a Charlie Chaplin flick featuring a midget undressing, a man picking up an old wooden table with his teeth, all while a piano interlude took you through it.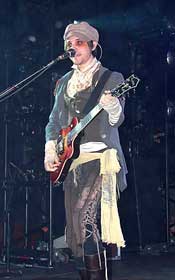 The second half of the show was as good, if not better, than the first session. When the guys came back out onto the stage, they were joined by dancers jumping rope, dancers swirling hoola hoops around their hips, and dancers playing with a large bouncy ball. After the fun and games were over with, the burlesque ladies danced in business-looking suits, but quickly ripped those off, ditched them on stage, and chased Urie around stage like a bunch of little school girls chasing their little boy crush.
During "There's A Good Reason," Brendon joined the ladies for a choreographed dance before getting into the ever- classic hit "Eleanor Rigby" by the Beatles. "Rigby" featured a slow xylophone intro, a cello that made the song sound as if the Beatles were standing on stage playing the song in their heyday, and a drum line type outro that involved all of the band members out on the front of the stage.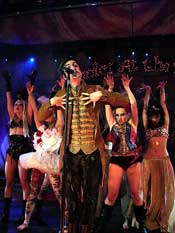 One of the most amusing and entertaining parts of the show was when Panic! played their hit song "I Write Sins Not Tragedies." The song began, and a bride and groom appeared in the background on stilts. The bride's dress draped all the way to the ground, and when the song got to the now ever-familiar part "and the groom's bride is a whore," a bunch of people started walking out from underneath the bride's dress, and running away as the groom chased after them. While the skit continued and you saw the battle ensue, Panic! finished up their set in front of the sold-out crowd at the UIC Pavilion.
There was never a dull moment during this show, and their concerts get more and more intricate with every tour. It's not often that you get to experience a show with such an extremely high aesthetic value, and one where the entertainment value blows the roof off! I can't wait to see what rabbit Panic! pulls out of their hat the next time they make it back to Chicago!
SET LIST:
The Only Difference Between Martyrdom and Suicide Is Press Coverage
London Beckoned Songs About Money Written By Machines
Time To Dance
Nails For Breakfast, Tacks For Snacks
Camisado
Killer Queen
Lying Is the Most Fun A Girl Can Have Without Taking Her Clothes Off
(Intermission)
But It's Better If You Do
There's A Good Reason These Tables Are Numbered Honey, You Just Haven't Thought Of It Yet
Eleanor Rigby
*(Drum Line)
I Write Sins Not Tragedies
I Constantly Thank God For Esteban
Build God, Then We'll Talk
---
RELATED LINKS