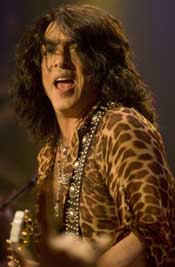 This past Monday night at the House of Blues if you'd momentarily forgotten where you were, you might guess - based on the patrons - that you were at a KISS concert. You'd see an array of KISS t-shirts spanning three decades, the occasional fan in full face-makeup dressed as one of the band's trademarked personas, and here and there someone carrying around the remnants of a black shiny guitar, once whole, and what would be instantly recognized by any KISS fan as one of the guitars Paul Stanley, KISS co-founder, had demolished at the end of one of hundreds of KISS concerts.
But for this show we weren't in a venue that could accommodate a small country. There wouldn't be any fireworks, confetti, or flames. Tonight we belong to .Paul Stanley, and each member of his sardine-packed audience wouldn't have it any other way.
New York rockers, Slunt, opened for Stanley. A four-piece group with 50% being of the attractive, female persuasion, and tough show-men/women to boot, how could Slunt's performance not be a sexy display of rock and roll glitz?
Kicking the show into gear with "When You Like It," guitarist and lead vocalist Abby Gennet with her J-Lo-ish beauty, and bass-beating maniac Jhen Kobran, together prove that girls can rock just as hard as the big boys. However, not to be outdone by the chickies, lead guitarist Pat Harrington dominates the band's crushing sound, as Charles Ruggiero's solid backbeats pump blood through Slunt's heavy and catchy grooves. In time, this band will develop their solid song writing ability to surpass the 'young band' phase of their tunes being somewhat incestuous sounding.
Yet with one song written about an adventure with Motorhead's Lemmy, another tune dedicated to getting laid, and with a Jack Daniel's salute to the audience, Slunt is everything anyone could ask for when needing some of the essential sex, drugs, and rock and roll attitude. Vocalist Gennet is mesmerizing with her soulful rasp - vocals that are sugarcoated grit while belting out Slunt's short, though memorable set.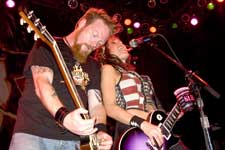 Just before Stanley hit the stage the feral masses of audience were squeezing in atop one another, each person trying to get as close to the stage as possible. For the members of the first three rows some joked about how they were all a 'close' family now, others had flashbacks about The Who concert and various soccer tournaments that tragically resulted in audience members being crushed. But once Stanley and company came out guitars blaring flamboyantly, the crowd settled into a collective party.
Along side the corset-clad buxom beauties that lined the edge of the stage, roses in hand and sans self-control, were cameramen filming the Chicago show for a potential DVD release.
Coming out strong with the title-cut off of his new release, "Live To Win," Stanley shook his stuff while the audience sang along with this energetic rock anthem. His first solo effort is more than 25 years, and his first solo tour since the late 80's - but this stellar front man is hardly rusty. Jumping around just as naturally as Stanley miraculously manages to do in six-inch heeled boots, the sporadic KISS concert regimen must be just the thing for keeping this rock and roll hero on the top of his game.
Fellow musicians from the Rock Star - Supernova band had Stanley's back as they played what Stanley described as his favorites; a variety of KISS tunes in addition to Stanley's solo material both old and new. Not quite as charismatic as drummer Eric Singer and guitarist Bob Kulick who joined Stanley on his first solo tour, yet the Supernova band provided solid musical support to the musician usually partnered with larger-than-life, tongue waggling Gene Simmons. Rafael Moreira and Jim McGorman joined Stanle y on the guitars, in addition to keyboardist Paul Mirkovich and the flirty Sasha Krivstov on bass, but the star of this Supernova band was drummer Nate Morton who pounded away with superstar flash.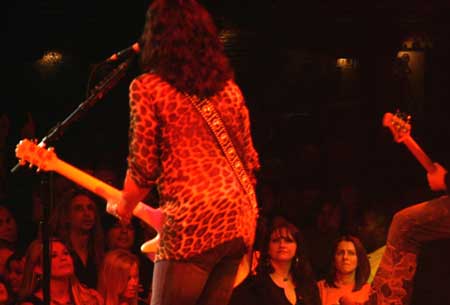 \
Paul Stanley - the preacher, the bandleader, and the piper - led fans through sing-a-longs of well-known tunes: "Hide Your Heart," "Million To One," and "Got To Choose." Bringing it back to the present again, Stanley belted out another song off his recent Live To Win album, the fiery "Bulletproof," then shifted back into KISStory once more for "Lick It Up."
Between songs, Stanley was both funny and charismatic, a human being truly having been born to entertain. The tireless crooner left nothing to be desired while singing and dancing his heart out the way few others can do.
"Wouldn't You Like To Know Me," "Magic Touch," "I Still Love You," "Strutter," "Every Time I See You Around," "Do You Love Me?" "I Want You," "Love Gun," "Lift, and " Detroit Rock City " followed - flowing effortlessly out of Stanley pipes and fingertips. And wrapping up the evening was "Goodbye," another song off of his 1970's release and the perfect way to end a perfect show.
Everyone knows that Paul Stanley and the KISS camp know how to put on amazing shows, but we can only hope that Paul Stanley's Live To Win and the Gene Simmons solo release from a couple of years ago, Asshole , might give these guys the confidence and desire to give birth to a brand spanking new KISS album as well.
Photos by Al Soluri and Adam Bielawski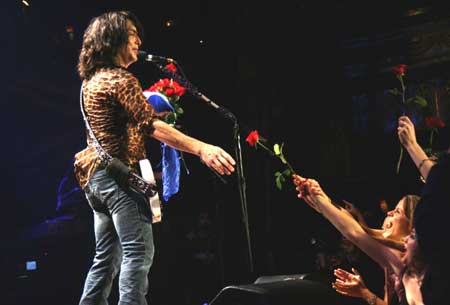 ---
RELATED LINKS